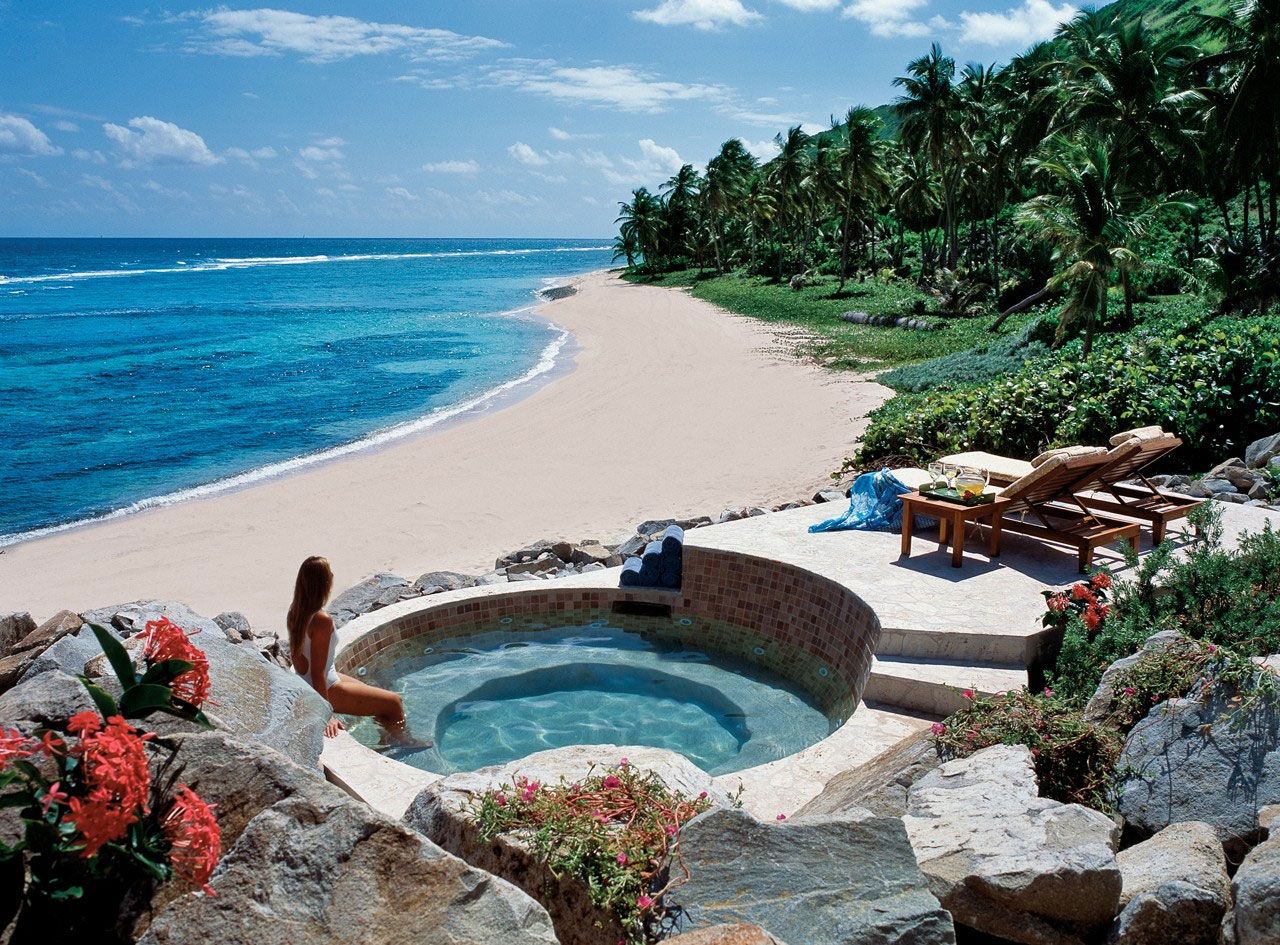 Photos Credit: Peter Island Resort & Spa
Although Peter Island Resort & Spa is set on 1,800 acre of land, staying at the hotel still makes you feel like you you're on your own private getaway. We recently stayed at the resort, and were pleasantly surprised to realize the property has its own complimentary ferry to transfer hotel guests back and forth between the islands.
Everywhere you look, there is history. Nearby Dead Chest Island was reputedly where the pirate Blackbeard marooned 15 of his crew with only a sword and a bottle of rum. Norman Island, to the south, is believed to be Robert Louis Stevenson's inspiration for Treasure Island. Here on Peter Island, only 300 acres of land have been developed into beachfront rooms and suites, three villas, two restaurants, four tennis courts and a spa. The rest of the island, which was named after a slave owner, is now still partly owned by 200 former slaves' families. It remains pristine and green today.
Peter Island has five beaches, one of which is Honeymoon Beach. The area can only be reserved by one couple at a time for three hours, and on-hand staff will deliver a picnic lunch right to you. We took a little hike up to the spa where resident fitness instructor Shannon Gilbertson was teaching "Pi-Yo," a combination of Pilates and yoga. Afterwards, we experienced a soothing massage and then dipped into the hot tub that was so secluded on its hillside location, that we opted to go au naturel.
When it comes to the property's dining offerings, Deadman's Beach Bar & Grill was our favorite, in part because we could walk barefoot from our suite to this restaurant. The grill serves fresh-caught seafood and for desert, delectable treats such as chocolate "falling down" cake with soursop ice cream; raspberry, mango and guava sorbet served in a brandy snap basket; and Chef Jean Kelly's legendary coconut French toast. Guests can also take an island grilling class with Peter Island executive Chef Lisa Sellers. The more upscale restaurant, Tradewinds, was recently voted one of the "101 Best Hotel Restaurants in the World" by MSN. We had a spectacular breakfast on its deck while enjoying the dreamlike vision of a rainbow over nearby Norman Island.
Aside from their rooms and suites, the resort also offers three spectacular villas perched on the mountainside. Exquisitely decorated, Falcon's Nest, Crow's Nest and Hawk's Nest all feature infinity pools, waterfalls with grottos, and if you wish, a butler and chef so you never have to leave your villa.
Peter Island prides itself on "exceptional, anticipatory guest service," and with one staff member for every two guests, that sentiment is being fully met. Nightly rates range from $430 in springtime for an ocean-view room to $18,500 for the six-bedroom Falcon's Nest villa during the Christmas holiday season, with meals included.