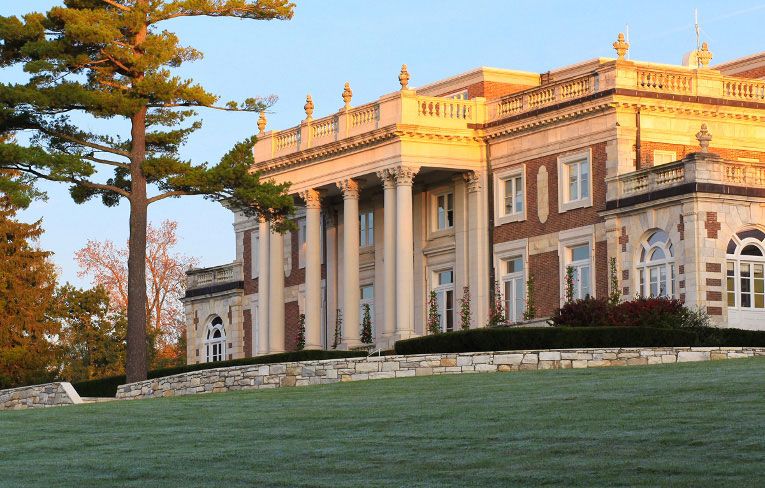 Photos Credit: Canyon Ranch in Lenox
Once a stately country retreat, historic Bellefontaine Mansion in the woods of Berkshire County in Lenox, Massachusetts is enjoying a reincarnation as Canyon Ranch. Built in 1897 and modeled after Versailles's Petit Trianon, Bellefontaine had also gone through its life as a seminary and boarding school. But when Canyon Ranch founders Enid and Mel Zuckerman first laid eyes on the property it had been ravaged by fire.
The Zuckermans believed in creating harmony with the natural surroundings, and so rather than construct a brand new modern compound, they set about restoring the mansion to its former glory, at the same time adding some New England-style outbuildings in keeping with the area's ethos. Among the property's three guestroom categories are the luxury suites which include an adjoining living room, two bathrooms and a washer/dryer. All accommodations feature Mascioni® luxury Italian linen, complimentary Wi-Fi, sound machine and iPod® docking stations, your choice of pillow from a pillow menu, terry cloth robes, mini-refrigerators and thoughtful amenities.
Canyon Ranch is dedicated to making you feel better than when you arrived. Saunas, pools, gyms, exercise studios, indoor tennis, racquetball and basketball courts are just some of the many offerings at the vast spa complex. With its signature services and therapies promoting wellness, restoration and comfort, guests will leave feeling rejuvenated from head-to-toe. The specialized spa treatments "combine ancient, traditional and modern therapies." And the well-equipped Integrative Health Center offers a full roster of holistic, integrative medical care designed not only to treat current conditions but also educate guests about living a healthier lifestyle.
Dining at Canyon Ranch is not merely an exercise in restraint, since they offer nutritious options for breakfast, lunch and dinner. Wholesome snacks are always available and meals can be enjoyed in the dining room, demonstration kitchen, café, or the beautiful outdoor Café Jardin (weather permitting). The resort's Corporate Chef Scott Uehlein, frequently awarded for his dedication to creating nutritious and delicious meals, while personally overseeing all the food and beverage offerings.
The hotel's bucolic surroundings also make it possible to pursue various activities in every season, from canoeing to cross country skiing. From the Integrative Health Center to the spa complex and relaxing accommodations, the resort offers gracious service and an impressive commitment to health and wellness.
Canyon Ranch in Lenox
165 Kemble Street
Lenox, MA 01240
CanyonRanch.com/Lenox