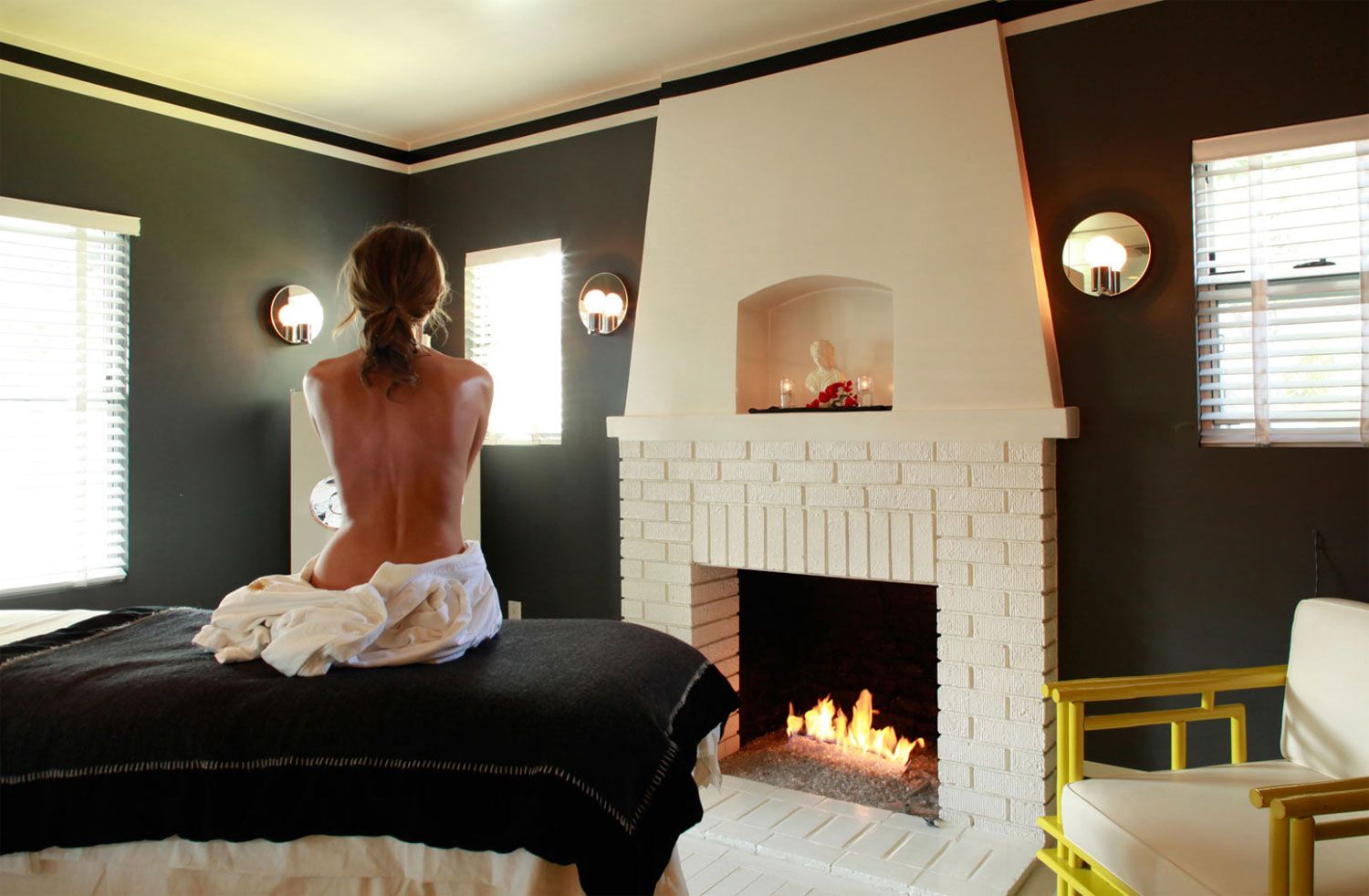 Photo Credit: Avalon Hotel Palm Springs
Coachella, the annual music and arts festival in Indio, California is considered one of the best in the country. It is also the fourth most-attended in the nation with around 180,000 people visiting each year. As a southern California resident, Coachella is my jam. I've been enough times to know that by the end the three-day weekend your body is exhausted (and a whole lot dustier). Like most fests, bands don't get started until noon, with the smaller acts leading the pack.
That means, if you're more of a mainstream music junkie, your favorites won't get going until at least 3:30 p.m. With an open morning at your disposal, you could work on a tan or give your body some much-needed pampering before a long day of standing. We scoped out the best hotel spas in the valley and chose hotel spas with varying treatments that festival goers should book during Coachella.
Photo Credit: Renaissance Indian Wells Resort & Spa
Renaissance Indian Wells Resort & Spa
Spa Esmeralda at Renaissance Indian Wells Resort & Spa is one of the area's best retreats. The 13,000-square-foot facility has been beautifully designed to exude tranquility from the moment you arrive. A dim and serene hallway leads to men's and women's locker rooms as well as quiet waiting areas. The 80-minute Aroma Stone Therapy ($215) is a good option for those wanting to target key areas of soreness. Using warm basalt stones and heated oils, your therapist will move the stones along your body's energy points. The stones pull blood from the reflex organs to the tissue in isolated areas, allowing for therapists to work even deeper on trigger points and tight muscles. One of the spa's newest products is the Elemis Biotec Technology which is used for facials. The Pro-Collagen Age Defying ($250) session takes 50 minutes and tackles fine lines and wrinkles with marine-charged Padina Pavonica Red Coral. It's meant to make your skin looking younger and healthier (and Snapchat worthy).
Photo Credit: The Ritz-Carlton, Rancho Mirage
The Ritz-Carlton, Rancho Mirage
Set within the Santa Rosa Mountain range, The Ritz-Carlton, Rancho Mirage already offers one of the best luxury desert experiences. If you're looking for pampering, the brand always seems to get it right. The two-story, 2,500-square-foot spa offers 15 treatment rooms, an al fresco relaxation area with a co-ed whirlpool and private outdoor showers and terraces. Of its therapies, its most popular is The Spirit of the Mountains treatment ($330). The 100-minute session includes a warm stone massage, detoxifying wrap, scalp treatment and exfoliation. Using natural ingredients such as desert herbs and mineral salts, the therapy is designed to cleanse, calm and soothe. Because of the desert's harsh sun and warm weather, also consider the 50-minute Hydrafacial. The service features a non-invasive resurfacing treatment to increase hydration and reduce the look of acne scaring, hyperpigmentation and congested pores. It includes a cleanse, gentle hydra-exfoliation, vortex extraction, a hyaluronic acid infusion and LED light therapy.
Photo Credit: Miramonte Resort and Spa
Miramonte Resort and Spa
Since Coachella is all about skin-baring clothing, the Purifying Wrap ($165) at The Well Spa at Miramonte Resort & Spa is a great choice to help show off your toned bod. Named one of the nation's top 100 resort spas by reader of Condé Nast Traveler, the 12,000-foot facility includes two salt pools, a eucalyptus-infused steam room, men's and ladies locker facilities, river bench water therapy, five outdoor treatment areas and nine indoor therapy rooms including two Vichy showers. The 60-minute treatment begins with exfoliation to improve the look and texture of your skin. This is followed up by a soothing mask to draw out impurities while retaining natural oils. Lastly, your session will conclude with a firming body lotion application that stimulates circulation, diminishes fat cells and reduces the appearance of cellulite. You'll definitely be crop-top ready after this.
Photo Credit: Avalon Hotel Palm Springs
Avalon Hotel Palm Springs
Probably one of the trendiest hotels of the bunch, Avalon Hotel and Bungalows features Spanish architecture and is designed as a throwback to the Golden Age of Palm Springs. Before heading off to the spa, start off your day with a morning yoga sesh on the Presidio Lawn at 9 a.m. At Estrella Spa, an ode to the property's original name, the facility offers a number of holistic health treatments along with traditional therapies. The former utilizes the traditions of alchemy, holistic health and global herbal medicine, using only handmade herb-infused oils and butters, and essential oils provided by American Medicinal Arts. The Waning Moon ($260) session includes a full body exfoliation using salt, charcoal and sage; full body moisturizing rubdown focusing on your abdominal area for digestive and immune system support; and a warm oil scalp treatment with cypress and clary sage essential oils. To reduce inflammation and re-mineralize stressed skin, the treatment finishes with a deep-cleansing facial with turmeric, jojoba and aloe.
Photo Credit: Parker Palm Springs
Parker Palm Springs
Parker Palm Springs' manifesto states, "We believe in old-world etiquette and new age simplicity." That sentiment is seen throughout the desert property, a place where Gene Autry himself once lived for a time. Made to look like the interior of a yacht club, the hotel's spa PSYC is decorated in rich blues and crisp whites paired with rooms boasting hardwood walls and flooring and dim lighting. The spa features an indoor pool with massage tables under Moroccan tents, men's and women's locker rooms, a fitness center, relaxation areas, two hot tubs and an al fresco café. Before you get started, you'll be offered a cucumber-infused vodka shot for good measure. The Guilty Pleasures package ($340) is a great option which includes a 45-min sugar scrub, 60-min tailor-made massage and finishes with a 60-min spa pedicure.
Photo Credit: La Quinta Resort and Club
La Quinta Resort and Club
Last year, the five-star La Quinta Resort & Club unveiled its property-wide, multi-million dollar restoration project. Its fresh new look adds a contemporary touch to the 1920s hotel, while still allowing its desert roots to come through. Housed in a white, Spanish-style building, the spa also includes a salon, fitness center, café and pet pampering services. To prepare for a day of being on your feet and dancing to Guns N' Roses, book the 80-minute Lomi Lomi massage ($230). The Hawaiian treatment uses continuous, flowing massage strokes that move gently and deeply into muscles. Afterwards, treat yourself to The Perfect Blowout-Shampoo and Style service ($65). You know, in case you should run into Jared Leto in the VIP areas (he goes every year).
Photo Credit: Omni Rancho Las Palmas Resort & Spa
Omni Rancho Las Palmas Resort & Spa
Like La Quinta, Omni's 20,000-square-foot spa also underwent a face-lift, and now features a refurbished pool area, new color palette and redesigned boutique. The Tone and Glow Guava Scrub ($140) is a 50-minute treatment used to combat the visible effects of skin aging and create the look of a younger, more toned body. The super-fruit scrub is made up of raw cane sugar and texturizes the skin while infusing it with antioxidant-rich vitamin C. Completing the treatment is the use of a botanical blend of guava fruit to tone and tighten skin. As part of their spring specials, the spa is also offering a Cabana Boy Mani & Pedi ($108) by the pool. Get your hands and feet pampered with a watermelon-basil exfoliation infused with vodka, whipped citrus-vanilla shea moisturizer while you sip on a hand-crafted cocktail.