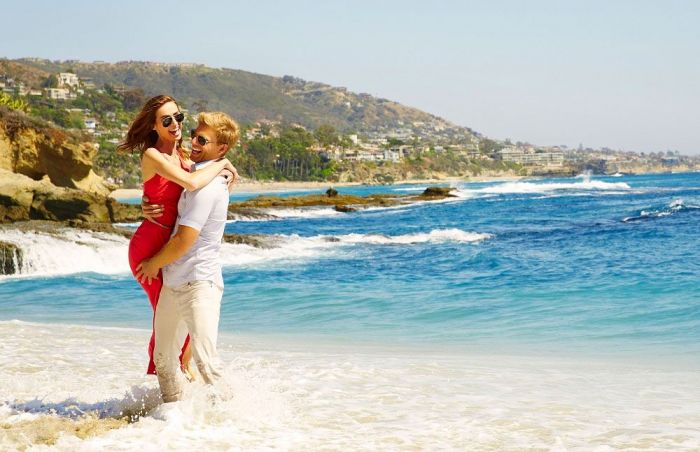 Photos Credit: Montage Laguna Beach
With so many tempting California getaway options, it can be hard to choose which vacation to choose: skiing on the slopes, sunbathing at the beach, unwinding at spas or winery-hopping? Luckily, SoCal visitors don't have to choose with the Experience California hotel and touring packages offered by Montage Laguna Beach. The five-star beach resort's concierge has created four white-glove offers for guests such as escorted adventures, private dining and bespoke pampering.
This spring, the Luxury Coastal Picnic Experience begins with a private helicopter tour of the California coast. For lunch, Montage's chefs will personally prepare a clifftop picnic for lunch before your private dinner at the hotel's Studio restaurant. Included is also a massage at the 20,000-square-foot Spa Montage, one of the best resort spas in the state. The packages starts at $2,845 and is available until June 15, 2016.
For an extravagant way to celebrate the 100th anniversary of the U.S. National Park Service, ditch the RV in favor of the summer National Parks' Centennial Experience. A private chauffer will escort you to your choice of adventure in one of four stunning parks: a trail ride in Joshua Tree, guided trails and star-gazing in Yosemite Park, snorkeling at Channel Islands, or a Jeep/ATV tour of otherworldly Death Valley. Guests can then relax with a Spa Montage treatment, and enjoy a private Chef's Table dinner prepared by Studio's Executive Chef Craig Strong. The package starts at $9,695 and is available from May 30-September 5, 2016.
For fall, the Sky High California Food & Wine Experience serves up a trip to Napa Valley by private jet. Upon arrival, a hot-air balloon will be waiting to soar over vineyards and wineries before landing for a Champagne brunch. During a private winery tour, vino fans can blend their own wine to enjoy on their jet ride back to Orange County. Montage's Chef Strong will lead a sunset garden tour and serve al fresco cocktails and hors d'oeuvres made with fresh-picked ingredients, followed by a Chef's Table dinner. The package starts at $9,795 and is available from September 1-December 1, 2016.
And to cure the winter blues, the SoCal Beach-to-Ski package chauffeurs guests from their beachfront accommodations to a private jet to zip to the Mammoth Mountain ski resort for a day on the slopes. Back at Montage, perks include an après-ski spa treatment, a private pool cabana, dinner and overnight accommodations. The package begins at $9,995 and is available from November 15, 2016–February 28, 2017.