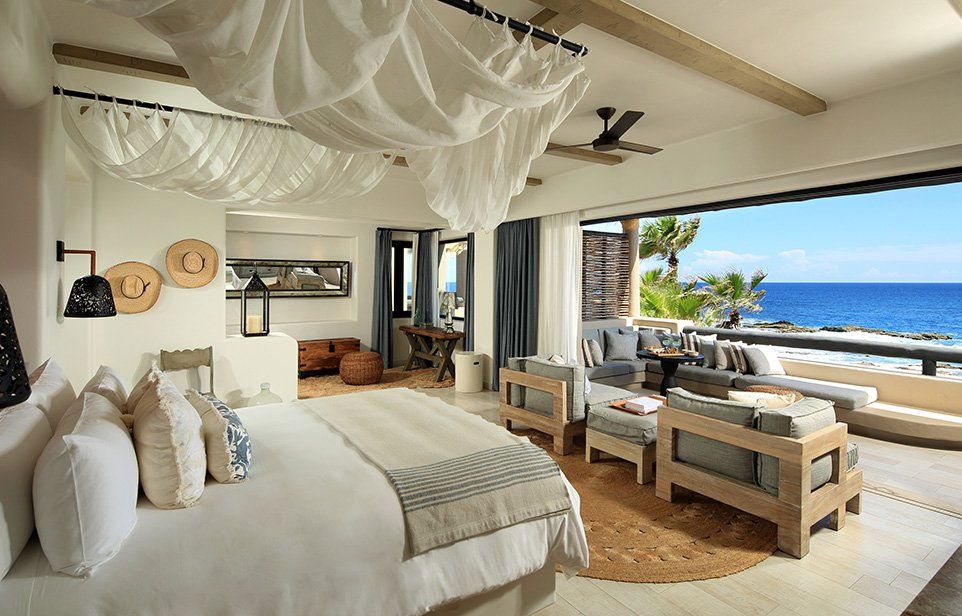 Photo Credit: Esperanza, an Auberge Resort
Los Cabos has gone through a tremendous transformation in the 1.5 years since Hurricane Odile. Not only have its resorts been rebuilt, but the area has emerged as an alluring hotspot for affluent travelers. Its spring break reputation is a thing of the past, and sun-seekers are heading to the region for a plethora of fine dining options, high-end art galleries and uber-luxurious accommodations—all while still getting an authentic sense of Mexico.
In 2015, the city saw a 14.7 percent increase in tourism, and Delta Vacations Senior Vice President of Marketing and Product Development Tina Iglio predicted it would be a huge opportunity for travel agents this year. Less than six months in, we couldn't agree more with her.
Of course, much of its attention is thanks to the reopening of the luxury properties dotting the southern tip of the Baja Peninsula. So, on our most recent visit, we scoped out some of the area's best suites hidden inside gorgeous four- and five-star resorts. If Cabo San Lucas is on your radar this year, here are six (non-presidential or villa) hotel suites we can't get enough of:
Photo Credit: Sandos Finisterra Los Cabos
Sandos Finisterra Los Cabos
Sandos Finisterra is unassuming in its appearance, and the least over-the-top luxurious on our list. But what it lacks in showy glamour, it makes up for with top-notch service and personalized attention (even calling you by name), that leaves you feeling like family. Of their accommodations, the two-bedroom Master Suite is a great choice for those who want a little extra privacy. Taking over the whole eighth floor of the main building, the room sits on its own level and is accessed by two separate entrances. Inside, guests are welcomed with a customized bottle of tequila, two shot glasses and a plate of limes and salt. The two bedrooms sit on either side of the spacious living room, and the suite comes with a dining area, kitchen and three balconies. Plus, guests have the option to use one of three full bathrooms including the master which boasts a large Jacuzzi tub. The suite is not listed on their website, so consider yourself now "in-the-know" with this secret menu item.
Photo Credit: The Cape
The Cape
The Cape is kind of like the cool kid on the block; it's hip, edgy, fresh and super contemporary. The beachfront retreat was designed by Mexico City architect Javier Sanchez and features a "relaxed 1960s Southern California-meets-Baja" aesthetic. You really do feel just a tad bit more stylish while there, especially while sipping cocktails on its greenery-laden rooftop bar. Among its room categories, the Panoramic Suite is a standout with its own plunge pool and panoramic views of El Arco. Featuring floor-to-ceiling windows and sliding glass doors leading the patio, the space feels open, light and airy. The bed rests in the center of the room with the open bathroom behind it. Along with a tequila welcome amenity, the pad includes a standing telescope for whale watching, 360-degree rain shower, freestanding copper-leafed tub and cotton kimono robes.
Photo Credit: The Resort at Pedregal
The Resort at Pedregal
To say that I love The Resort at Pedregal would be an understatement. Following a PR nightmare back in 2014, the property found itself under new management and made a commitment to remain the highly-regarded hotel it had been under its previous one. Luckily for it is returning guests (and me), it has managed to keep its promises and keep much of what made the old property so beloved intact. Accessed through its own private tunnel, guests staying at the resort have a number of options to choose from including ocean view guestrooms, beachfront suites, bi-level casitas and hillside villas. The one- to two-bedroom beachfront suites sit right on the sand behind a private roped off section. All rooms come with plunge pools and their own private beach waiter throughout the day. Inside, plush furnishings and authentic Mexican handcrafts beautifully decorate the space that impresses you from the moment you arrive.
Photo Credit: Grand Solmar Land's End Resort & Spa
Grand Solmar Land's End Resort & Spa
Opened in 2011 and restored this year, Grand Solmar Land's End Resort & Spa has been a favorite among discerning travelers since its debut. It's the kind of hotel where hobnobbing with other guests at the pool or over cocktails may even turn into laudable business ventures. The resort offers six categories of rooms: Grand Studios, Master Suites, the Presidential Suite and two- to four-bedroom penthouses. The Master Suites are generous in size and the perfect amount of space for a couple. A fully-equipped kitchen with marble wet bar, living room, dining room and two bathrooms. What's nice about this suite is that it feels homey, not overly grand and cold, but warm and inviting. Bowls of fruit rest on the kitchen counter, cold Coronas reside in the fridge, ice gets delivered to your door and the patio loungers offer the best views in the house—it's easy to not want to leave the room.
Photo Credit: Esperanza, an Auberge Resort
Esperanza, an Auberge Resort
With 2,400 square feet of space, Esperanza's Ocean & Beachfront two-bedroom luxury suite is kind of a big deal. Along with butler service, a full kitchen, and prime ocean views, guests also have access to their own plunge pool plus Jacuzzi! Thanks to its restoration efforts, the rooms feature new interpretations of traditional Mexican craftsmanship with handmade furniture, hand-blown glass and ceramic lighting and hand-embroidered pillows. Local artisans also helped to create an authentic experience such as antique mirrors and artifacts from native residents and bathroom accessories from Guadalajara and Oaxaca including José Noé Suro of family-run Cerámica Suro. Should you get bored of sitting in your room, the resort's spa is an award-wining facility that should not be missed. Or participate in a cooking class with the hotel's Executive Chef and prepare traditional ceviche and pescado zarandeado over a wood and coal bonfire.
Photo Credit: One&Only Palmilla
One&Only Palmilla
In 1956, Don Abelardo Rodriguez, son of the President of Mexico built what is now One&Only Palmilla. Originally a 15-room hotel accessible only by yacht or plane, the resort has gone through plenty of renovations in its time, including a $90 million refurbishment in 2004. Sprawling across 250 oceanfront acres, the retreat now boasts 172 rooms following its Hurricane Odile reincarnation. From guestrooms to junior suites, one-bedroom residences and private villas, there's really not a bad room in the property. One of our favorites, however, are the ocean front one-bedroom grand suites with pools. Featuring a living area, walk-in closets and a lavish bathroom with sculptured bathtub and rain shower, the suites have a similar larger-than-life appeal and design aesthetics as the suites at The Resort at Pedregal. On the expansive patio, guests can enjoy lounging on terrace daybeds or taking a dip in the plunge pool with Jacuzzi.