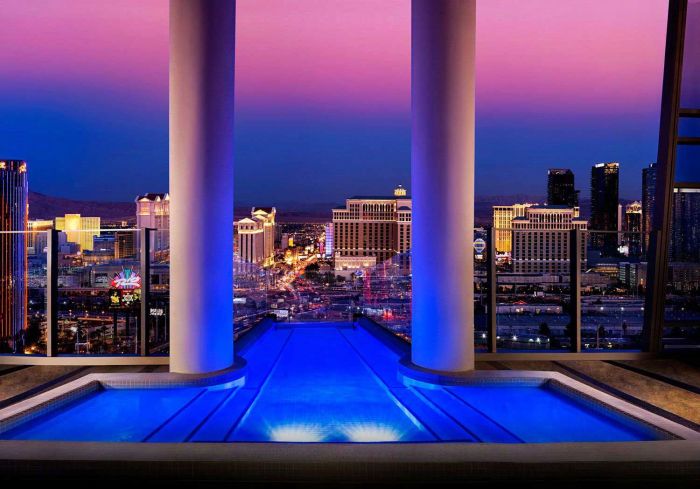 Photos Credit: Palms Casino Resort
Is it just us or does it seem that hotels are being bought and sold like hot cakes lately? In yet another acquisition today, Palms Casino Resort in Las Vegas has been purchased by Station Casinos, an entity under parent company Red Rock Resorts, Inc. Paying $312.5 million in cash, the transaction is expected to close during the third quarter of 2016.
"With the acquisition of the Palms we gain a leading gaming asset in Las Vegas with key strategic benefits in the Las Vegas locals market and close proximity to the Las Vegas Strip," said Marc Falcone, executive vice president, CFO and treasurer of Red Rock Resorts. "With its appeal to both Las Vegas residents and tourists alike, the Palms is a hybrid gaming property that is uniquely positioned to benefit from the strong economic trends in southern Nevada and record visitation levels in Las Vegas."
Here's the thing though, if you take a look at Station's portfolio, you'll be wildly underwhelmed. The 95,000-square-foot Palms, once known as the hottest spot in Vegas, still holds its four-star status, even if it's not the most sought-after hotel on The Strip. While we've been hoping to see the casino go through renovations to bring it up to par with its counterparts, this deal seems like a step back.
Once the backdrop of MTV's Real World Las Vegas, the resort still holds some of the swankiest suites in Sin City. Among its top accommodations, the Kingpin Suite is a 4,500-square-foot room that includes its own bowling alley and is a favorite of celebs such as Chris Brown. The only resorts under Station's portfolio that come close to anything this high end are Green Valley Ranch, Resort, Casino & Spa (the commas seem obsessive) and Red Rock Casino Resort & Spa, both off The Strip. When we consider the takeover, we can't help but wonder if Station Casinos is ready to really compete in the luxury market.
Although it's not what it used to be, the Palms' name still carries some weight to it and we'd hate to see that go by the wayside. Only time will tell, and we for one, are intrigued to see how it all pans out.