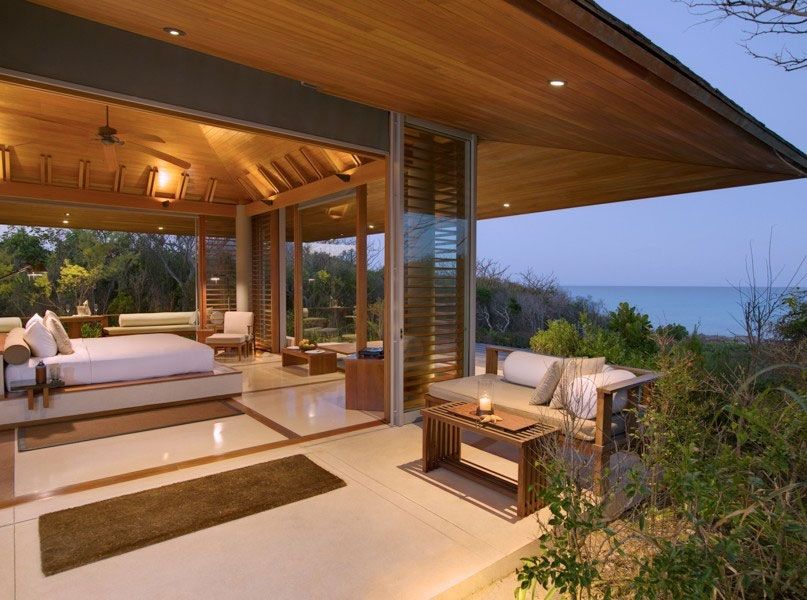 Photos Credit: Amanyara
An anniversary is an excellent reason to stay at an Aman resort; not that anyone needs a particular celebratory excuse to visit one of the brand's 31 properties. All its hotels boast beautiful views, uncanny locations, and a world-class staff. This year, Aman's breathtaking Turks and Caicos property Amanyara, celebrated its 10 year anniversary. Dozens of so-called adamant fans of the Aman resort group, among many other devotees of this particular property, arrived for a week-long stay. If you weren't there, don't worry, the celebration continues for the remainder of 2016.
Adrian Zecha, the founder of Aman resorts, was personally involved in finding the location for this Caribbean Aman. In fact, Zecha is renowned in the industry for trekking, uncovering, and negotiating the often sacred locations of most Amans, some of which required US Congressional approval (Amangiri in the United States) and a UNESCO contract (Amantaka in Laos). Amanyara, meaning "peaceful place," sits along one of Turk and Caicos' most coveted areas, near the border of the NorthwestPoint Marine National Park which is internationally noted for its excellent wall and reef diving.
In addition to uncanny locations, the brand employs Mother Nature to provide the jaw-dropping backdrops alongside clean, minimalist architecture. Amanyara has an arresting panorama of the ocean and rugged coves which can be savored from restaurants, lounges, the bar area and from the massive 164-foot pool. One of the best spots for a good view is in a little outcrop down a pathway reserved for private cove dinners (a must do).
When it comes to Aman staff members, I've consistently found that the brand has some of the most cosmopolitan and endearing team members in the hospitality business. I'm hardly the first to notice, as this recent Town and Country article details. As my travel companion said, "it's as if the brand of staffing is United Colors of Benetton meets GQ." General managers, bartenders, and even cleaning staff spend hours a day chatting with guests or waving to you as you pass by on a complimentary bike.
The 10-year celebration at Amanyara was apparently as much as a reunion for guests as it was for staff who have come to know them personally. "Oh yes," insisted Marco Franck, General Manager, "it's very much a family here among staff and guests." Interestingly, there is no set training, no manuals that tout the "Aman way," or any procedures that guide guest interaction. "Fulfill what's desired, and do what's right," is Franck's motto for delighting Aman junkies.
The spa at Amanyara is a sensory delight as well. Like many of the 38 timber-shingled guest pavilions, the spa is suspended over an expansive reflection pond. The four double treatment rooms are mini pavilions themselves, adjourned to the main reception area by elegant wooden platforms. Despite the small number of rooms, the services available are extensive. The usual "Aman Anywhere" signature services are luxurious, such as the 90-minute Pulo Healing treatment that focuses on the legs and boosts circulation. After a week of doing sprints and jogging in the sand at various Caribbean resorts, this massage was precisely what I needed. I also loved the Caribbean Stars Lullaby, a Zen Shiatsu inspired treatment that uses Tibetan singing bowls to put you in a blissful sleep state.
Many guests, some of whom own the 20 villas at Amanyara, return to the resort several times a year. This anniversary year in particular offers numerous reasons to visit. A four-day Tennis and Living Retreat will be led by former professional tennis player Peter Rennert in October and centers around the Effortless Way and Rekinetics training methods. The year-round, 10-Day Raw Food and Mindful Retreat gives guests curated attention from the entire Amanyara movement and treatment specialists and features a raw menu with amberjack crudo with cucumber-habanero gazpacho and yellow fin tuna ceviche with ponzu dressing. Kids and those young at heart tend to come back for the Sea Turtle Initiative, a half day excursion led by Amanyara's Resident Naturalist and noted local fishermen Dave Clare and Gilbert Jennings, respectively. Guests learn firsthand how to catch, flipper tag, and release endangered turtles into the south coast of Middle and North Caicos.
After 10 years strong, there are at least 10 times the reasons to visit this Aman property. The view, the staff, the spa, and the outstanding location are just a few of the compelling assets of Amanyara.