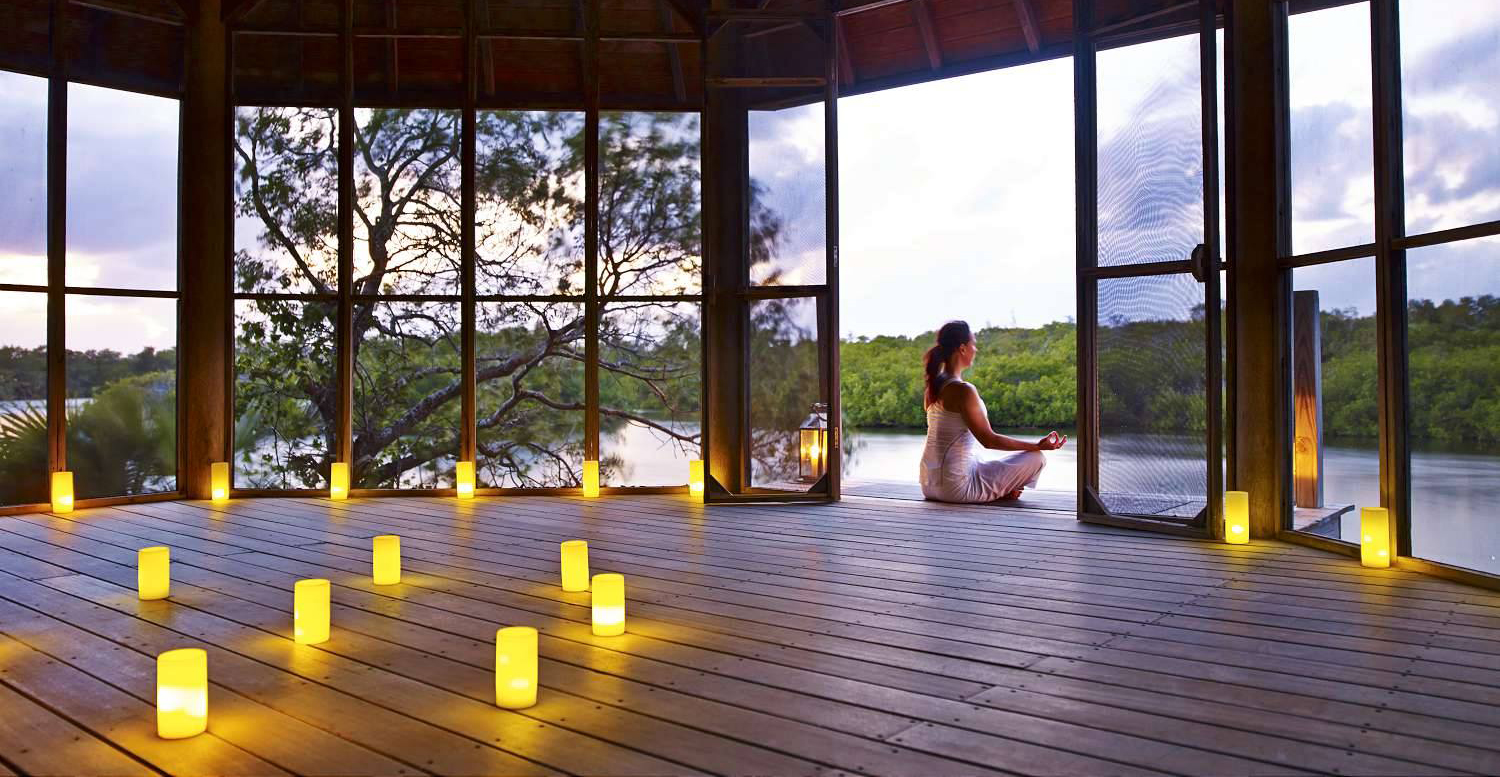 Photo Credit: Como Shambhala at Parrot Cay
The holidays are fast approaching, which means there are gifts to wrap, meals to cook, families to visit, trees to decorate and a whole mess of other things you need to get done to prep for your festivities. (Yikes.) Taking a breather to practice self-care is one of the best ways to detox your mind, body, and spirit before weeks of celebrations and chilly weather. These lavish yoga retreats offer a range of classes and treatments that will ensure you're on your A-game this winter: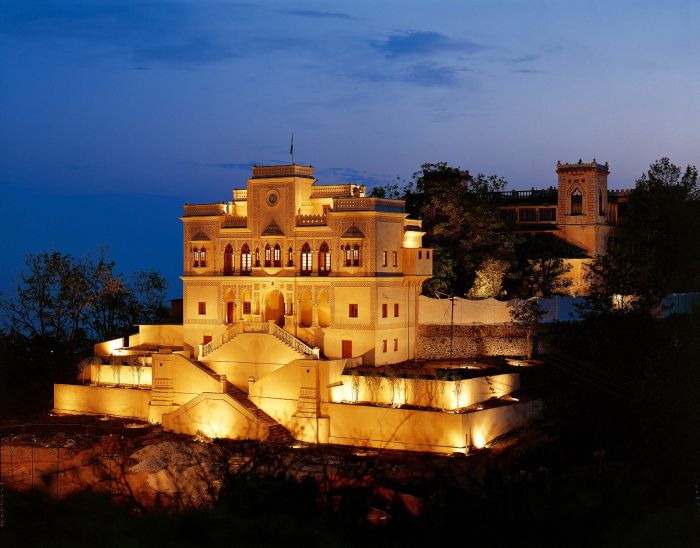 Photo Credit: Ananda Spa
Ananda Spa, India
No discussion about yoga retreats would be complete without including India, the birthplace of yoga. The Ananda Spa is located in the Uttarakhand state of northern India, where it sits at the foot of the Himalayas and overlooks the Ganga River. Guests can choose from a variety of wellness packages which are tailored to each individual's health goals, be it a stronger yoga practice, a full-body detox, or stress management. The spa also offers a range of activities including white water rafting, healing experiences using Himalayan Crystal cleansed in the Ganges, and a range of workshops by visiting international yoga and healing masters. The private villas on the property offer a serene, elegant place to rejuvenate at the end of the day. Each colonial-style villa comes complete with butler service, a private swimming pool surrounded by lounge beds, a sauna, and spacious outdoor dining deck.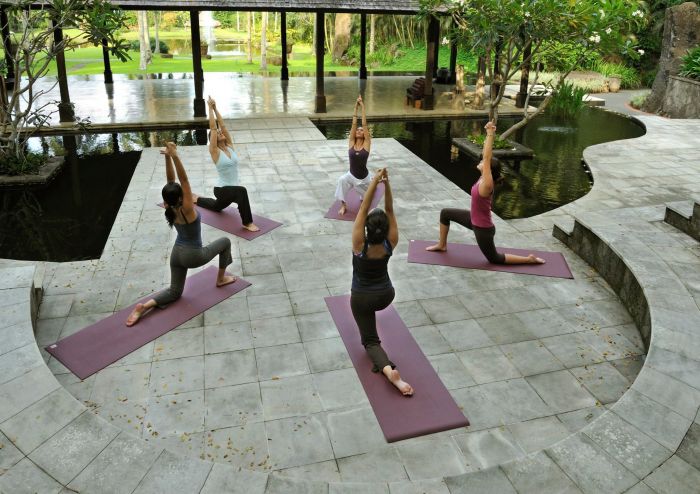 Photo Credit: The Farm at San Benito
The Farm at San Benito, Phillipines
Tucked away amidst lush jungle about an hour's drive from Manila is a world-class yoga destination. The Farm at San Benito is focused on providing guests with a holistic relaxation experience that addresses mind, body and spirit. Every day begins with a series of meditation, yoga and movement sessions, with private classes available upon request. When you're not perfecting your downward dog next to the property's flowing waterfall pools, stop by the Healing Sanctuary for traditional Filipino spa treatments such as the Hilot Haplos featuring a 150-minute cocoa body scrub, coconut cream milk bath and specialized massage. If all of that relaxation has worked up your appetite, enjoy a meal at the Alive restaurant. All meals served on the property are completely vegan, with produce harvested from The Farm's organic garden. At the end of your day, retreat back to one of the property's signature glass villas, where floor-to-ceiling windows give you perfect views of the verdant environment and your private swimming pool.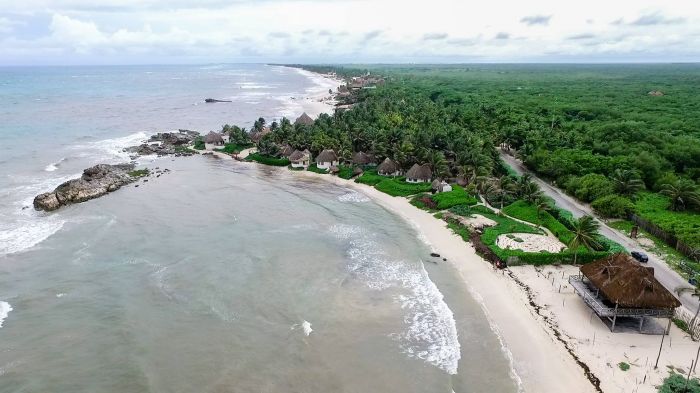 Photo Credit: Maya Tulum
Maya Tulum, Mexico
The Yucatan Peninsula of Mexico is home to infamous spring break parties, ancient Mayan ruins, and one of North America's most popular yoga destinations. Maya Tulum is a resort located on Mexico's southern Caribbean coast, approximately one hour from Cancun. Guests at the resort have the option of staying in one of the thatched hut villas that dot the beachfront of the property. Due to the nearly year-round perfect weather in the region, there are specialized yoga retreats offered weekly in the resort's two yoga halls and on the beach. While the spa offers excellent bodywork and Mayan specialty treatments, guests seeking adventure should seek out an eco-tour offered by the property. After a specialized hatha sunrise yoga session, take a snorkeling tour around the glowing coral reefs that surround the Tulum Ruins. If you're visiting this resort in the summer, this location is ideal for experiencing baby sea turtles make their trek from the beach to return to the ocean.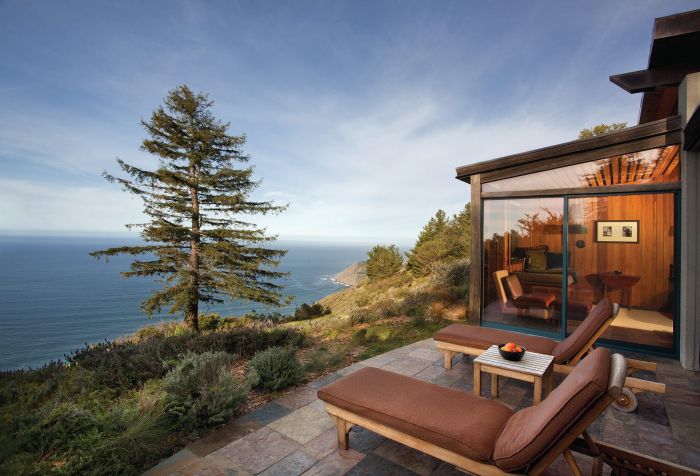 Photo Credit: Post Ranch Inn
Post Ranch Inn, California
Looking to add a little romance to your typical retreat? Grab your sweetheart and head to the Post Ranch Inn in Big Sur, California. Sitting atop the cliffs overlooking the Pacific Ocean, this luxurious escape offers some of the most picturesque places to carry out your practice. In addition to daily sunrise and sunset yoga offerings, private couple's yoga and meditation courses are available to guests upon request. For the ultimate exclusivity, book the property's Post House accommodation, a spacious one-bedroom cabin equipped to give guests optimal views of the ocean in addition to heated flooring, a private backyard with a hot tub, and a romantic wood-burning fireplace. If you're looking for more adventure than a day of wildflower facials or Jade Stone Therapy at the property's spa, take a drive down scenic Pacific Coast Highway in one of the property's guest-allotted Lexus vehicles.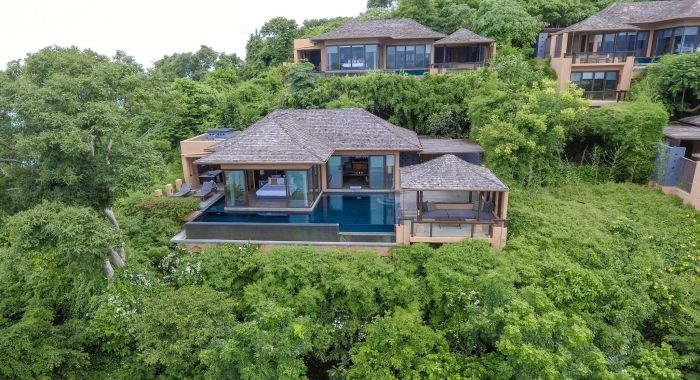 Photo Credit: Sri Panwa
Sri Panwa, Thailand
With a reputation for excellent cuisine, unparalleled coastlines, and a tourist-friendly populace, it's no wonder that Thailand has become one of the world's most popular travel destinations. Sri Panwa, located in southeastern Phuket, is a family-owned beachside oasis that is one of the best places to achieve ultimate Zen. Each yoga, Pilates and stretching class offered on the property is privately taught on a floating yoga deck that provides a 360-degree view of the Andaman Sea. After your class, cool off at the Baba Pool Club, an Olympic-sized infinity pool that provides guests with expansive lounging areas. In addition to a wide variety of dining options, guests can also experience the Cooking School, where private classes are taught by the property's master chefs in Thai, Italian or Japanese cuisine.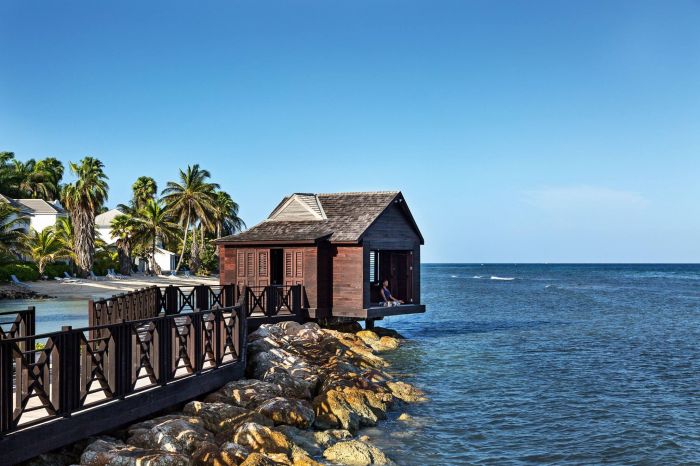 Photo Credit: Half Moon Jamaica
Half Moon, Jamaica
Half Moon, in the Montego Bay area of St. James, sits on two miles of untouched Jamaican beaches and over 400 acres of lush, tropical greenery. This resort offers a wide variety of daily activities, including a series of yoga classes, making it the perfect place for those with spouses or children who have other ideas about how they'd like to spend their holiday. All yoga courses are taught by master instructors, with classes ranging from Prana to Sivananda flows with varying intensities for beginners or longtime practitioners. One of the most unique features of this property is its ties to animal life. A section of the estate is dedicated to the natural Dolphin Lagoon, where guests can swim alongside trained dolphins. If you prefer the turf to the surf, check out the Equestrian Centre, which offers guests the opportunity to ride horses with Trina DeLisser, a former show jumper and international horse show judge. After a long day of fun, take refuge in your own private villa, which comes complete with a personal cook, butler, housekeeper, a private swimming pool, and golf carts that can be driven throughout the estate.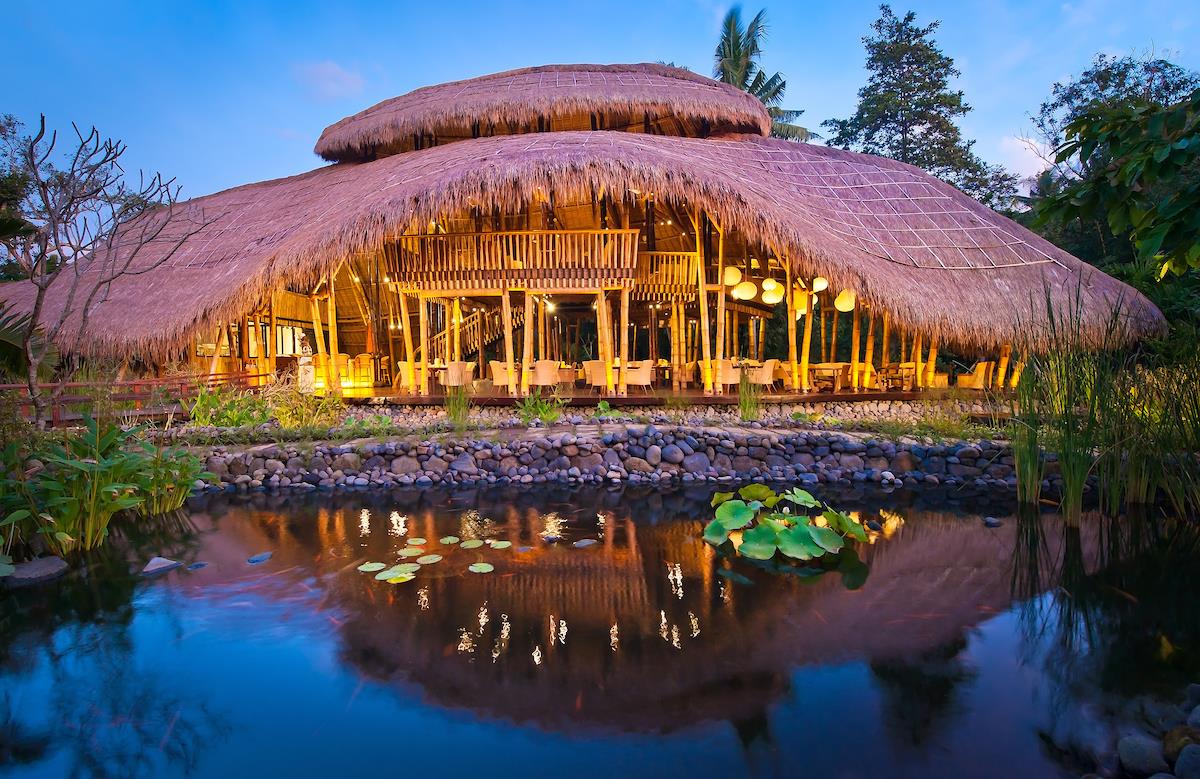 Photo Credit: Fivelements
Fivelements, Bali
No surprises here; Bali has been a top destination for yogis the world over for many years. Fivelements, a self-proclaimed holistic healing center, aims to promote the Balinese philosophies of living in harmony and alignment among each one of its guests. Restorative yoga courses are at the heart of the healing intention of this property. In addition to Yin & Yang classes and Tantra Healing courses, the center also offers art therapy classes to help guests tap into their inner creativity. Each suite on the premises sits parallel to Bali's sacred Ayung River, and are fashioned with traditional Balinese "songket" textiles, a bathhouse with chromotherapy lighting, and a spacious terrace. Even the dining is intended to be healing, all meals served in the thatched roof Sakti Dining room are vegan and plant-based dishes that guests can enjoy while looking out over a lotus pond.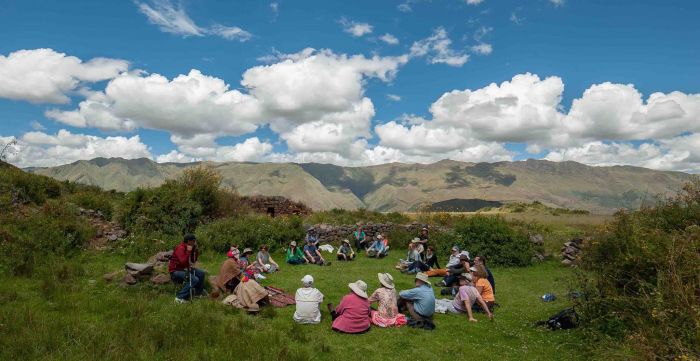 Photo Credit: Willka T'ika
Willka T'ika, Peru
Nestled at the foot of the Andes Mountains, in the heart of the ancient Inca's Sacred Valley, sits Willka T'ika. Though often considered an ecolodge, this luxurious healing retreat is so much more. The accommodations are quaint, giving each guest a view of both the mountains and healing gardens that surround each room. Each space is made from natural earth materials and adorned with local artwork, making them entirely sustainable while still being comfortable. If you'd like to get more in tune with Pachamama (the Incan word for Mother Earth), the Seven Chakra Gardens are also available to guests. The seven sections of the gardens include plants of a specific color, all of which correspond to a particular chakra in the body to help visitors find a greater sense of peace. One of the best places to practice yoga or meditation is in the crown chakra garden, which is built around a shady, thousand-year-old Lucuma tree. Due to the property's proximity to indigenous Q'ero villages and Machu Picchu, Andean healers visit regularly to perform authentic local healing ceremonies.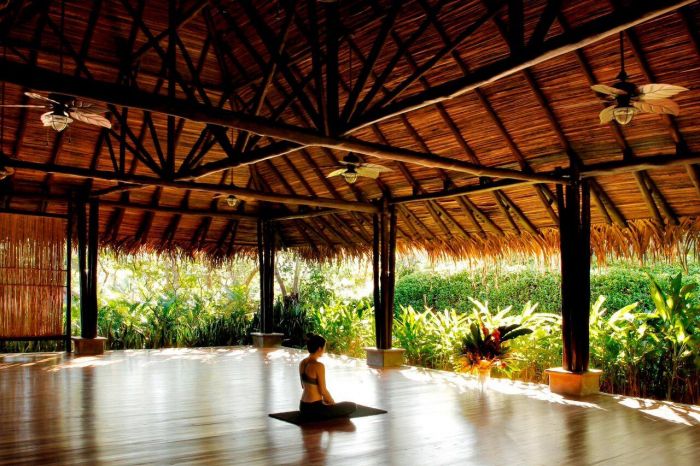 Photo Credit: Blue Spirit Retreat
Blue Spirit, Costa Rica
As one of the world's most eco-friendly nations, Costa Rica has become a natural hotspot for yoga enthusiasts. Blue Spirit lives within one of the world's five "Blue Zones," which are identified as areas where locals live past 100 years old. This dedication to vibrance and wellbeing translates to the yoga programs offered on the property. A variety of retreats are offered throughout the year by world-class yoga instructors, and promote everything from yoga teacher training to studies in shamanism and meditation. The indoor studio sits high above the property in a glass-enclosed space with unhindered views of the ocean, while the outdoor studio space is surrounded on all sides by lush, soothing vegetation. Blue Spirit also features the most extensive litany of spa treatments on this list, which includes services such as craniosacral balancing, sound healing, and foot reflexology, to name a few. Take some time to explore the beauty of Costa Rica itself while you're in the area such as surfing, horeseback riding, and birdwatching are all activities that Blue Spirit hosts for guests upon request.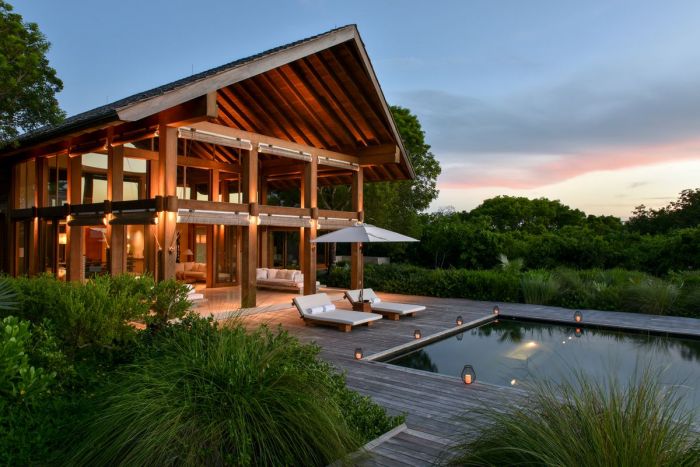 Photo Credit: Como Shambhala at Parrot Cay
Como Shambhala at Parrot Cay, Turks and Caicos
Recently voted Turks and Caicos' "Best Resort Spa" by the World Spa Awards and "The Most Tranquil Spa in the World" by Condé Nast, Como Shambhala is a luxury experience all its own. Located on its own private island, the resort offers an Asian-inspired wellness retreat that incorporates yoga, Ayurveda, aromatherapy and more to ensure optimal physical and spiritual balance. Each day of the retreat involves five hours of yoga practice, led by the world's top teachers and healing therapists. Those looking for a total body detox should consider the Abhyanga Treatment package, which includes an herbal steam treatment, a body mud mask, and Ayurvedic massage, all designed to enhance the body's circulation and release toxins. Lotus, the resort's main eatery, offers sophisticated, Caribbean-inspired seafood dishes by the poolside during the day, while the wholly-organic COMO Shambhala menu is on offer for guests seeking in-villa dining. Consider booking one of the private estates just south of the resort at Rocky Point, all villas are butler-serviced spaces that include beach access to the mile-long, white-sand shore and a private swimming pool.