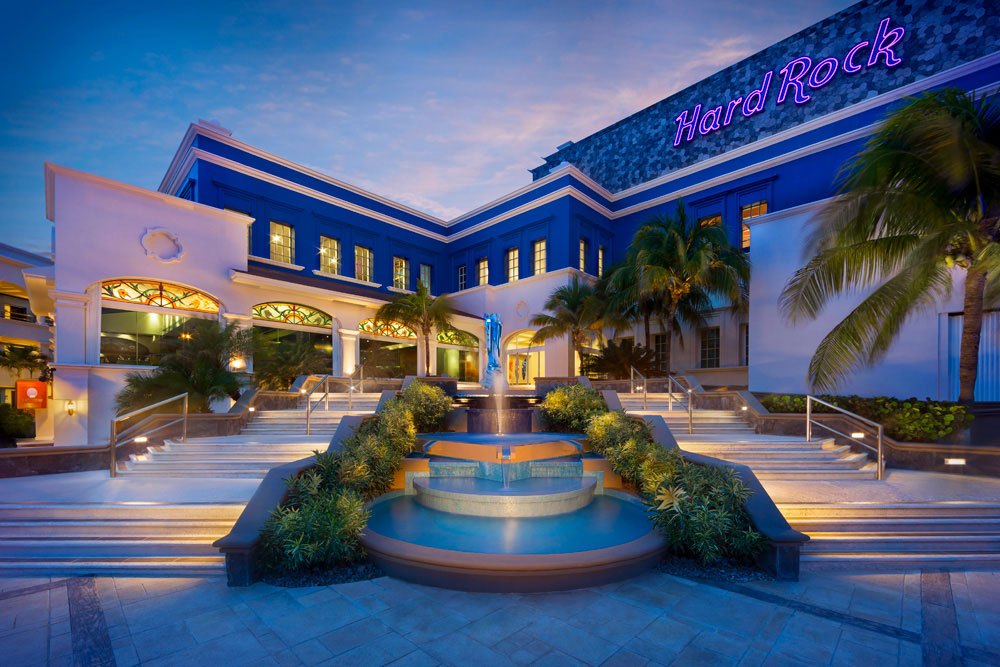 Photos Credit: Hard Rock Hotel Riviera Maya
At one point or another, we're guessing you've probably imagined what life would be like if you were an international rock star. From fame, fortune, adoring fans and touring the world first-class, the gig is appealing at every turn. While some of us don't have the chops to make it in the music industry, there are still a few ways you can live out your rock star fantasies, at least as far as traveling is concerned.
Hard Rock Hotels (HRH) are known for being one of the most recognizable brands in the world and have a knack for getting making their guests feel like an A-lister. Recently, we visited one of the brand's all-inclusive resorts, Hard Rock Hotel Riviera Maya to get the full rock star treatment. Riviera Maya is located on the Eastern side of the Yucatan Peninsula, and is known for its exquisite Caribbean waters, white sand beaches and plenty of green foliage. With daily flights from several major carriers (American, Aero Mexico, Copa, Delta, JetBlue, and United to name a few) getting there is also easy, with 82 cities offering non-stop flights from the US alone.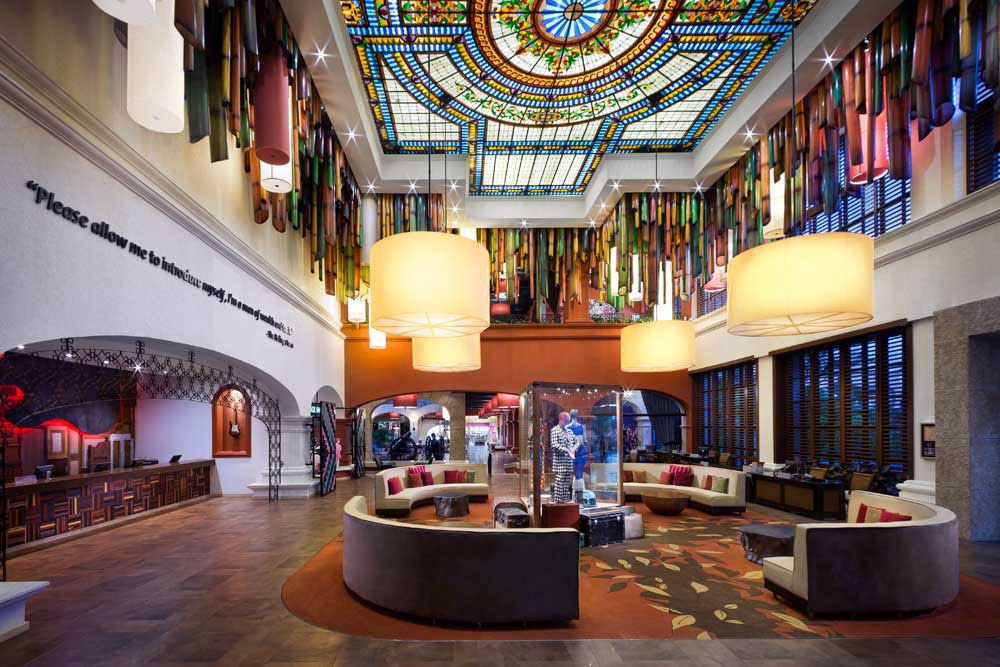 The hotel is a destination in itself, with a private beach, six pools, nine bars and lounges, fine dining, 24-hour room service, spa, a golf course, library and exclusive services available only to guests. The overall design is sleek and modern paired with local touches. At the heart of each HRH are music-based experiences, to complement the array of sights, sounds and tastes you will encounter on your stay.
The lifestyle-focused hotels are one of the first to design the lobbies and public spaces as social gathering spots. Some select hotels even have DJ booths and host events in the lobby. In the Hard Rock Riviera Maya, Bon Jovi performed for the grand opening, and the Woodstock terrace holds concerts free of charge to hotel guests. The brand puts on more than 30,000 live music events each year around the world.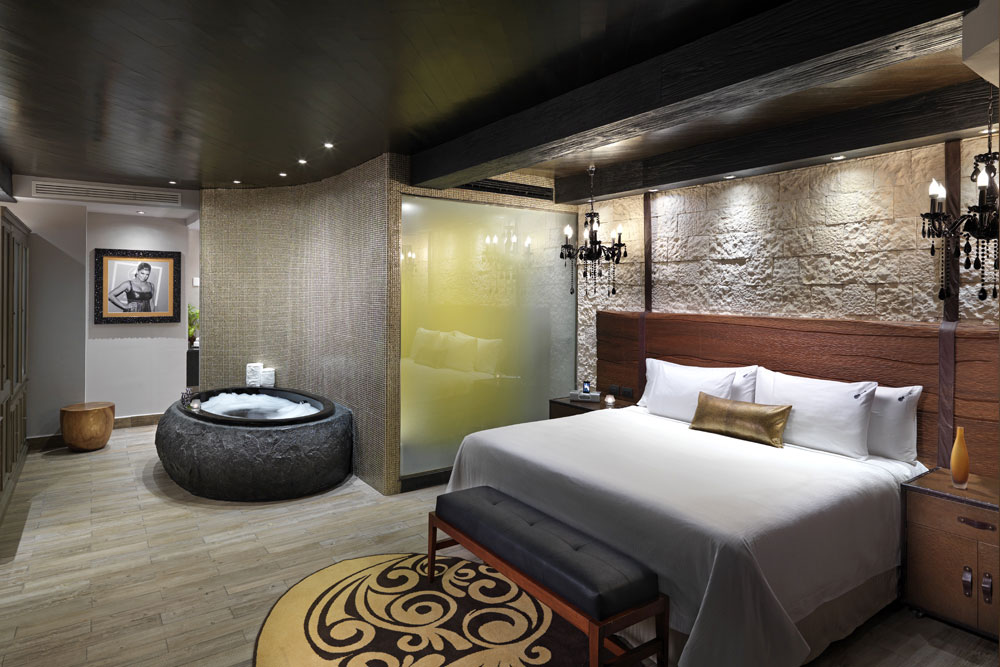 The hotel has a total of 1,264 lavish rooms, all complete with balconies or terraces, flat screen TVs and fully stocked mini bars. The jewel of the property is the Bret Michaels Rock Star Suite. The two-bedroom penthouse is the property's first celebrity-branded suite and was designed by Michaels himself (of Poison fame), and reflects design elements from his personal experiences. The 9,204-square-foot space is home to a digital photo booth, private screening room, upper level DJ booth and bar, raised dance floor, inspiration quotes, Camaro-converted billiard table, cowboy hat display and bandana-influenced ceiling décor to showcase the famed rocker's individuality. The suite is decorated in shades of gold, blue, purple, and light beige and paired with an eclectic and modern look.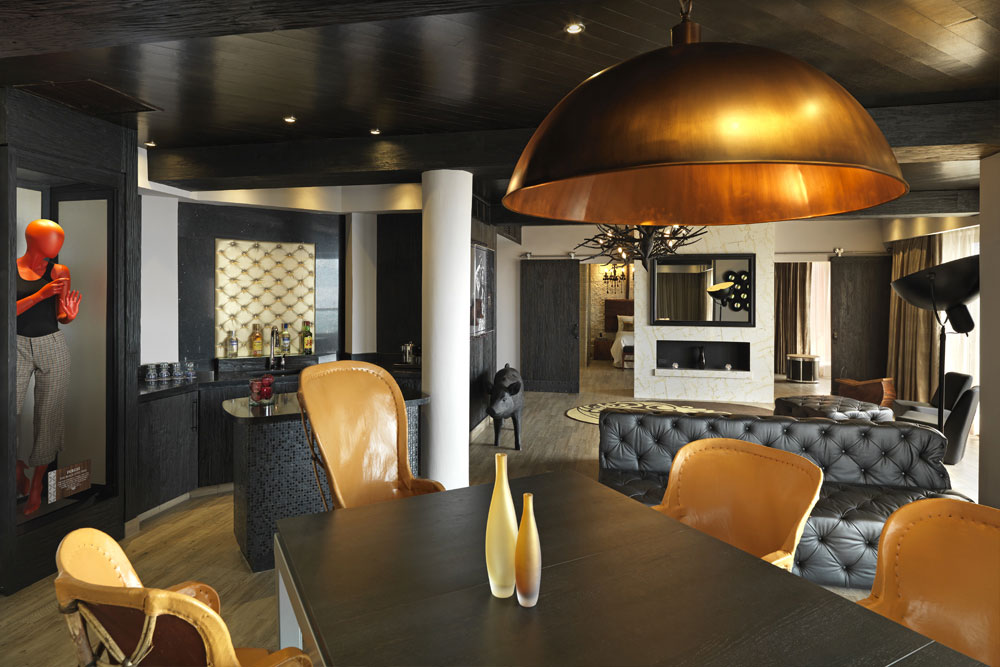 When you walk in, you are immediately greeted with a full-size cutout of Michaels next to a display case with a Rose guitar and Taxicab motorcycle. A personal LED lighting remotes helps set the vibe, and a complete high-tech theater and soundstage is available for any last minute performances. The bedroom features mirrored ceilings and a five-person shower with one-way mirror and Bluetooth waterproof speaker. The suite is topped off with a manicured terrace area with a kitchen, dining area, hot tub, fire pit and plenty of places to lounge. Rates start at $6,072 per night.
Get acquainted with your rock star weekend by exploring memorabilia from one of the largest and most authentic collections in the world. Hard Rock international is the owner of the world's largest memorabilia assortments with more than 80,000 pieces total; part hotel, part museum. In the main lobby you will find a jacket worn by Elvis Presley and down the hall, a collection of items worn by Ashley Simpson. Plus, each hotel caters to the area it is located in. Shakira memorabilia is featured in the Riviera Maya Hotel, while Frank Sinatra's items can be found in Palm Springs.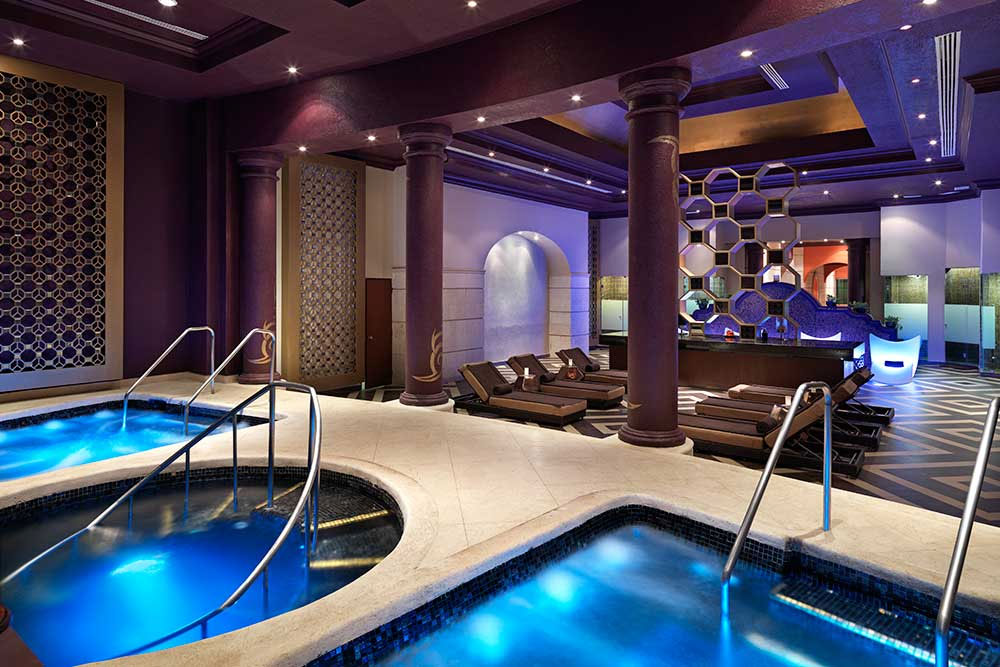 When it comes to relaxing, guests can escape to the Moroccan, rocker-theme spa. Lounge on the purple snakeskin daybeds or a low-rise golden couch framed with modular wooden coffee tables as you await your spa experience. Guests can also participate in a more unique treatment called the Temazcal (house of heat) ritual. Practiced by Mayans for hundreds of years, the therapy purifies the body, mind and soul. The ceremony is overseen by a shaman, and involves singing, chanting and a dip in a cold pool of fresh water and flowers.
Of course, since part of being a rock star is having an enviable body, the all-inclusive Hard Rock Hotels partnered with Les Mills fitness to offer guests a fun health and wellness experience in health. Choose from 14 different programs such as Body Rock, TRX, Boot Camp, Pool Dancing and Body Combat. For those wanting to try something a little more on the mellow side, Pilates, Ashtanga Yoga and Emotional Balance is available in the Zen Yoga Temple.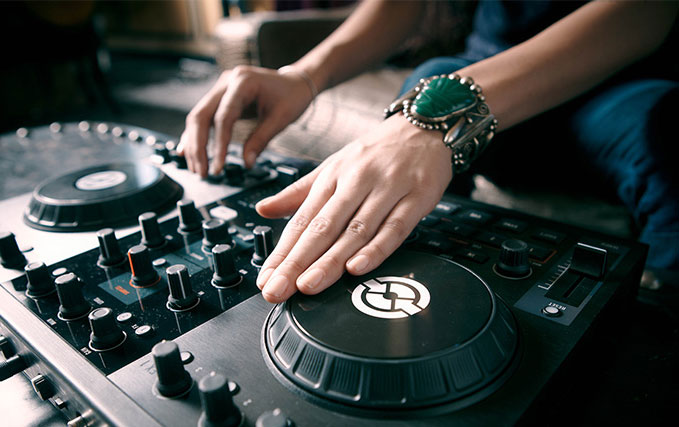 To top off your visit, the Sound of Your Stay Music Program is an all-encompassing, signature amenity that gives guests hands-on, curated experiences to explore. Separated into three sections: Tracks, Mix and Picks, the programs allow for guests to participate in activities such as creating a personalized playlist by using Tractor DJ gear to mix your perfect set or have a Fender Guitar delivered straight to your room for impromptu jam sessions. The Music Lab is also a complimentary interactive and authentic way for multigenerational families to spend time together and connect through music-based experiences. Available to vacationers 12 and over, the program is divided into four unique classes: Jam Band, Spin Session, RockTube and Studio Time. Each provides a unique session filled with music lessons, production techniques and the tools to create your very own music video.