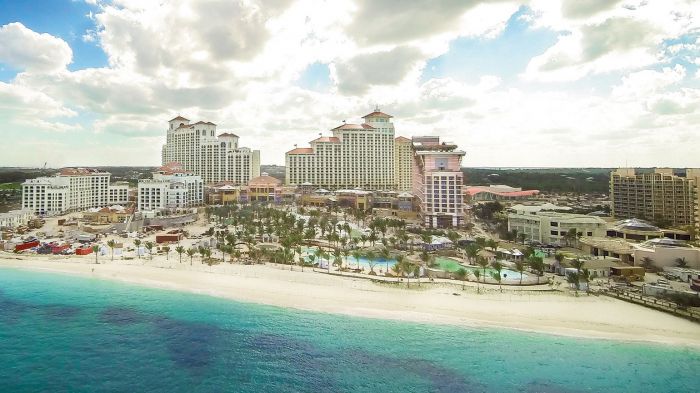 Photos Credit: Baha Mar
While driving around the Bahamas this past fall, I remember looking out my window and seeing Baha Mar, the megaresort which was scheduled to open late 2014. Two years later, it sat unfinished, a ghost town in the middle of the beautiful Caribbean island. When we first heard about the project, we were excited about the chance for travelers to have even more luxury options on the island.
As the months continued to go by, however, news about the $3.5 billion development began to get less frequent and reports of the project's former developer Sarkis Izmirlian and its primary contractor began blaming each other for delays. Finally, in June of 2016, Izmirlian filed for bankruptcy. In a major development at the end of last year, Baha Mar Resort finally sold to Chow Tai Fook Enterprises Limited (CTFE), owner of the global Rosewood Hotel Group.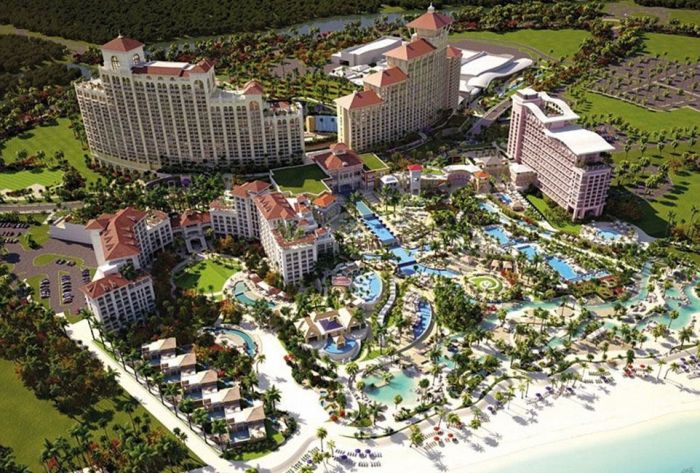 Currently, the project is 97 percent complete and is slated to open this coming April. This is great news, not only for the resort but also the island's economy. According to Forbes, "The Caribbean's largest ever resort project is a potential game changer for the Bahamas, which has seen tourist arrivals decline by nearly 20 percent to 1.3 million over the past decade, projected to contribute more than $1 billion to the national economy annually, boosting GDP by more than 10 percent."
When the plan was first introduced, the development was scheduled to include four luxury hotels with a combined 2,200 guestrooms, 200,000 square feet of indoor and outdoor meeting space, an 18-hole Jack Nicklaus-designed golf course, a 100,000-square-foot casino and a 30,000-square-foot ESPA. Plus the area holds over 40 restaurants, 20 acres of beach and pool areas, art galleries, bars and clubs. But we can't be sure yet if all those projections will pan out under the new ownership since CTFE cites a non-disclosure agreement to withhold further details.
Among those hotels projected to open was a Rosewood property. Last year, the brand pulled out of the megaresort, but CTFE says it will work to re-engage the group to move forward with the partnership. For the first phase of development, CTFE will invest $200 million into the resort, which will include hiring 1,500 workers and is compiling a leadership team of executives from international brands. The new owners also hope to bring in "several globally recognized hospitality brands" as potential hotel operators.