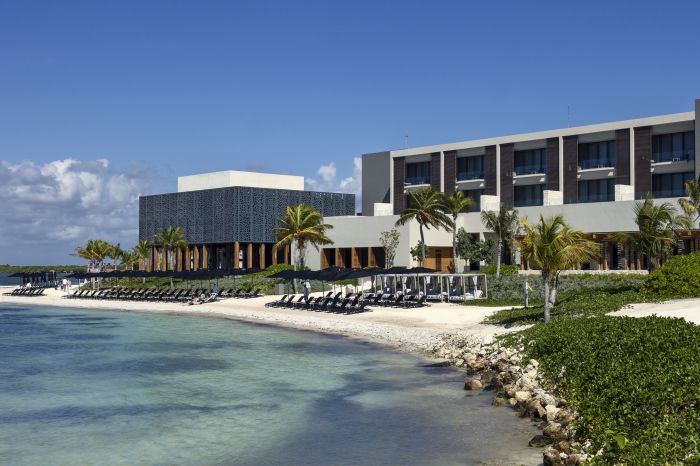 Photos Credit: Nizuc Resort & Spa
Having visited several properties in Cancun over the years we thought we'd seen the best the renowned beachfront town had to offer. Having just visited Nizuc Resort & Spa however we're forced to reconsider. Nizuc bridges the gap between Cancun, which can be a bit crowded, and the more secluded, boutique luxury properties to be found in Playa del Carmen and Mayakoba. This is, first and foremost, because of its location in the private enclave of Punta Nizuc, which is only 15 minutes from Cancun International Airport but much more secluded than the rest of the resorts crowding the town's main beach. It's the centerpiece of a 29-acre natural preserve that was once the site of the President of Mexico's beach house, and the air of privilege and privacy lingers.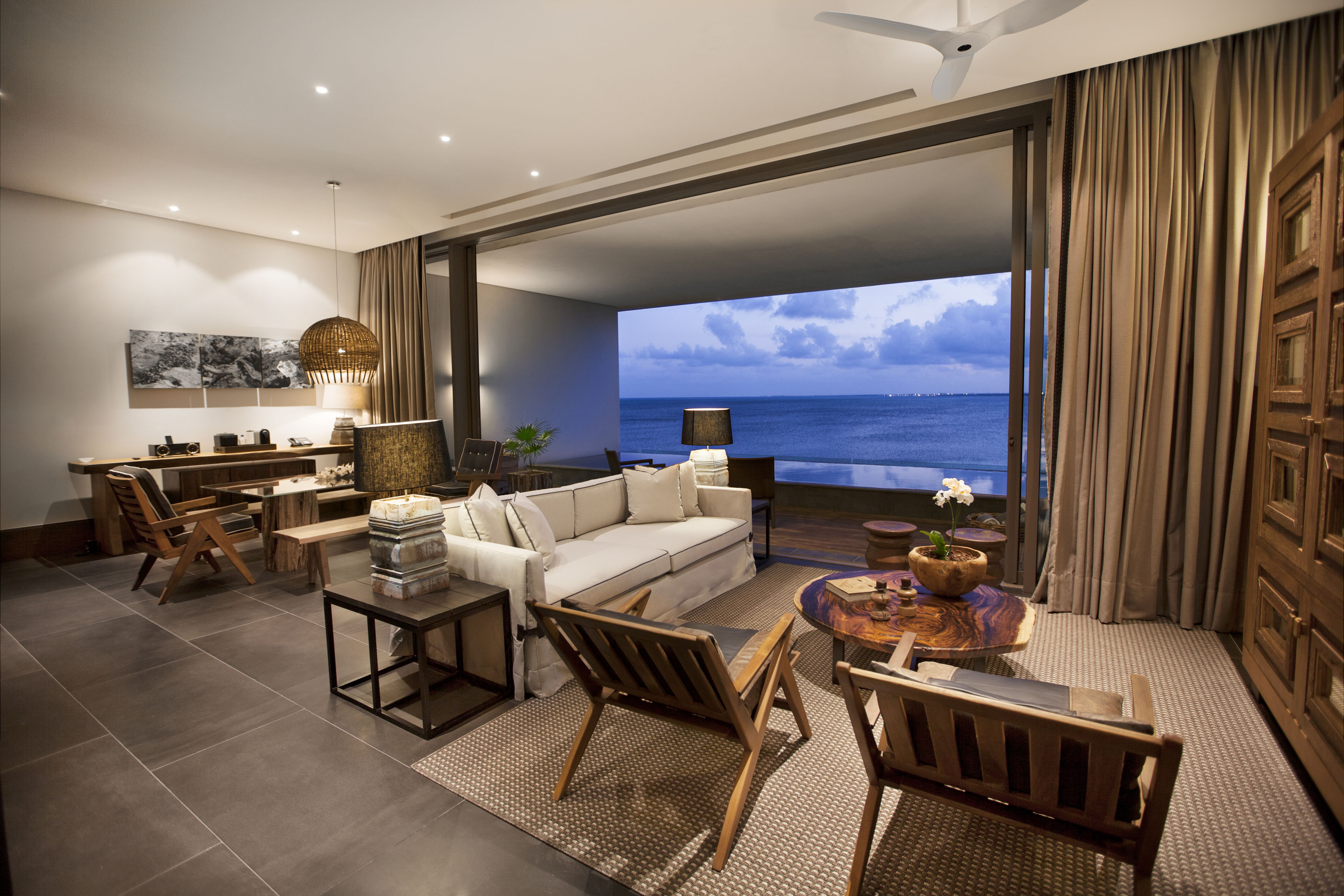 There are 274 suites in total divided amongst three areas and housed in separate buildings, giving them an intimate feel. The signature accommodation categories feature 29 luxe Garden Pool Villas including the gorgeous Presidential and NIZUC Villas, 44 Ocean Suites with eye-popping ocean views, and 201 Residence Suites. Carved wood, leather, stone and organic fabrics echo the soothing tones of the public spaces and impart a sense of wellbeing. That also applies to the 30,000-square-foot Nizuc Spa by ESPA, featuring unique Mayan-inspired therapies as well a s a fitness center, spa café and salon. Hydrotherapy facilities offer a wide range of ways to detoxify and relax through a guided circuit of hydro massage, contrasting temperatures and varying water temperatures in the time-honored tradition.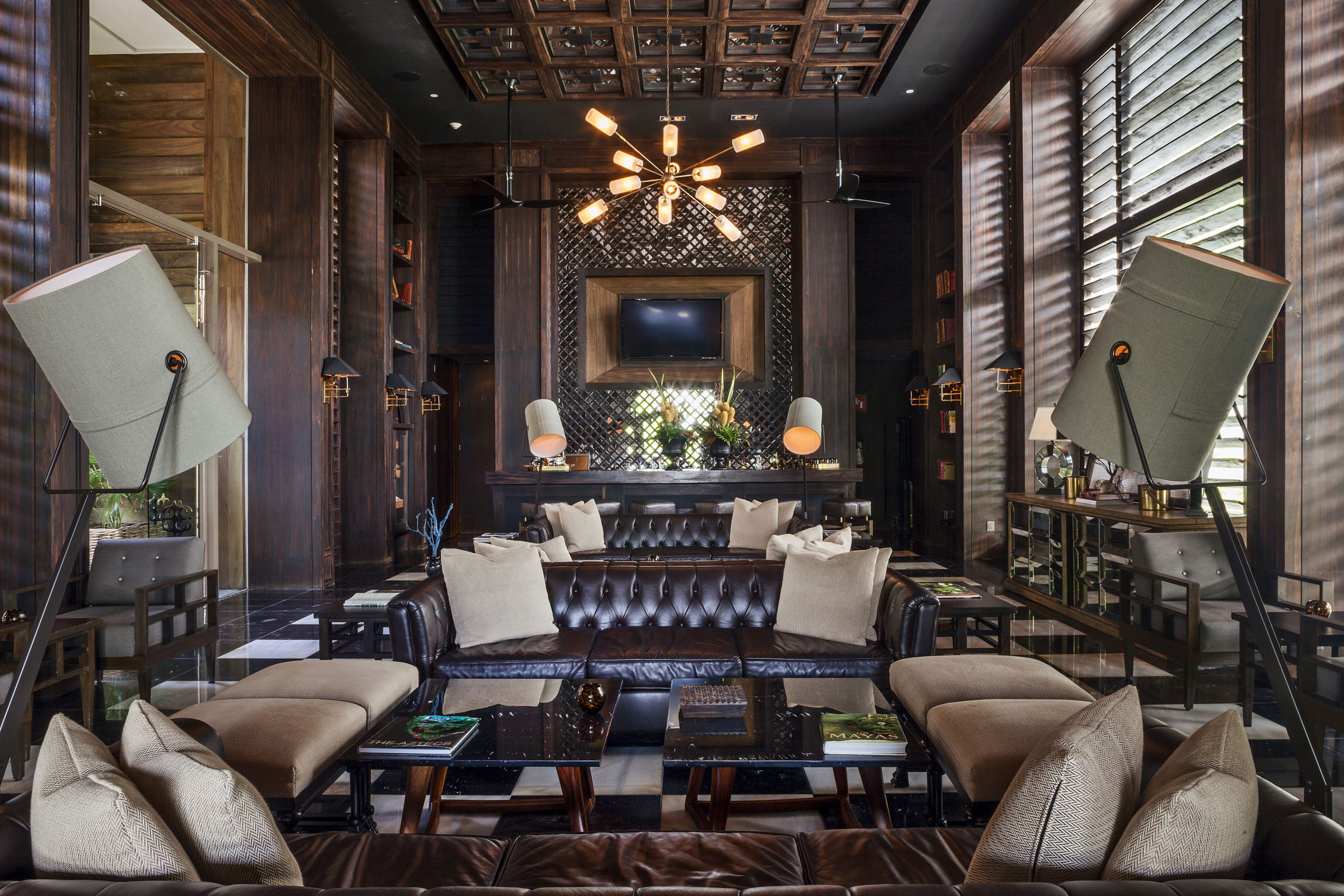 Much of Nizuc's unique character can be traced to its original design as the first Mexican outpost of Aman Resorts, the Singapore-based company responsible for some of the most incredible getaways in the world, including Amanyara in the Turks & Caicos and Amangiri in Utah. When Aman decided to sell the project several years ago, the plans were already complete. The new owners brought on Mexican architect Alejandro Escudero to not only realize but expand on the original vision, wisely keeping Aman's impeccable design ethos intact. The amazing architecture of the place blends modern with Mayan for something that is truly special, with only natural materials used throughout including local stone and mangrove, zizicote and pucte woods in a rich, dark palette of earth tones.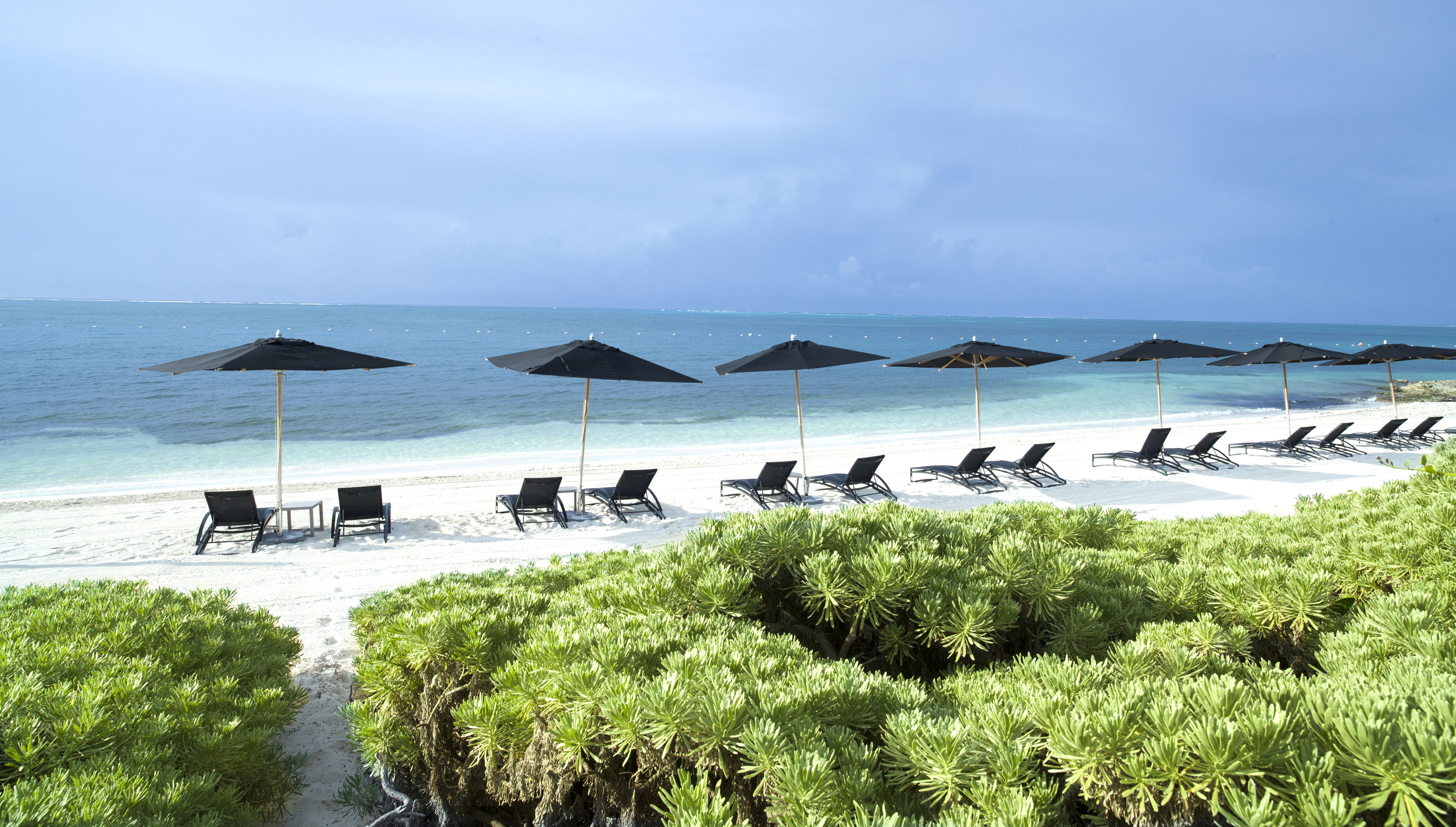 Spaces soar with light and air, sometimes bordering on architectural extravagance. Where most hospitality companies would have seized the opportunity to squeeze in more guest rooms, at Nizuc 20-foot-high ceilings and full floor expanses of glass are the norm. A perfect setting, with gorgeous stretches of white sand beach bordered coral reefs and mangroves set off by lush landscaping and swaying palms, complements the architecture which does not attempt to mimic some tourist's idea of Mexico but is comfortable speaking its own design language. The result is elegant and refreshing, stately yet relaxed, gracious and welcoming. The property features two private beaches, five picturesque swimming pools, six world-class restaurants, and an impressive spa.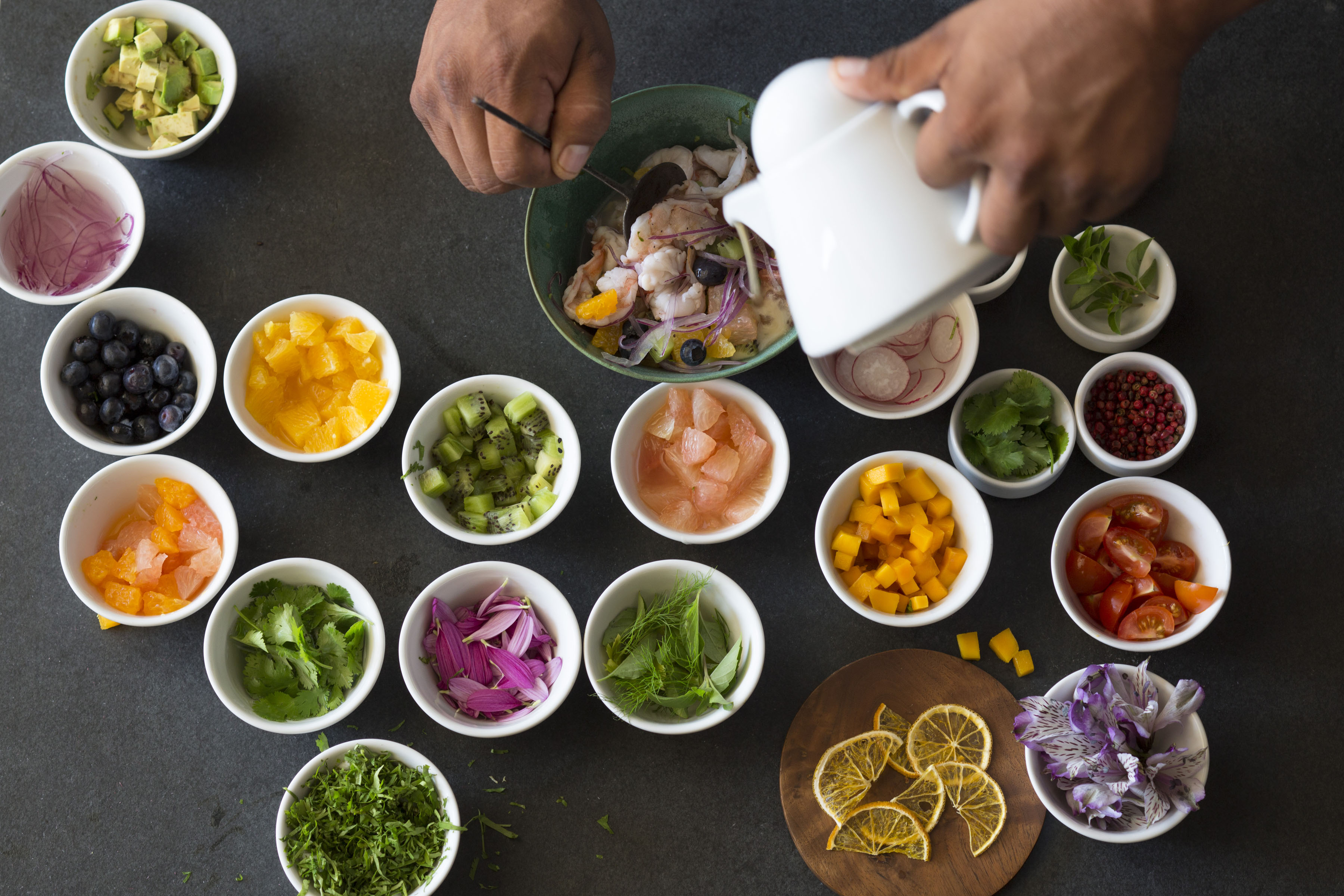 Even without the rest of its considerable charms, Nizuc would be a must visit for the quality, variety and beauty of its six dining venues. An international team of master chefs operate them under the guidance of the resort's Executive Chef, Sylvain Desbois. With more than 15 years experience in the gastronomic and hotel worlds, he earned his toque in famed French restaurants like Epicure at the Hotel Le Bristol in Paris with Eric Frechon and La Cote D'Or with 3 Michelin-star chef Bernard Loiseau. The six dining venues offer a sampling of the world's most enticing cuisines. Cafe de la Playa is the most relaxed of the six and is the setting for breakfast and brunch with a diverse buffet and chef stations offering everything from custom-cooked eggs to local dishes.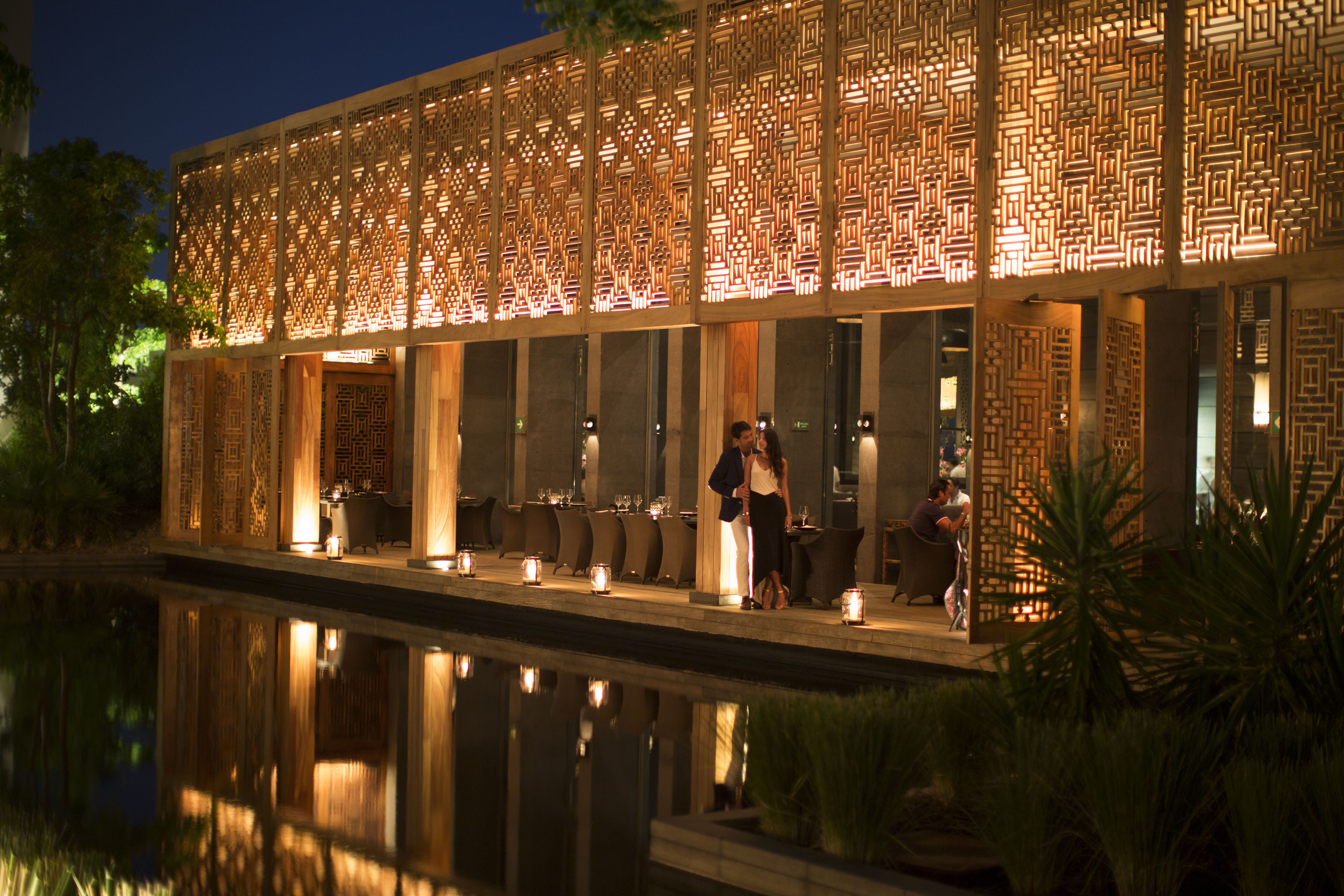 Ramona is a contemporary interpretation of traditional Mexican cuisine relying on the abundance of local products and spices to create "modern versions of authentic regional recipes." Ni takes you into Peruvian territory with its much loved "big" flavors and alluring selection of one-of-a-kind tiraditos, tapas and ceviches. La Punta Grill & Lounge focuses on grilled seafood and fine cuts of meat served outdoors under a thatched roof with prime ocean views. Indochine is a divine fusion of Asian spices and local ingredients producing the essence of both culinary cultures in a stunning poolside setting. And Terra Nostra is a Mediterranean oasis offering homemade pastas and wood-oven specialties with a rotating series of specials depending on seasonality.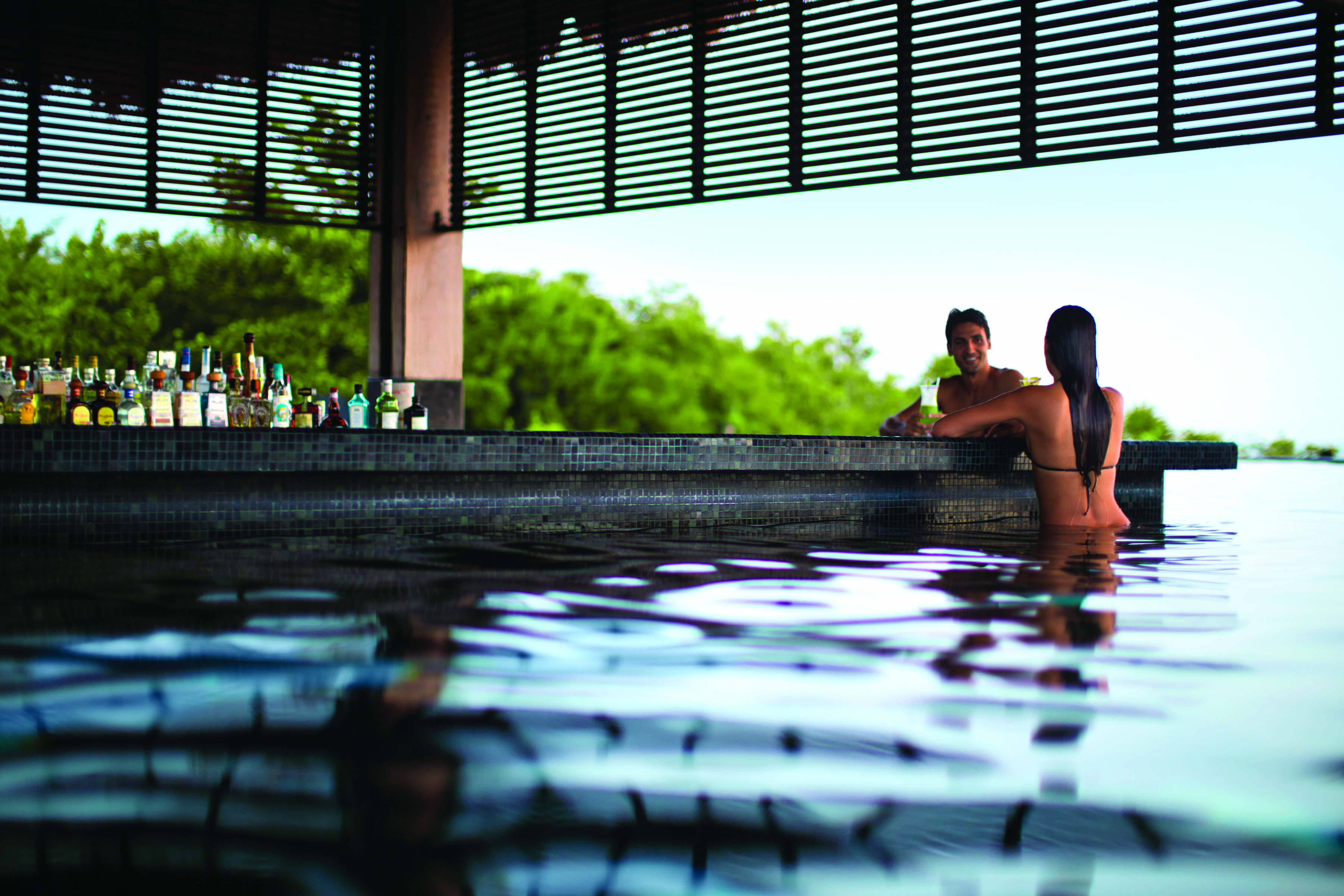 There are also three beautiful bars to indulge in creative cocktails before or after dinner, as the spirit moves you. Only the Terra Nostra Bar & Lounge is connected to one of the restaurants, with a live DJ on most nights. The other two are distinctive, enticing venues in their own right. The largest and most stunning is Bar A-Kan, which occupies its own modern structure overlooking the beach. Impeccable cocktails are the order of the day while the massive carved wood sculpture behind the bar provides a focal point. We have no hesitation in calling it one of the very best hotel bars in the Caribbean. Equally appealing is the Havana Lounge, a gentlemanly retreat featuring fine hand-rolled cigars and extensive selection of rums.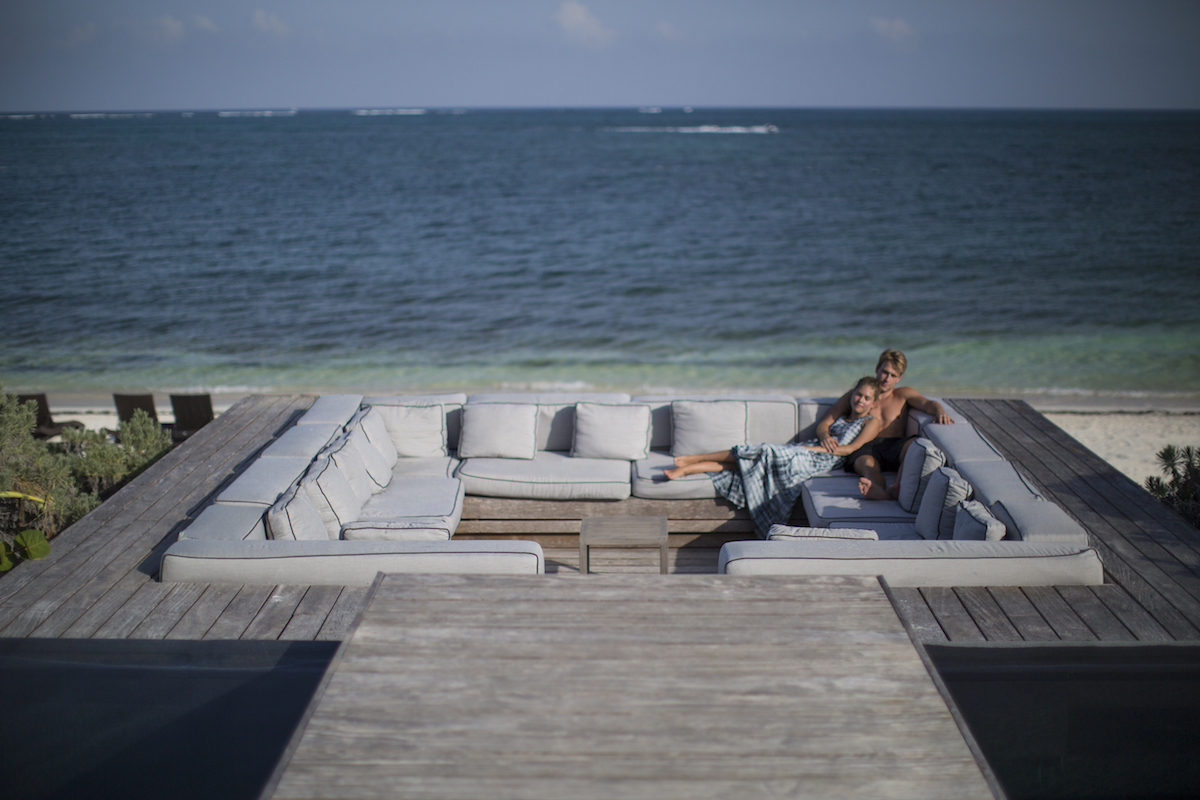 Recently Nizuc has staged an annual invitation-only event called Black Carpet showcasing the the talents of its culinary team. Desbois has assembled an impressive team of chefs including rising star Jose Meza, who is behind the helm at Ramona. We have been following his career with considerable interest including his acclaimed stints at Moxi in San Miguel de Allende and the St. Regis Punta Mita. At Black Carpet, lucky invitees are treated to amazing tasting courses from each of the accomplished chefs, along with craft cocktails, glasses of French champagne, and fine Mexican wine that is not available elsewhere. At the same time it honors the local hospitality community for their "loyalty and patronage," and scene-setters from Cancun and beyond show up to make a night of it under the stars on the beach, with fireworks capping off a perfect evening.