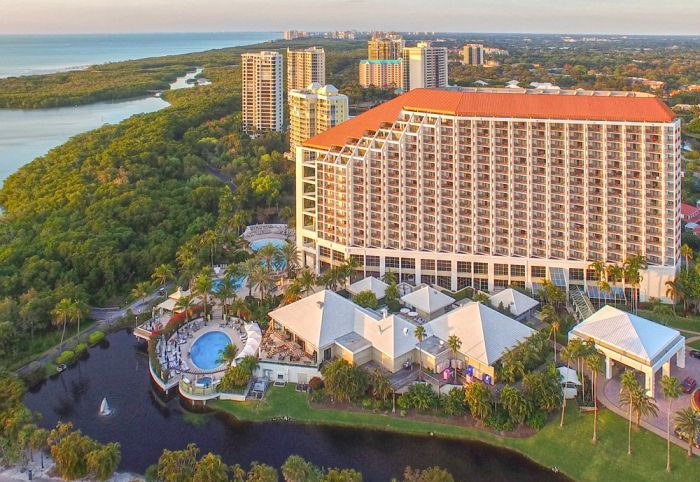 Photo Credit: Naples Grande Beach Resort
Hotel locations don't get much better than the Naples Grande Beach Resort in Florida. Surrounded by 200 acres of protected mangrove forest, intertwined with elevated walking paths made from over four million recycled milk jugs leading to three miles of soft, powdery beachfront, it really is a sight to behold.
18 floors with 474 rooms (including 29 suites) feature private balconies offering views over the Gulf of Mexico, plus 50 Garden Villa bungalows with Asian-inspired décor and more than 83,000 square feet of meeting space. The resort's many attractions mean one will likely find almost everything needed for a complete vacation.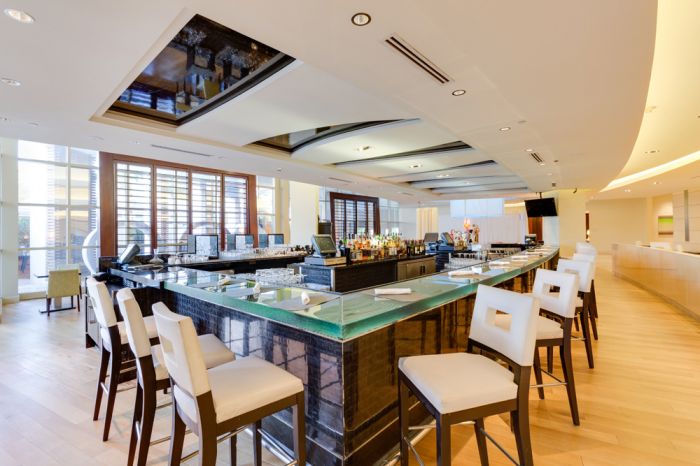 Photo Credit: Naples Grande Beach Resort
Last year, Northwood Hospitality announced completion of an $8 million dollar makeover of its golf club, including a new clubhouse, complete regrass (Bermuda) and leveling and expansion of tees. The 18-hole, 6,955-yard, par 72 course nestled along a lush landscape of native Florida pine hammocks, live oak, grand cypress trees and water, is best described as "coastal contemporary" and is minutes from the hotel. For non-golf sports enthusiasts, the resort has an 8,000-square foot gym with bikes and treadmills, as well as eucalyptus steam rooms to soothe aching muscles.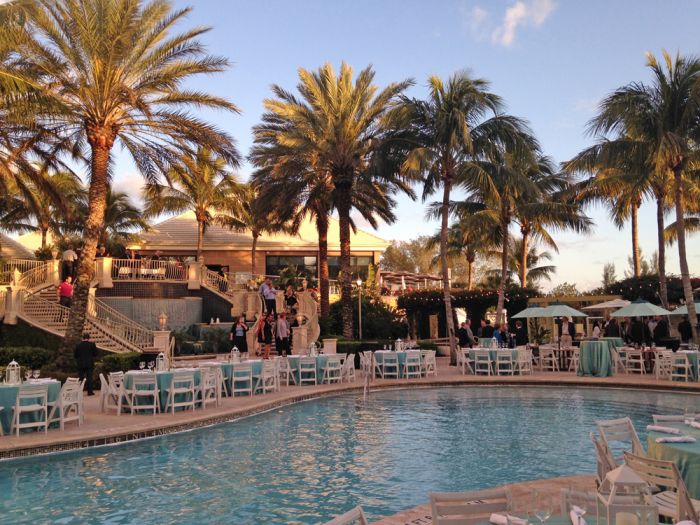 Photo Credit: Naples Grande Beach Resort
The resort also features three heated outdoor swimming pools and has been designed in such a way that children have their own Mangrove Pool, with a 100-foot long twisting waterslide. Adults can enjoy the Palm Terrace pool and the Hibiscus Hideaway, which offers lap lanes. The waters off the smooth, sandy beach area, reached by complimentary buggy ride along a boardwalk through the mangrove forest, are clear and shallow enough for safe bathing. Guests can also rent kayaks and paddleboards. A full array of other watersports including jet skiing, sailing, parasailing and deep sea fishing can be arranged through the concierge desk. The concierge also organizes tours through Everglades National Park, including close-ups with alligators. A special two-hour photography tour includes encounters with wildlife such as manatees, dolphins, sea turtles, bald eagles, ospreys, herons, egrets, pelicans, alligators, rosette spoonsbills, as well as numerous species of fish and shore birds, depending on the season.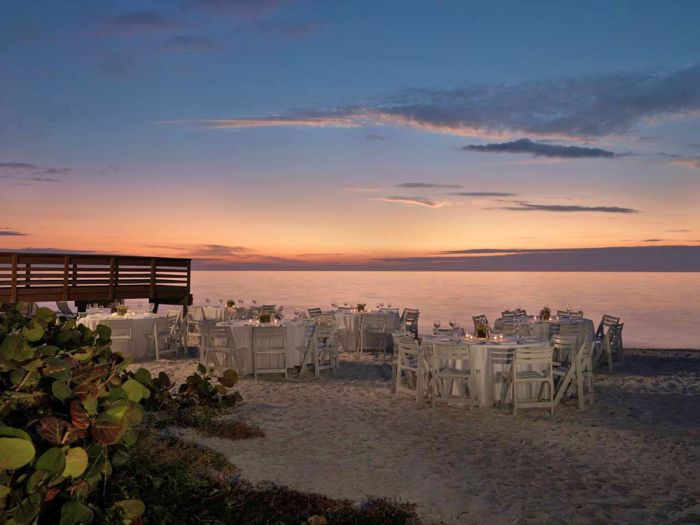 Photo Credit: Naples Grande Beach Resort
To further cater to young children, the resort has even developed its own Explorers Club. Named after the cute loggerhead sea turtles native to the area, the club offers games including arts, crafts and sports, as well as stargazing nights. Activities include "Little Chefs," where children make their own pizzas, watermelon eating contests, ice cream socials, water balloon Olympics; and a "Dive-In Movie Nigh"' where families pull up a float at the resort's Mangrove Pool and watch movies on a massive screen.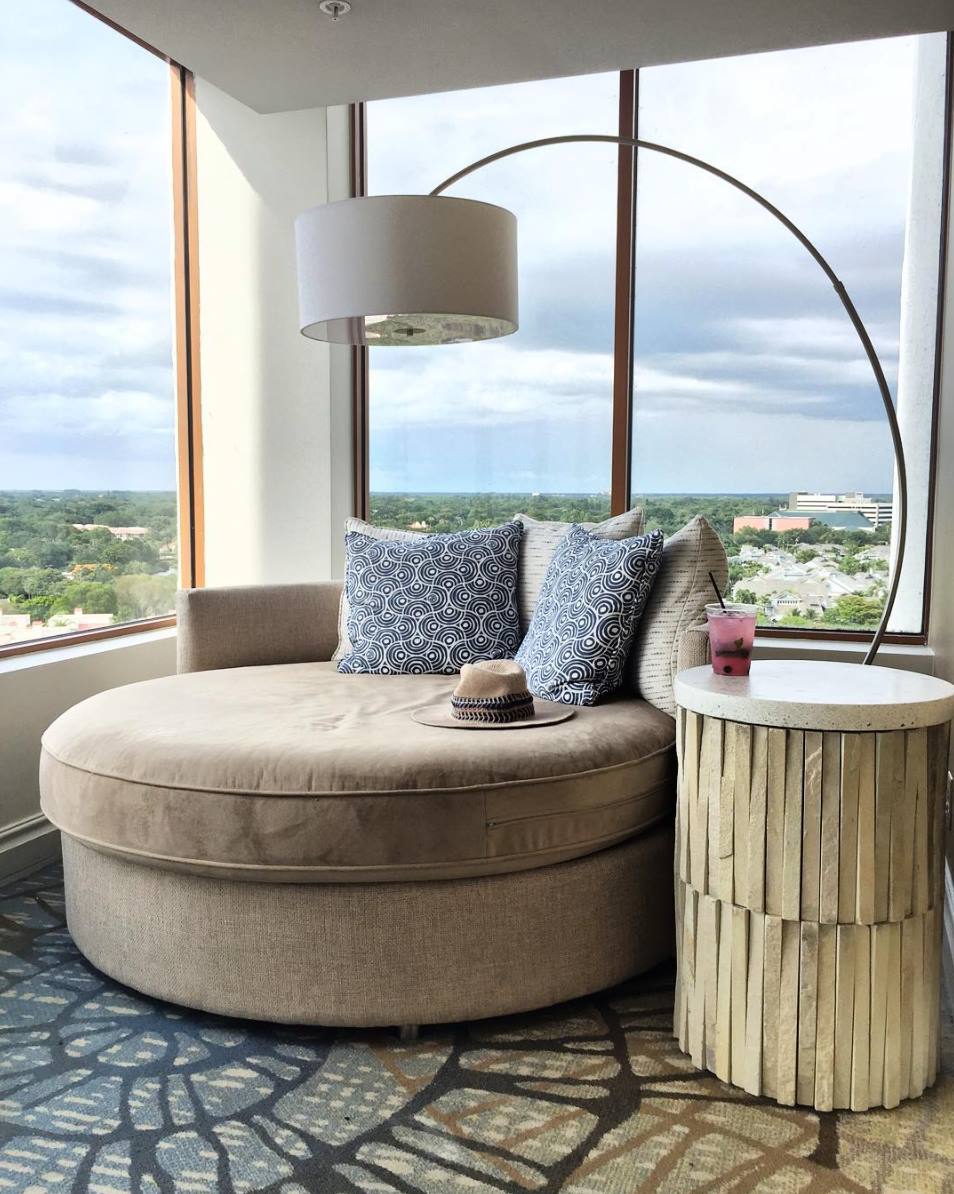 Photo Credit: Naples Grande Beach Resort
Naples Grande Beach Resort also unveiled its renovated spa last year. Stepping from the open, lively lobby into the secluded spa area seemed like passing through a time warp. I was instantly transported into a tranquil Japanese-inspired pavilion, an oasis–like landscape replete with colorful crotons, palm trees and a white bougainvillea espalier wall. A fountain, a waterfall and a small meditation labyrinth only added to the overall sense of restfulness. If mental relaxation is the prelude to the physical state, then this sedate atmosphere achieved that. My hour long deep-tissue massage enhanced the experience even more.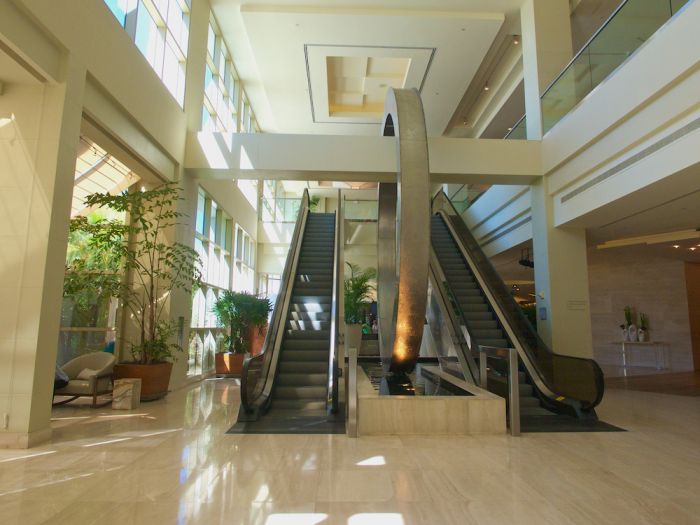 Photo Credit: Columbia Hillen
In terms of wining and dining at the Naples Grande Beach Resort, there is ample choice; there are five restaurants and bars spread across the property. The menu at Rhode's End focuses on capturing Mediterranean flavors such as octopus salad, hummus, pita flatbreads, fried baby squid and burgers with tzatziki sauce. For a more informal treat, the Gulf Coast Oasis is located poolside with a menu of sandwiches, burgers and tropical drinks. In the evening, try Sunset Veranda at the beach, where guests can enjoy refreshing drinks by a fire pit while watching dramatic Gulf Coast sunsets slip into breezy twilights. Here also are themed nights including "Lemonade Lab," "Mojito Mondays" and "Burgers and Brews," with live music. Aura Restaurant is an international coastal cuisine serving breakfast, lunch and dinner. The 'Spressi,' bar is the place to go for coffee lovers, serving a range of Italian-style drinks, as well as specialty breakfast drinks, light breakfast and lunch fare.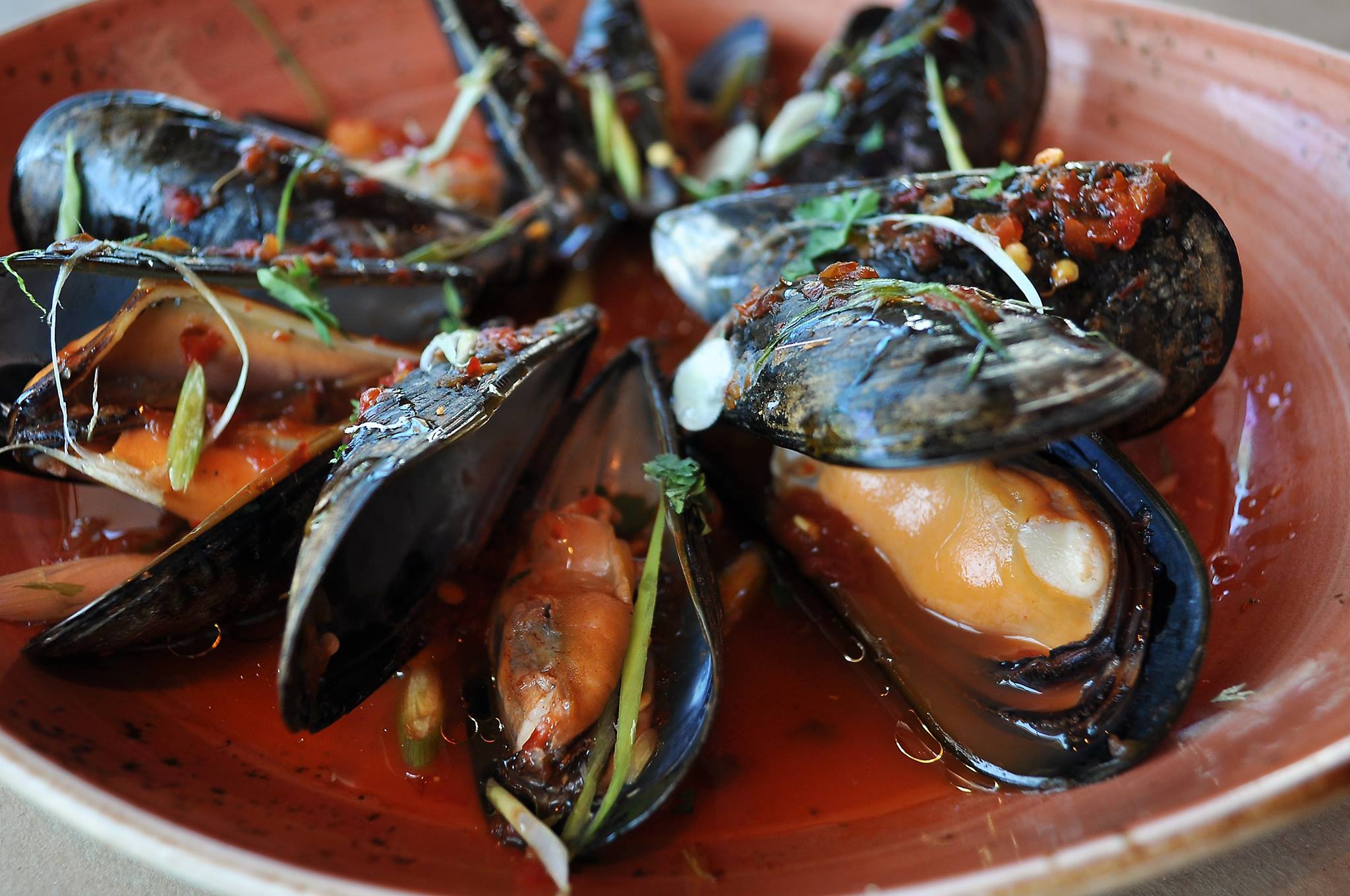 Photo Credit: Naples Grande Beach Resort
As its name indicates, The Catch of the Pelican restaurant specializes in seafood specialties including snapper, flounder, grouper and pompano. Located off the hotel's spacious lobby, it offers relaxing, yet sophisticated ambience with friendly service.
If a pelican enjoys such a feast I might consider reincarnating as one. Try starting your meal with crispy calamari dipped in a fragrant pepperonata frisee dragon aioli or the restaurant's most popular dish, stone crabs with cajun mustard aioli. The crab toes come neatly cracked so there's little work to do. They're large so order per piece. Grouper was my choice of main, served with seasonal succotash, fried green tomato, verjus and lemon butter. I also "borrowed" some of my partner's miso and maple syrup broiled seabass, with shiitake, tofu, aka dashi and coconut rice.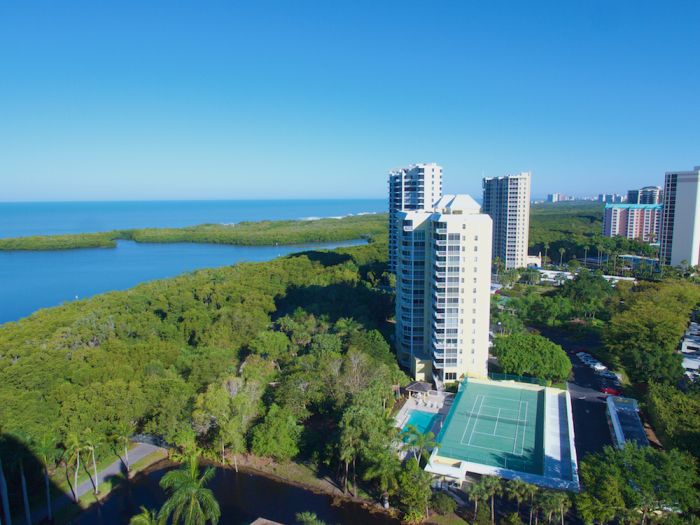 Photo Credit: Columbia Hillen
Opportunities for shopping escapes are plentiful, including the resort's own 'Naples Grande Gift Shop' with jewelry, souvenirs and beauty products. Fifth Avenue South in the heart of downtown Naples—a palm-lined street with over twenty restaurants and boutique stores—is an easy 15-minute drive away.
There are also enticing cultural activities near the resort, such as the Sugden Community Theatre, a multi-venue that includes the 326-seat Blackburn Hall, the 100-seat Tobye Studio and is home to the talented Naples Players.
For a warm vacation by the sea, with a menu of fine dining, shopping and cultural productions to savor, the Naples Grande Beach Resort is a luxury property worthy of serious consideration.