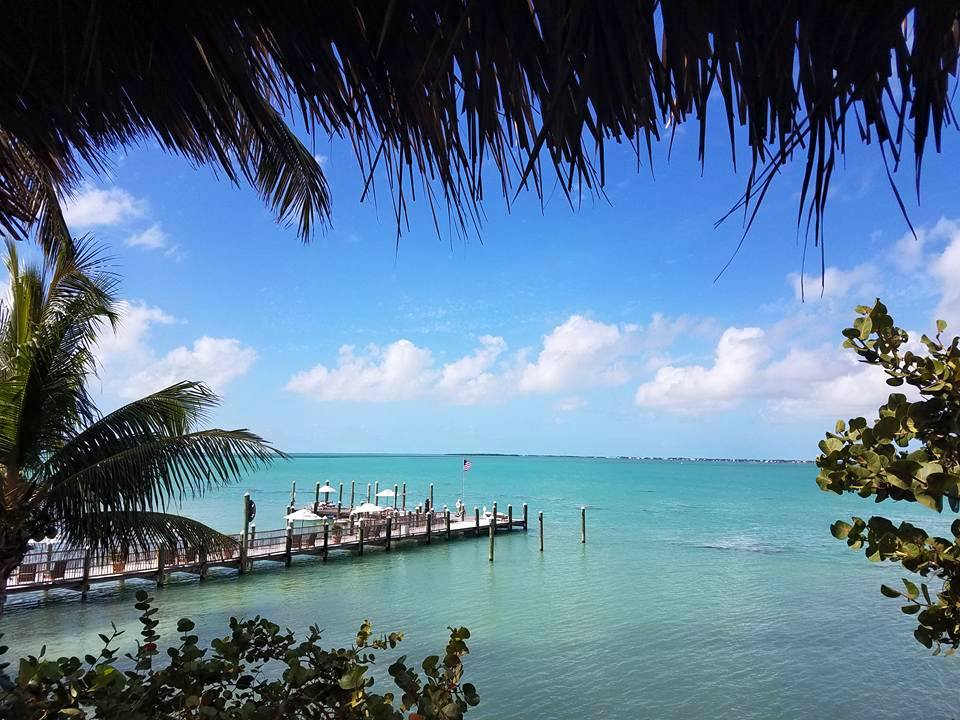 Photo Credit: Little Palm Island Resort and Spa
Seated outside on a warm spring evening, a soft island breeze swishes the fronds of palm trees overhead while docile deer patiently wait to be caressed. While this seems like a castaway's dream, it's a scene straight from a Florida Keys vacation on Little Palm Island Resort & Spa.
Formerly known as Little Munson Island, the six-acre islet lays off the Sunshine State's southeastern coast. This luxurious getaway is reached only by boat or sea-plane, with the signature cocktail, 'Gumby Slumber,' served complimentary as you wait on a terrace for it to arrive. Yachts can be docked at the marina.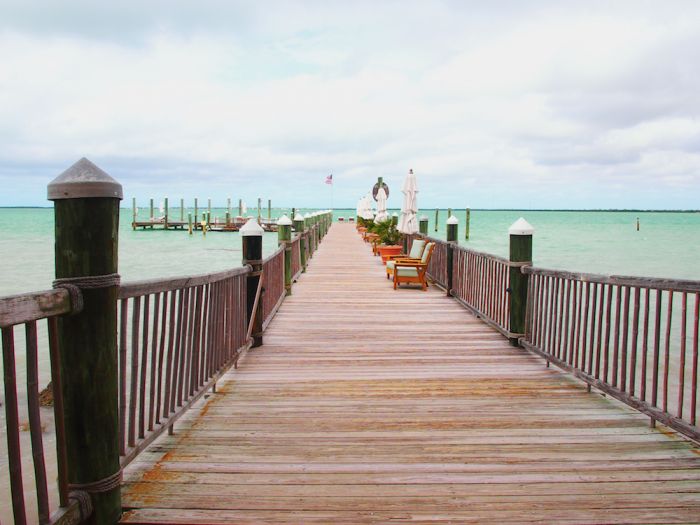 Photo Credit: Columbia Hillen
The resort comprises 30 suites nestled two apiece in charming thatched-roof oceanfront bungalows, scattered along narrow white pathways of crushed seashells. Each pathway meanders through a delightful foliage of palm trees, sea grape plants, flowering schefflera, hurricane palms, atropia flowers, water lilies and bougainvillea. This exotic environment even features gumbo limbo, also known as the 'tourist tree' because it sheds its skin just like reckless sunbathers without proper sun protection.
Between the Atlantic Ocean and the Gulf Stream and only 90 miles from Cuba, the property's ambience is both unique and supremely relaxing. Stepping onto the wooden jetty after the 15-minute boat ride is like stepping into a world far removed from the modern. Here, aside from the gentle Key deer, the only interruptions are the fluttering wings of immaculate white ibis at play and blue herons wading slowly in the shallow waters off the nearby reef.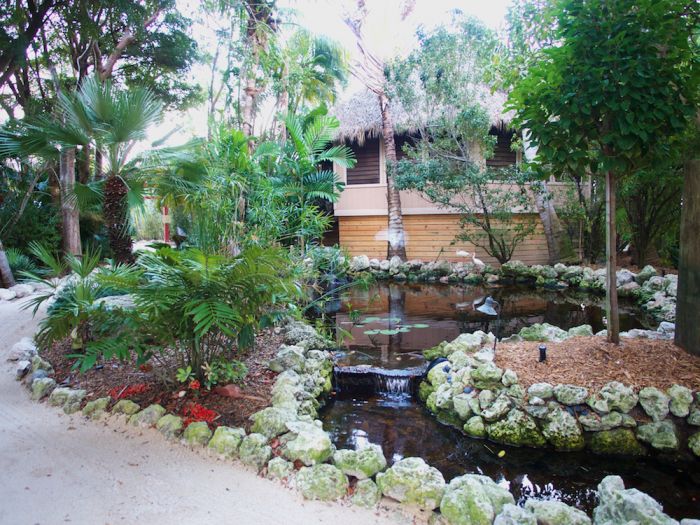 Photo Credit: Columbia Hillen
First purchased in 1923 by Charles Munson, then later by Florida state Senator John Spottswood in the 1960s, the island was eventually bought by Patrick Colee of Noble House Hotels and Resorts and a multi-million-dollar makeover was completed in 1995. Former U.S. President Harry S. Truman visited the resort when it opened in 1988, and it was also a location for the movie PR-109 which portrays President John F. Kennedy while he was a lieutenant in command of a PT-109 boat during World War II.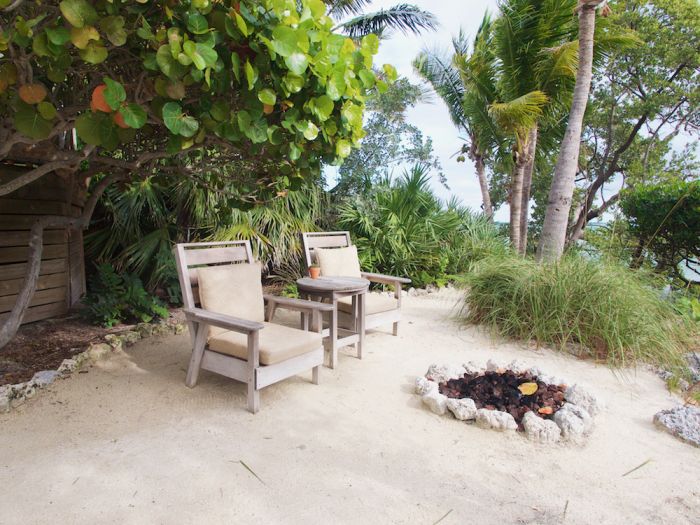 Photo Credit: Columbia Hillen
Our accommodation, the Cormorant Suite, was discreetly located at the farthest end from the landing jetty with a private wooden walkway and twin shaded sun-beds offering views across the water to other neighboring islands. In the tranquility of our discreet lodgings, we'd sit outside under the shadow of a coconut tree, its leaves crackling in the evening breeze, a big open fire before us and doe-eyed, shiny-nosed Key deer rambling over for a slice of apple.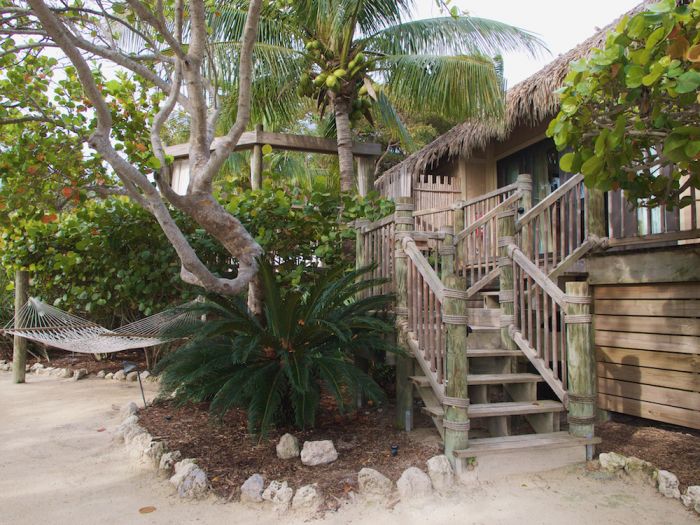 Photo Credit: Columbia Hillen
It was here where we luxuriated in an outdoor shower encased in bamboo walls for privacy. We enjoyed the sleep of the innocent on a canopied bed, its soft, thick mattress so high off the floor we had wooden steps to help us up. Watching assorted feathered friends—northern cardinals, mockingbirds, egrets, and, of course, cormorants—feeding and priming themselves was a delight, as was sitting outside beside the warm fire listening to breezes rustling the palm fronds, its shifting foliage creating shadow-play all around us while the lapping of waves against the shore created mesmerizing rhythms.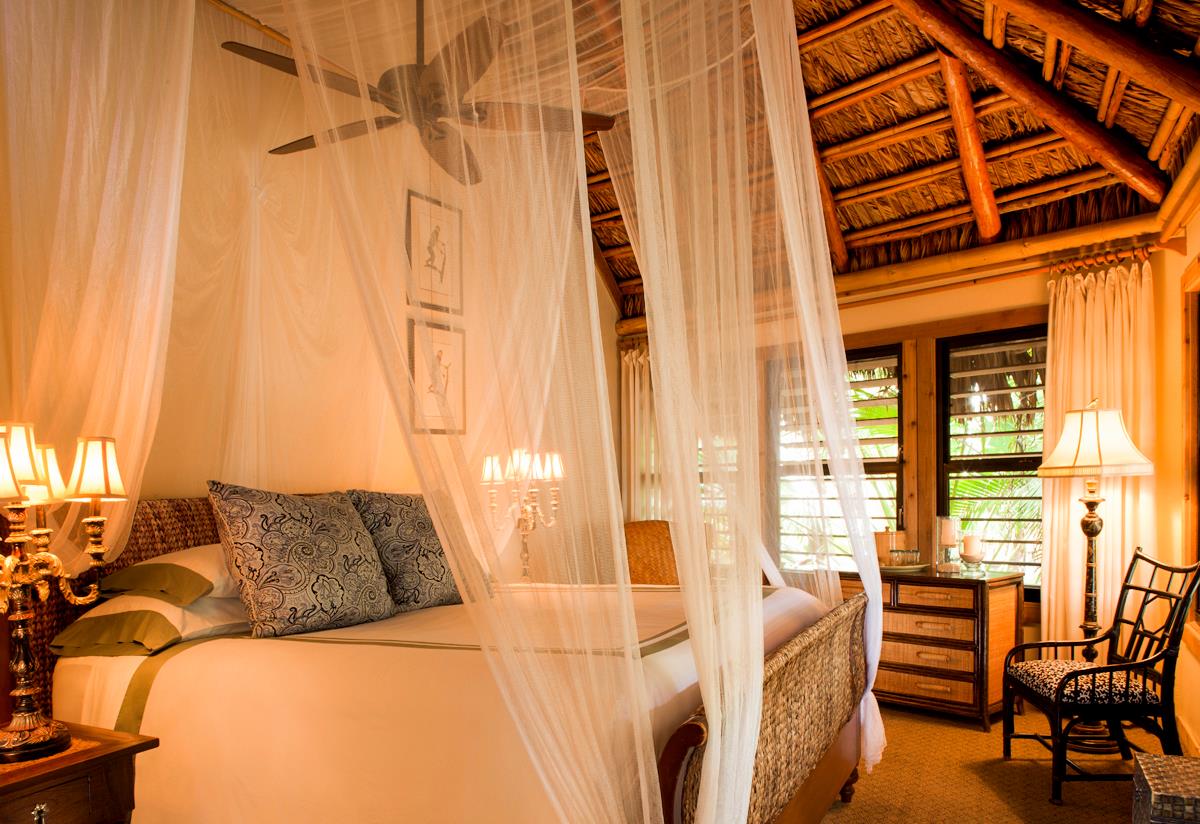 Photo Credit: Little Palm Island Resort and Spa
Our three-room suite reflected a distinct colonial-like atmosphere, with a stone slab floor, wicker furniture, the canopied bed, an old-style traditional brass bathtub in the center of the room, double brass sinks, pull-operated ceiling fans, hanging chandeliers, and both inside and outside showers. Bathing in a hot tub outside on a large wooden deck added to our overall pleasure.
Photo Credit: Columbia Hillen
Breakfasts at The Dining Room included both indoor and terrace seating, and was immensely satisfying. An exotic menu featured items we had never tried before and included an island parfait of mango-flavored Greek yogurt, seasonal fruit and house granola; Exekiel cereal with organic sprouted grains; poblano peppers; maduros (fried plantain) mixed coconut and spicy macadamias, as well as lobster huevos rancheros and fried green tomato Benedict with jumbo lump crab, smoked paprika and scallion. Can a natural juice be healthier than cucumber, orange and spinach? For the more sweet-toothed, there is Little Palm Beach Island French Toast combining toasted marcona almonds, Amaretto mascarpone and guava marmalade, as well as blackberry pancakes with bourbon maple syrup, banana brûlée and candied pecans.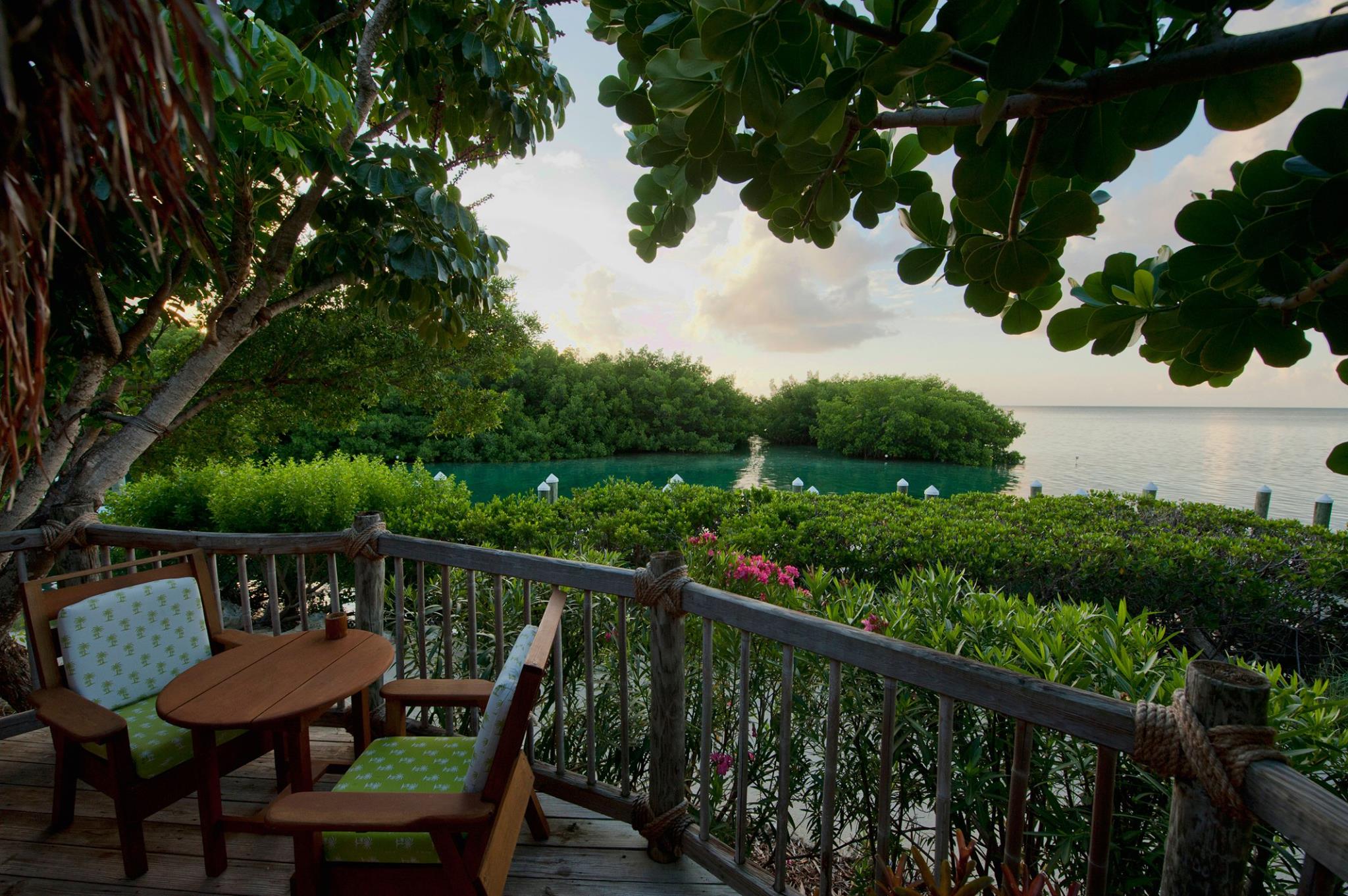 Photo Credit: Little Palm Island Resort and Spa
Dinner is also of high quality, especially if enjoyed on the open terrace facing the sea with a refreshing dry Tanqueray martini and cucumber in hand. Being on an island, seafood was our chosen theme, with starters of crab claws with a coconut and mustard sauce on ice and oysters from Maine with an orange vinaigrette.
Appetizers were followed by lobster lightly poached in butter and tripletail fish with a chestnut-like flavor root puree and tomato salad. Antica, a Napa Valley chardonnay by Antinori Winery, was a wise wine suggestion by the sommelier. As for dessert, our first day on the Keys meant tasting our first Key lime pie, with a roasted cashew base. The chocolate offering was a multi-layer feast that included our favorite brand, Vahlora, accompanied by creme brûlée and chocolate ice cream. Even the espresso came with macaroons, chocolate truffles and raspberries. Kudos to Chef Stephen Belie and pastry Chef Dawn Runge, for a most memorable treat.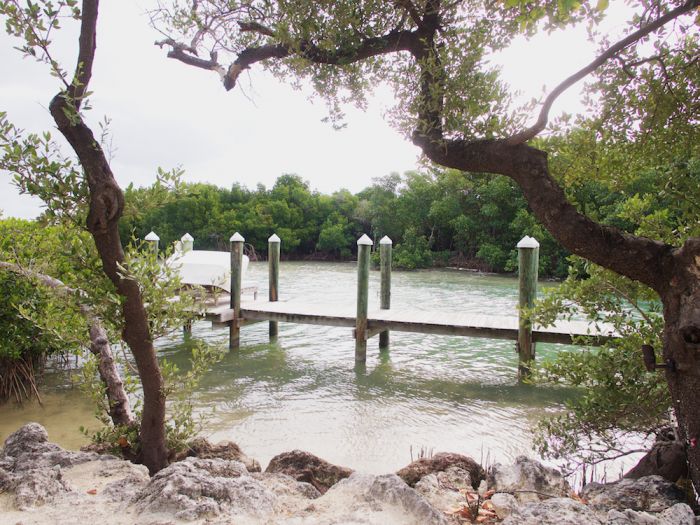 Photo Credit: Columbia Hillen
There's no shortage of activities on the island, including a 24-hour gym, a paddling pool and a soft, sandy beach, not to mention complimentary kayaks and stand-up paddle boards. Noble House staff can also organize a wide range of entertainment for guests such as boat tours, spear-fishing excursions, sailing lessons and snorkeling trips over the natural reefs fed generously by the nutrient-filled Gulf Stream.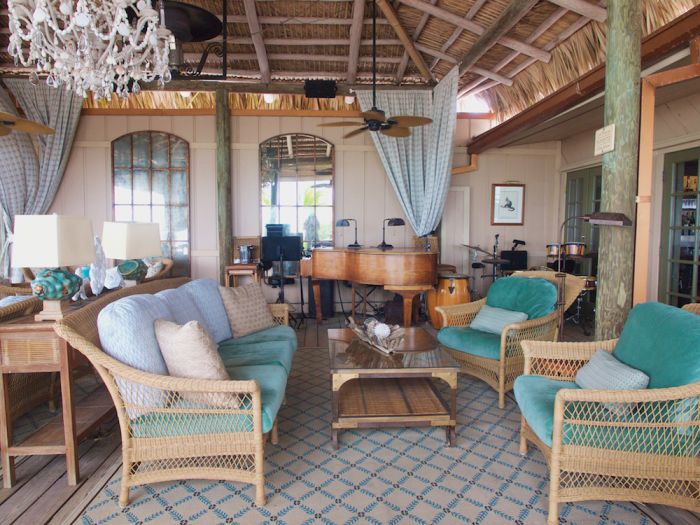 Photo Credit: Columbia Hillen
For the less sports-minded, there's always the activity of swaying in hammocks in the sunshine while being serenaded by irresistible bird and wind song. Or how about being pampered by the skillful hands of therapists at the resort's Spa? After an hour of the Noble massage, tailored to each guest's needs and combining several different techniques, one feels both rejuvenated and rested. The property features the Great Room, or Truman Library, named after the former political leader and his wife, Bess, whose portraits adorn the wall. It houses the island's only television, cleverly hidden behind curtains. Here, under a thatched ceiling, avid readers can linger on wicker armchairs or chaise longues and enjoy the many books, newspapers and magazines, or play board games left there for guest use. Nightly live music is performed on a side terrace beside 'The Dining Room.'
Little Palm Island Resort & Spa offers what many luxury hotels cannot: sheer exotic island seclusion, with leisure activities and fine food to match the moment.