Photos Credit: Pendry San Diego
The Pendry Hotel Solidifies a New, More Mature San Diego
San Diego is growing up. The oceanside locale with its cool, easy-going vibe has been steadily saying goodbye to its untethered self as it develops into a more refined entity. With world-class chefs like Rick Bayless, Richard Blais, Brian Malarkey and Melissa d'Arabian opening eateries within the city, the nation is beginning to take SD's food scene more seriously. According to Bisnow, in 2016, San Diego County "ranked in the top 10 metro areas nationally for startups and fourth statewide—behind Los Angeles, Santa Clara and San Francisco." Even Google made the trek south from Silicon Valley to open an outpost in Sorrento Valley.
On the hotel front, the city is ripe for luxe hoteliers as locals and visitors are seeking more upscale accommodations for their stays. High-end brands such as the InterContinental and Ritz-Carlton are planning developments in the city, and last year alone, SD doubled its number of rooms on offer, many of which were inside new upscale properties. Among the latest outposts to open was the Pendry, a $120 million development from Montage Hotels that caters to SD's more grown-up persona.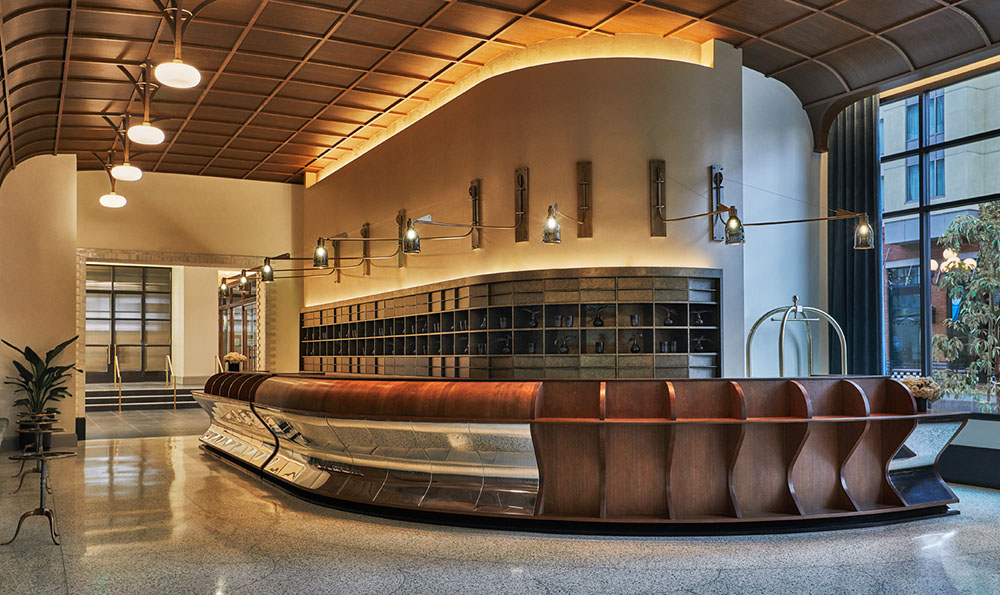 I recently visited the hotel for a weekend staycation to see if it could live up to its hype. As someone who makes a living out of understanding the high-end market and what it takes to really do luxury well, I was sincerely impressed from check-in to check-out.
When the property first opened, the founder of Montage Hotels Alan Fuerstman told the San Diego Union Tribune, "This is a new interpretation of Montage—the new generation of a luxury customer is not really age-specific." He continued, "It's a customer who's matured in a way to appreciate art, architecture, design, bold experiences. The customer is well traveled, has stayed in luxury hotels and boutique lifestyle hotels and wants a little bit of both."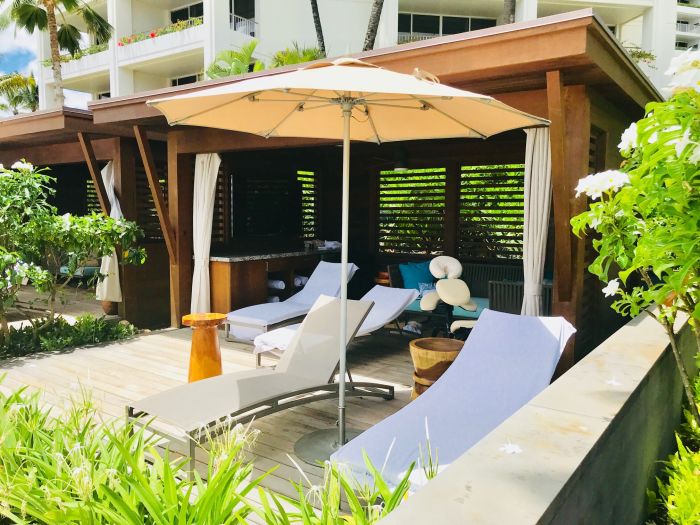 From the moment you approach the Pendry, it's easy to understand what Fuerstman meant in this "new generation of luxury." Constructed within a brick-and-plaster building, the 12-story property seems like something you may see in Brooklyn; it feels cool without even trying. It's high-end but not stuffy and mature but still trendy. It's exactly the kind of hotel that San Diego needs.
Inside, the lobby opens up into a greenhouse-like sitting room to one side with floor-to-ceiling windows and high ceilings, two modern couches, tiled flooring and a fireplace. While many hotels offer a welcome glass of Champagne upon arrival, the Pendry treats guests to a glass of their rotating signature beverage which can be spiked with whatever alcohol they'd prefer at the bar. After check-in, guests can head to their rooms via key-access-only elevators that add to the property's level of security and even gives it a more exclusive, invitation-only atmosphere.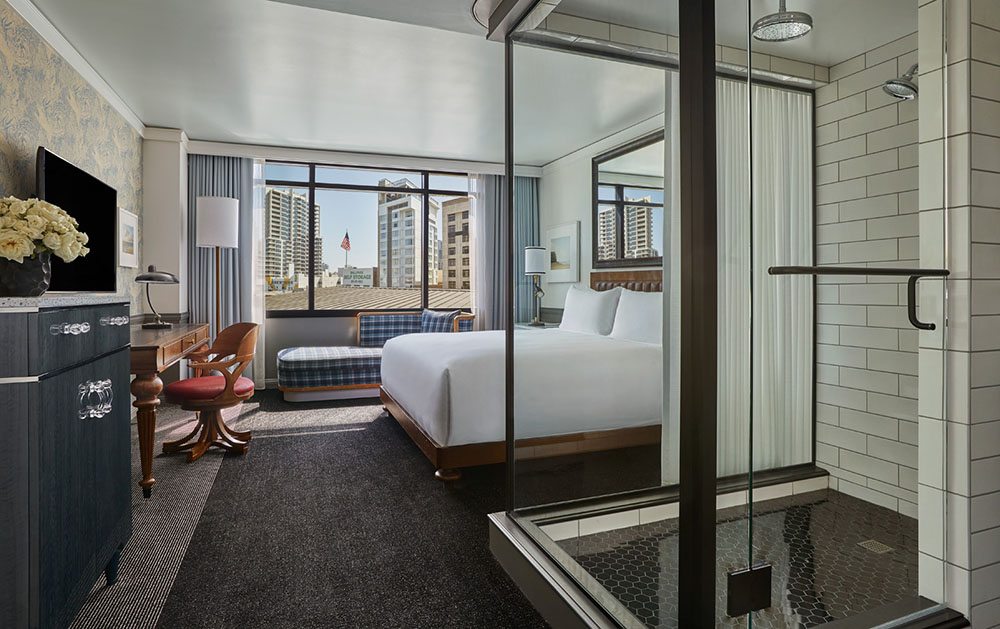 The property has six room categories, with its largest option ranging from 1,082 square feet to 1,497 square feet. For my stay, I checked out one of the Premier Rooms which featured a king bed, a chaise lounge chair, desk and a large walk-in shower that is its pièce de résistance. The rainfall shower is housed inside three glass walls and connects the room with the bathroom. Guests can opt to close the curtains around the shower for more privacy or have a little extra fun by leaving them open. It's chic yet sexy and playfully voyeuristic (in the best way possible).
Among its food and beverage options are six restaurants and bars including Provisional, an upscale eatery serving Southern-California-inspired fare; and Lionfish, the hotel's signature fine dining concept serving modern coastal cuisine. For drinks, guests can enjoy craft cocktails at Fifth & Rose, catch a sport's game at Nason's Beer Hall, mingle inside cabanas on the rooftop at the Pool House or head to Oxford Social Club for a night of dancing.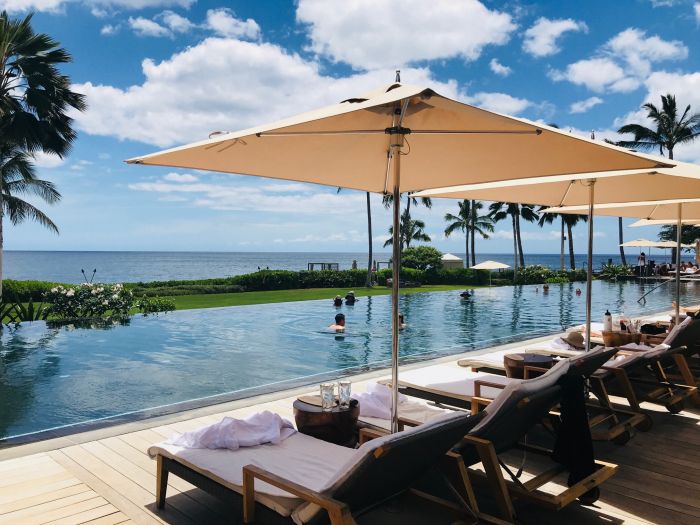 At Provisional, diners enter into the same glass-enclosed concept as its lobby areas and can dine on plush couches sitting underneath an oversized chandelier. The open-faced kitchen allows guests to watch all the action behind the scenes. Provisional's menu consists of appetizers, shareable plates, wood-fired pizza, mains, cocktails, beers and a generous wines-by-the-glass section. There's also a Moët Champagne vending machine on offer which is definitely work checking out.
Being one of only two restaurants serving authentic Spanish Iberico ham in San Diego, we started with the charcuterie board which comes with dried fruit, Lavash bread and pickles. Rolled out on a cart, the Iberico ham is cut tableside from the pig itself, and is every bit as flavorful as you'd imagine. For the main course, we chose the 8 Oz. Snake River Farms Wagyu Skirt Steak with heirloom tomatoes, wild arugula salad and pomme gaufrette along with the Market Catch Grilled fish served with roasted carrots, Chimichurri and purple carrot pureé. Be sure to try the gluten-free rice pudding with salted caramel cream and nougatine for dessert—it's honestly one of the best and most surprising desserts I've tried in a long time.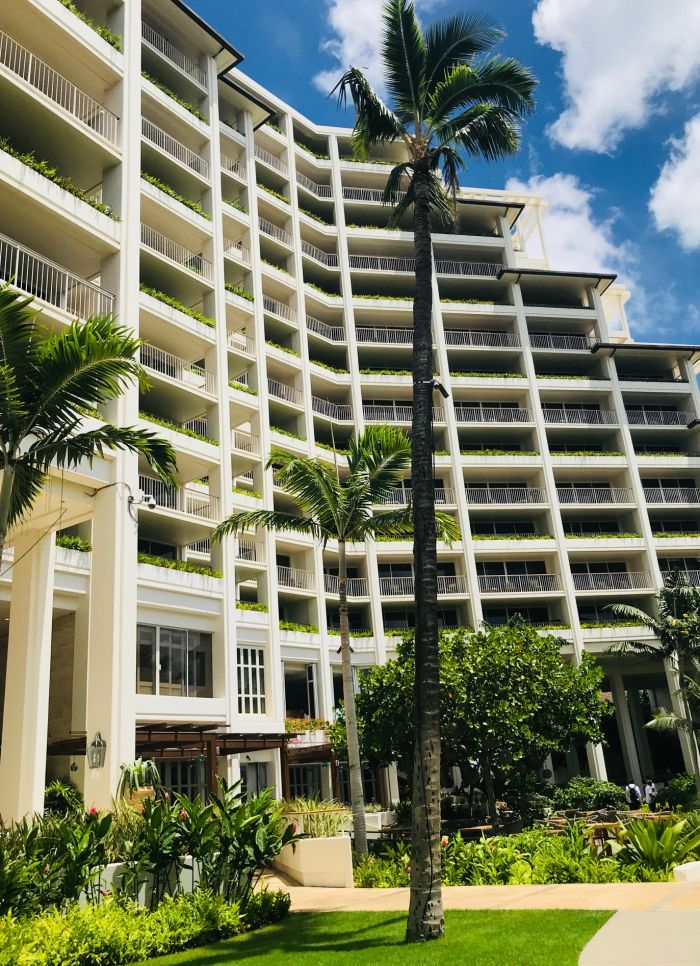 I ended my stay with a massage at the hotel's spa which sits on the same level as the guest's-only pool. The stylish space includes men's and women's facilities, steam rooms, a co-ed outdoor relaxation space, a fitness center and both indoor and outdoor treatment options. The spa's menu covers everything from facials to aroma therapies, curative baths, massages and the use of modern alchemy and traditional healing practices. The 60-minute Deep Tissue Massage is an intensive treatment meant to rehabilitate chronic discomfort, relax sore muscles and increase circulation through Russian massage techniques. Using three natural plants and elements: arnica, sweet birch and magnesium, your therapist will work their way across your body to target your tightest areas.
When it comes to luxury hotels in San Diego, the Pendry is a prime example of the kind of property that will thrive in this typically laid-back city. Since it's inception, travelers and locals alike have flocked to its doors to witness this new type of luxury in the area. Whether they're dining at Lionfish, booking table service at the Oxford Social Club or mingling with other locals at the Pool House, residents have a new favorite hotel in San Diego; and it's a force to be reckoned with in this more nuanced city.