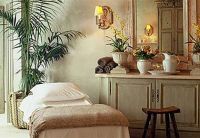 Luxury Spas:
Who knew a little portrait of Provence, France, exists right in the middle of San Diego County. Past a gated driveway and up a rustic street in the country-like mountains of San Diego rests Cal-a-Vie, the Spa Havens, a 200-acre destination spa surrounded by lavender fields, vineyards, and lush organic gardens. Impressive authorities including Oprah, the Bush family, and Travel and Leisure dub Cal-a-Vie an ultimate relaxation retreat.
I was fortunate enough to spend a day at Cal-a-Vie, a rare exception since all guests stay either three, four, or seven days. First I was led to peek into a few of the 26 quaint guest cottages, each decorated individually in a rustic French county side style. Staff members duck in several times a day to restock water bottles, your wardrobe (a non-descript grey outfit) and other necessities. All one really needs to enjoy Cal-a-Vie is a pair of your favorite sneakers and the rest is taken care of! After all, the staff to guest ratio is five to one.
Winding through the Cal-a-Vie grounds on my way to the spa, I passed Cal-a-Vie's newly completed Olympic scale pool, a 250,000 gallon saline swimming dream heated year-round at 82 degrees. The Havens, the couple who own Cal-a-Vie, are constantly renovating and adding even more luxurious amenities to the spa -- a real delight to loyal guests who visit year after year. True globetrotters, the Havens travel often to Europe and import delicate tapestries, vases, and antiques, which are placed throughout the Cal-a-Vie grounds. The new pool's surrounding tiles, in fact, are made of imported Greek limestone. Subtle marks of authenticity and obsessive attention to detail are Cal-a-Vie signatures.
After a wonderful massage, which would have been just one of 16 spa treatments during a week's stay (can you imagine?), I savored a lunch by Executive Chef, Jason Graham, who often takes calls and answers e-mails from guests asking about certain spices or dough consistency. Personal attention to guests -- another trademark of Cal-a-Vie.
It's not hard to admit: I was sad to leave Cal-a-Vie after just a few hours. It's a place that deserves several days to soak in all healing qualities, a place that can rejuvenate, re-energize or just re-engage you with life however you wish. Fortunately, I live in San Diego making Cal-a-Vie a short drive. Still, the escape provided seemed far, far away.
Learn more:
Call: (760) 945-2055 or visit:
www.cal-a-vie.com
Katherine Sutton
Freelance Writer
JustLuxe
Contributor