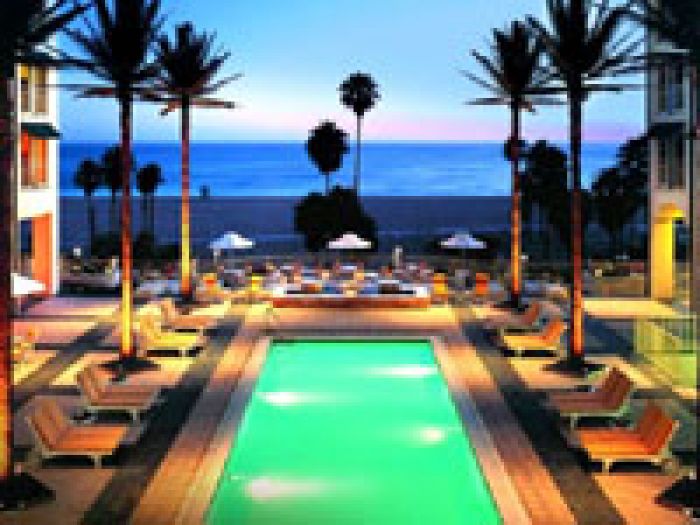 Luxury Spas:
Eco-conscious fitness buffs can rejoice, Ocean Spa & Fitness, is now open at the luxurious Loews Santa Monica hotel.
Over 7,000 square feet of space are dedicated to embracing the nurture and nature.
According to Bill Doak, general manager of Loews Santa Monica Beach Hotel, "As we continue to invest in our hotel, we feel a strong sense of responsibility to help protect our planet. This project allows us to be environmentally responsible while still providing a luxury spa experience for our hotel guests, spa members and local residents."
The new spa is just one of the stages in the hotel's $7 million planned renovation. The remodel is set to include: a facelift on the exterior to provide an even more luxurious arrival for guests as well as new lobby and pool furniture, guestroom bathroom upgrades and meeting space enhancements.
The new renovations to the spa include green building materials, including the use of Ecoresin panels made from 40-percent post-industrial recycled resin, Armstrong sustainable ceiling tiles, reclaimed-wood furniture pieces, Mondo recycled rubber floors and Shaw carpet with Cradle to Cradle Certification.
New spa experiences also take on nature, including the "Aroma Synergy" massage and "Stream of Consciousness" scalp treatment incorporate certified organic essential oils by Red Flower, an eco-responsible company that uses sustainably harvested ingredients, biodegradable products and recycled packaging.
The Ocean Spa's four treatment rooms also offer other unique experiences, including: Moor mud wraps, buff body treatments, beauty flash facials and the signature "Beachcomber" massage. Each treatment utilizes elements of nature and many feature products from Pevonia Botanica, a member of the Organic Trade Association. Pevonia strives to maintain balance in the environment, and to do so they use paraben-free and chemical-free products, post-consumer recycled bottles and biodegradable packaging.
The new fitness center, which has been recognized as one of the nation's "best hotel fitness centers," has also been redone. New equipment includes a range of cardio equipment by Technogym, including six treadmills, seven elliptical machines, three exercise bikes, one rowing machine, one Excite top hand machine and two cardio waves - each equipped with an iPod docking station and personal television. Guests can also enjoy three interactive Expresso bikes, which invite competitive side-by-side racing experience. The spacious new fitness center also has a group fitness studio, which offers a variety of classes, including yoga, spinning, dance, mat Pilates and body sculpting.
Also included in the new Ocean Spa is a salon, offering spa manicures and pedicures and a full-service hair salon with cutting, coloring and styling services. Guests will also enjoy the expansive retail boutique in addition to comfortable men's and women's lounges with dry saunas and eucalyptus steam rooms, personalized fitness programs, nutritional coaching and educational seminars.
The hotel's location on the sand and surf of Santa Monica's beachfront makes time spent at Ocean Spa & Fitness an extraordinary experience.
For LxM Carly Zinderman