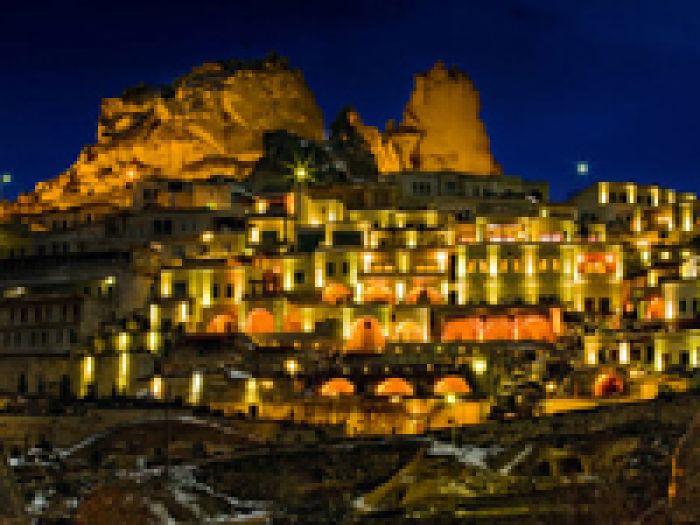 Luxury Resorts:
As Turkey becomes one of the world's premiere destinations, Cappadocia Cave Resort & SPA steps up to offer quality service and luxurious accommodations.
As one of the best and most unique Spa Hotels, Cappadocia Cave Resort caters to an international clientele of elite travelers.
The 2,000-year-old history of Turkey and all of its wonderous religious, archaeological and cultural attractions can be enjoyed from the convenient location of the Cappadocia Cave Resort. Located on the slopes of Uchisar Castle, among picturesque rock-carved houses, it offers breathtaking panoramic views over the area's extraordinary landscape and historical sites, like the Fairy Chimney formations, that make Cappadocia one of the Seven Wonders of the World.
Book your stay at Cappadocia Cave Resort & SPA >>
Not only does the resort offer an astounding location amongst history, it also offers some of the finest and most eclectic international cuisines. Award-winning culinary experiences can be had at the resort's restaurants, Padishah Restaurant and Yoshi's Sushi. The resort also offers a well-equipped wine cellar to accompany the fine cuisine and spectacular views.
In addition, the hotel also offers the world's first Cave Spa at CCR "LEEA Spa." Guests can indulge in an international array of treatments, from Thai massage to Turkish baths as well as couples therapies. Guests also have the option of choosing their own music as well as aromatherapies. The spa area includes a fitness center, two saunas, a snow (cooling) room, a steam room, an adventure shower (tropical room), and salt room to detoxify; good for asthma therapy and many diseases. The spa also offers two Turkish baths (Hamam), resting areas, and massage and Jacuzzi rooms for special therapies and treatments.
The luxury resort also has an indoor, as well as an outdoor, heated pool, fitness center, business center as well as several bars, including the multicultural Karaoke and Vitamin Bar and a wine cellar.
Built right into the hillside of an ancient ruin, each room is unique, from the standard rooms to the ultimate in indulgence, the Padishah Suite. The Padishah Suite not only comes equipped with the latest in technology as well as a choice of pillow, but also a king-sized bed and living room as well as a heated WC on request and a Therapy Jacuzzi and Hydro massage shower and is also wired for Internet access.
Book your stay at Cappadocia Cave Resort & SPA >>
Disabled travelers will appreciate the rooms especially equipped for their needs.
Room prices include a buffet breakfast access to the spa area, outdoor swimming pool, Internet access and other treats. More luxurious indulgences can also be purchased for additional fees, including childcare and butler services, special spa and massage therapies and other requested services.
The Cappadocia Cave Resort accommodates any type of traveler, from business to pleasure. The well-qualified staff can take care of your wedding party or arrange any other special event. For the next step in luxury, the Cappadocia has it covered.
For LxM Carly Zinderman