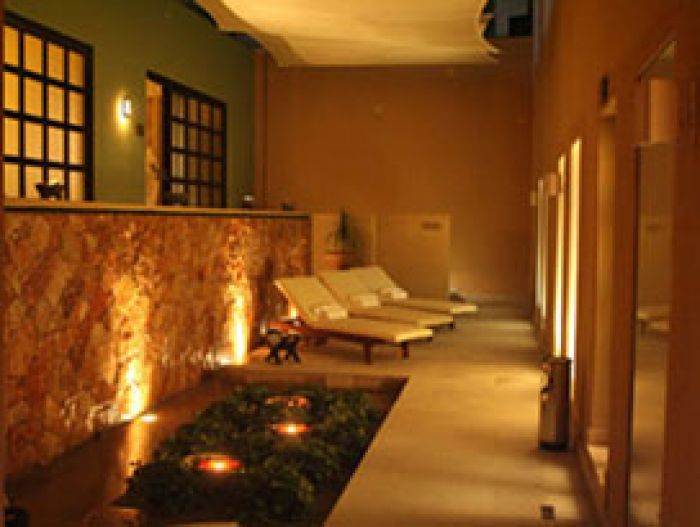 Luxury Spa Resorts:
Within the entirely renovated ME by Meliá resort, ostensibly Cabo San Lucas' hippest and hottest urban resort where the fabulous come to stay and play, is
YHI Spa
-- a 7,036-square-foot pleasure palace that transcends the traditional spa experience with comprehensive wellness and rebalancing encounters based on ancient healing traditions of the Mayans and Aztecs.
YHI Spa's minimalist and subdued Zen-like atmosphere, where silence is revered, allows guests to duly focus on recharging and renewing their bodies, minds and spirits. As my body, mind and spirit was overdue for a recharge of its own, I recently visited YHI Spa with my husband for a couples deep tissue massage where, after a quick and friendly check-in, I was treated to a tour of the facility.
I was first whisked into a compact but well-appointed locker room with lockers for personal effects, a dry sauna, herbal steam room and shower and toiletries available for use. Here, I changed into a robe and slippers before I made my way through the rest of the facility.
YHI Spa is otherwise divided into three distinct centers: Fitness, Hydrotherapy and Relaxation. The Fitness Center is a world-class location that offers free-weights, nautilus machines, cardiovascular equipment, and a YHI MOVES Studio with an outdoor movement garden where special group Yoga, Tai Chi and Pilates classes are held.
The Hydrotherapy Ritual Center includes indoor and outdoor relaxation areas, thermo-hydrotherapy experiences, a native Temascal sweat lodge and an outdoor waterfall with a cascade-shower. Guests are actually invited to arrive an hour early to experience YHI Spa's unique "Water Rituals" hydrotherapy circuit that involves participating in a series of heated and scented massage showers, which are set up along a path of heated stones leading to an outside spa therapy pool. Here, you can enjoy lounging in an underwater massage chair that overlooks the ocean until you are escorted inside to begin your spa treatment. It's noteworthy to mention that each guest at YHI Spa is assigned a personal spa valet to ensure he or she garners the maximum benefit from the spa visit, personal escorts to the various facilities and otherwise.
YHI Spa's Relaxation Center offers reflexology paths and a complete selection of signature spa treatments to help patrons relax and renew, with therapies designed to invigorate and purify. Therapists here incorporate indigenous and imported organic ingredients into the treatments, such as blue corn, Caribbean ginger and citrus honey, which are known to have therapeutic benefits.
YHI's "Anuiti Collection spa ritual" treatments are categorized based on the various parts of the body being targeted: Exfoliations (body), Renewal (massages), Transformations (wraps), Restoration (facials) and Revitalization (scalp, hands and feet).
Exfoliation treatments include the 25-minute Pericu Body Polish, which revitalizes and moisturizes the skin with a combination of fruit essence (green apple and kiwi) and barks known by the Pericu shamans for their healing properties. Sea salt mixed with petals of Jamaica flowers and honey leaves your skin smooth, and the treatment ends with a refreshing spray from an herbal tonic using your selected scent.
My husband's and my 80-minute Renewal deep tissue couple's massage was delivered in one of YHI Spa's many private cabana-esque treatment rooms with a fitting décor of natural materials and scents of aromatherapy wafting in the air. The treatment room also boasted a large private shower. The two therapists who executed our simultaneous deep tissue massages were quite adept at their craft, putting their hands, heart and soul into the treatments to assure our utter satisfaction, checking often to ensure we were comfortable, that the hand pressure was adequate and such. As an admitted massage snob with an insatiable appetite for deep tissue treatments, I can say that I would definitely return to YHI Spa for this -- my treasured therapy.
In addition to the deep tissue massage my husband and I received, other Renewal massages include the 75-minute Sacred Stones Massage. This holistic healing treatment combines hot volcanic stones with therapeutic oil with sea spruce essence, marjoram and clary sage, used to eliminate negative energy and balance chakras through the stones. Deeply relaxing, this massage reduces physical and mental exhaustion while strengthening the immune system.

Among the many interesting Transformation body wraps is the 75-minute Purifying Cochimie Wrap -- an ancient treatment that combines a nourishing wrap with a relaxing massage to purify the body and puts the mind in contact with nature's elements (air, water, fire and earth) to balance and harmonize energies. It begins with a deep relaxing massage with pre-Hispanic musical background to connect body an mind at a spiritual level; a mixture of grape and marigold oil is used with a bunch of red smashed grapes to provide a rich combination of moisture and nutrients. A body mask is applied with slush (mud) of wild roses and a wrap of lukewarm blankets soaked in aromatherapy of sea spruce, marjoram, and clary sage. The excess is removed and the ritual purification bath in steam room starts. When you get out, you relax with aromatherapy and a nourishing gel of your choice: prickly pear, chamomile, cuachalalate, tepexcohuite, or aloe with hyaluronic acid.

A variety of purifying, nourishing and anti-aging Restoration face treatments are available for both women and men, such as the 80-minute Anti-Aging Magic Facial. This unique therapy combines a polymeric mask with an intensive massage of the facial muscles. The mask is made with exceptionally nutritious ingredients, based on corn starch, lactose and honey. An antioxidant (tepezcohuite) gel is used to help regenerate cells damaged by the environment and pollution, while free antiradicals (coenzime Q10) are also used to give the facial skin great strength, tone and elasticity.

Revitalization treatments for the scalp, hands and feet are equally resplendent. Those in need of some "sole survival" should opt for the 50-minute Mar de Cortes Foot Spa treatment. This prodigious pedicure uses sea algae to detoxify and reduce the inflammation of tired feet, soaking them in a tub with sea salts and sea stones. A mud wrapping with sea mud is applied that will help to detoxify and reduce the inflammation of feet, combined with a camphor gel with ginger, rosemary and mint scent applied in a reflexology massage and a soft herbal tonic breeze.

Other Revitalization treatments include the 75-minute Anti-cellulite Gold Ritual designed to balance and energize your skin with Asian centella, laminating algae, rosemary essence, grapefruit essence and horsetail, which detoxifies, stimulates circulation and provides an anti-cellulite diuretic effect. A strong exfoliation is done with exfoliating fruit gel and skin cleaner gel with tea tree oil to stimulate the micro-circulation and that allows a greater absorption of nutrients. An intensive draining and detoxifying massage is done to break the greasy deposits in the affected zones with reduction gel; it is wrapped with sea mud, rich sea algae (draining and detoxifying) and coffee grains (stimulant and to metabolize grease) with lukewarm blankets, coffee, cinnamon and clove scent. Meanwhile you will receive a facial and scalp massage. Afterward, you'll have a Vichy shower and then a revitalizing massage with ice therapy. The session ends with aromatherapy of coffee, clove, cinnamon and a detoxifying gel, all leaving your skin feeling revitalized and energized.

YHI spa also offers an array of add-on therapies, such as hydrating hand and foot treatments, eye contour treatments, a cold stone facial massage that's ideal for sensitive skin, hand and foot paraffin treatments, and facial and body waxing. Pre-set and customized spa packages are also available for 90-minutes, half-day, and full-day sessions.

On the fitness front, YHI Spa offers personalized one-on-one wellness programs developed to suit individual goals. Personal trainers will assess a guest's needs and create a custom exercise session. The spa also has refreshments to enjoy in between sessions, such as tea, a fresh juice selection, healthy beverages, and light spa snacks.

A lobby boutique also provides a great way to maintain the balance and harmony achieved at YHI Spa in your hotel room and at home, with many of the products used by the therapists for treatments -- some developed exclusively for this renowned spa -- available for sale.

YHI Spa is open from 6 a.m. to 9 p.m. (fitness center), 8 a.m. to 9 p.m. (water ritual center) and 9 a.m. to 8 p.m. (spa treatment appointments. Learn more online at http://www.me-cabo.com/spa.html.

- Merilee Kern
JustLuxé.com's "The Luxe List" Executive Review Editor

The Luxe List product, service and travel review editor Merilee Kern scours the luxury marketplace for new and captivating "musts." Submissions are accepted via e-mail at Merilee@JustLuxe.com. View all of Merilee's Luxe List articles from here (scroll to page bottom).