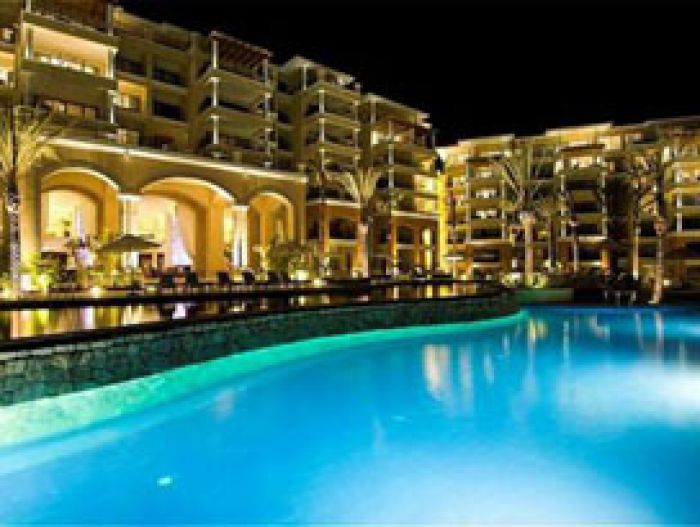 Seaside Sanctuary:
Sprawled along five full acres of Cabo San Lucas, Mexico's Medando Beach, the region's most idyllic stretch of coastline lies
Casa Dorada Los Cabos
-- a majestic beach and spa resort that embodies the best that a posh Cabo vacation has to offer. The resort, revered for its luxury accommodations, expansive array of amenities, gracious hospitality and lush surroundings, offers a tranquil and pampered escape also with perfect proximity to the most popular area attractions -- from high-end shopping and world-class dining to non-stop entertainment, nightlife and luxury yachting at the nearby marina. With unobstructed views of "Land's End" -- magnificent rock formations including the legendary "Arch" - and a selection of ample, elegantly appointed one-, two-, and three-bedroom suites, Casa Dorada is sure to deliver an incredibly memorable Mexican holiday.
I recently had the pleasure of vacationing at Casa Dorada, a member of Preferred Hotels & Resorts, with my husband and two young children ages 7 and 10. Upon initial arrival, we were all captivated by the art-filled lobby area backlit by a breathtaking view of the Sea of Cortez -- turquoise blue and seemingly bedazzled with gemstones as the waves ebb and flow underneath the tropical sunshine. We were also delighted to find a welcome amenity of lemonade (with and without tequila), chips and fresh salsa and guacamole next to the registration desk.
Replete Retreats
Not your average resort, Casa Dorada's 185 upscale all-suite retreats feel more like ocean-side apartment homes than anything close to a hotel room -- hence the resort's booming timeshare business. No expense has been spared on designing spaces with colors, textures, furniture, fixtures and artwork that duly compliment and pay homage to the crystal blue waters of the adjacent seascape, with the contemporary beach décor for each room thoughtfully conceived by celebrated interior designer Adriana Hoyos.
Every fabulous suite has a private terrace from which to absorb the spectacular view, modern marbled bathrooms with large Jacuzzi tubs, 32" flat screen television(s), satellite TV, DVD player, complimentary wireless Internet access, multiple phone lines, air conditioning, expansive storage space, and cozy spa-inspired fabrics. Other standard creature comforts include bathrobes, a hair dryer, coffee maker, mini bar, and signature toiletries.
Casa Dorada provides a range of suites that are sure to suit. The property's deluxe suites offer two double beds, ample bathroom space, a kitchenette and terrace. Junior suites provide 665 square feet of separate living and dining space, a kitchenette, a master bedroom with king-size bed, and a 220 square-foot terrace. One-bedroom suites are approximately 1,100 square feet with an spacious terrace, while the two-bedroom suites are nearly 1,850 square feet with living and dining areas, a kitchen, two bedrooms, Jacuzzi, also with a sizeable oceanfront terrace. The largest accommodations are the penthouse suites that offer between 2,000 to 4,500 square feet of living space. They are available in one-, two-, or three-bedroom configurations and all boast exceptional touches, including elevated ceilings, fine wood detailing, marble bathrooms, and full kitchens among a multitude of other exclusive touches.

My family's one bedroom suite truly had everything we needed for our seven-day stay. In addition to the aforementioned amenities, the kitchen had a microwave and four-burner electric stove, an adequately sized refrigerator and freezer, toaster, blender, cooking utensils, pots, pans, dishes and glassware. As such, we shopped at a local grocery and enjoyed many self-made lunches and dinners in the comfort of our room. Our suite also had a large glass dining table with room for eight, two well-cushioned armchairs, a large coffee table, and a sofa with a pull out bed where my two children slept comfortably. In addition to the King sized bed adorned with billowy linens, the bedroom also had two large armoires, a dresser, yet another plasma television, a code-based safe, a suede-like chaise lounge and a second private balcony with recliners and a table. The bathroom was extremely elegant with two sinks, a floor-to-ceiling glass enclosed shower, upscale fixtures, a seated and lighted vanity area and, of course, the fabulous oversized Jacuzzi tub.
Indulgent Service Meets Abundant Amenities
I found the staff at Casa Dorada, many of which entirely fluent in English, to be extremely eager to respond to each guest's request and to make educated recommendations regarding activities both on and off the property. The concierge desk is more than happy to arrange any type of on or off-site activity, from spa reservations, horseback riding, dolphin swims, and the zip line at nearby Wild Canyon Adventures to dinner reservations. Of course, the concierge is more than happy to arrange tee times on your behalf wherever you would like to play, including such legendary golf courses as Cabo Real, Club Campestre San Jose, or the original Puerto Los Cabos. Serial shoppers in the family will love that the Puerto Paraíso Plaza -- also known as "Luxury Avenue" -- are well within walking distance, although the concierge is more than happy to arrange private vehicle transport, a taxi or a bicycle pedicab to get you there.

Outside of the regular concierge desk, there is also a pool concierge staff to assist with related amenities, such as doling out large, freshly laundered sunbathing towels, volley balls, ping pong supplies, and sun block. The pool area, itself, is an aquatic paradise. Two extremely large lagoon-style pools, a large Jacuzzi, and a separate kid's pool with fun fountain spouts are surrounded by all weather wicker furniture of various shapes and sizes, including cabana style day beds with linen shade drapes and large circular day beds with pillows. A crowd favorite at the pool is Okianus -- the swim-up bar and restaurant from which you can order a cool beverage (or three) and a hot lunch, including both Mexican and American fare from quesadillas and ceviche to hamburgers and hot dogs -- and much in between. The pool bar also boasts a sizeable flat screen TV, with soccer among the more popular programming. Okianus also has an outdoor café where you can enjoy your lunch sans bathing suit, or patrons may order food and beverage from the comfort of their pool-side lounge chair or cabana.

Also at the pool area is a kiosk of sorts where guests may purchase gorgeous hand-made jewelry and pottery, hats, purses and other locally-made artisan items. A station is also set up where patrons may have fun painting their own ceramics as a keepsake starting at just $5, or have their hair braided in corn rows a la Bo Derick in the movie "10." The full head of braids with beads -- for long hair like my daughter's -- cost a reasonable $25. Just the crown of the head costs even less.


Service on the pool deck is exceptional, with staff members regularly checking to ensure all of your needs are being met and that your thirst is duly quenched. A three-man mariachi band plays intermittently and, throughout the day, various amenities -- many offering a reprieve from the heat -- are offered from roving serving carts, including ice cold towelettes and ice cream in multiple flavors like pina colada and mango. A pool-side ping pong tournament was also arranged by the staff, with the grand prize a massage at the on-site spa. Come evening, fire pits around the pool deck and twinkling lights within the pools provide a warm and inviting ambiance.

Down a short flight of steps from the pool deck is Casa Dorada's private Beach Club, which also offers exceptional ocean-side service mere feet from Cabo's most swimmable shore. Comfortable sling back beach loungers with large umbrellas and cushioned, fabric-draped day beds are available, as is food and beverage service. Yet another beach-based concierge desk is available to book water sports and other fun activities, like wave runners, glass bottom boat tours, snorkeling and scuba diving, parasailing, deep sea fishing, kayaking and the like.

Although Casa Dorada is extremely family friendly, adult entertainment also abounds at B Lounge, the property's ultra-stylish bar and lounge that's a fantastic gathering spot for music, ocean views, bar snacks, a glass of wine, or a colorful tropical cocktail. A local stand-out among Cabo's multitude of drinking establishments, B Lounge uniquely offers a wide selection of international beers by the bottle or on tap enjoyed amid "chill out music" and occasional DJ performances.

If you have the kids and tow and would like some adult-time at B Lounge or anywhere else on the property, Casa Kid'z Playzone - Casa Dorada's on-site kid's club -- is available to keep the little one's entertained. The kids will be thrilled to learn the brightly painted center, open from 9 a.m. to 9 p.m. daily, has an X-Box, a Wii and plenty of art's and craft's supplies. The activity schedule at Casa Kid'z is jam-packed with stimulating fun, including treasure hunts, sandcastle building, and sports activities. The playroom itself is packed with toys, puzzles and games to keep kids occupied, and the club is staffed with an attentive group of caregivers. Should you want to leave the property for some adult time elsewhere, private babysitters are available for hire through the concierge - $15 per hour for one child or $20 per hour for two or more. Stay out past 11 p.m. and you'll also need to cover her dinner and taxi fare home. Serenity at Saltwater Spa
Rebalance the mind, body and soul at Casa Dorada's refreshing oasis, the Saltwater Spa. Designed with Zen-like minimalism and luxurious materials, this spa sanctuary incorporates the restorative powers of sea salt in its spa treatment menu. Ten individual treatment cabins are available, in line with the resort's philosophy of offering guests exclusivity, privacy and intimacy. The spa also boasts a refreshing plunge pool, Vichy showers, thalassotherapy, steam rooms, saunas, Jacuzzis, and unusually large locker rooms.


Saltwater Spa offers a vast array of services sure to revitalize both the body and spirit, such as the Myoxy caviar facial, the bamboo or tequila massage, the chocolate embracement body treatment, and the aromatic Moor mud wrap. The spa's tantalizing treatments include a variety of other fabulous facials, body treatments, and fully fifteen types of massage therapies. Standard and customized spa packages provide an excellent way to enjoy the spa's multitude of services. Massages and other select treatments may also be enjoyed in the privacy of your suite, or in a breezy cabana at the beach or the pool while you listen to the waves greet and retreat from the shore.

A professional salon also located within the spa offers a diverse menu of additional beauty treatments for men, women and children, including manicures and pedicures, polish changes and nail repair, paraffin treatments, and acrylic nail treatments as well as professional makeup, hair cuts and styling, wedding hair styles, coloring, beard and mustache trimming, facial and body waxing, and children's manicures and pedicures.

While at the Saltwater Spa, be sure to pick up some luxurious products from its shop, which sells the complete line of Pevonia Botanica spa care -- an elite brand that blends the finest natural marine and botanical ingredients with technologically advanced formulas that help to maintain a youthful and healthy appearance.

Adjacent to the spa is a fully stocked fitness center equipped with Precor cardiovascular equipment with embedded TVs and iPod docking stations, state-of-the-art Hoist weight training machines, free weights, water cooler, high impact floor and a stunning ocean view.

World-Class Dining
Within the resort grounds revered restaurants that offer extraordinary local flavors, recipes, and fresh ingredients served in some of the most spectacular settings imaginable. Have a magical and mystical dining experience at 12 Tribes Restaurant -- named for the twelve biblical tribes -- with an eclectic menu that blends thematic ethnic flavors from all over the world. The chef uses grains, seeds, herbs and other specialized ingredients to recreate regional specialties from such far-flung locales as Russia, Spain, Ethiopia and Armenia.


Enter 12 Tribes restaurant's magical seaside realm and you'll be captivated by an alluring blend of artful décor, delectable aromas and inventive flavors from around the world. As one of only two restaurants in Mexico to be featured in Black Ink, the global restaurant guide for Centurion's members, the restaurant is renowned for its locally caught lobster and other ocean-to-table seafood selections, as well as various cuts of steak and a myriad of international dishes. Within the elevated oceanfront terrace restaurant that's shaded by a majestic vaulted palapa, the ambiance is a contemporary casual, yet sophisticated, "tribal chic." In addition to its many artful appointments serving as points of visual interest, 12 Tribes restaurant has been designed so that every table points toward the sea, providing a seemingly endless view of the coastal waters, Land's End, the horizon and the skyline beyond.

Culinary standouts at 12 Tribes abound, with notable starters including an array of fresh ceviches -- octopus, shrimp, scallops, or tuna -- prepared with lime, tomato, red onions, avocado, black olives, cilantro, and peppers. Appetizers also include a selection of carpaccios -- tuna, salmon or sea scallops -- sliced thin and plated in a soya and serranito pepper sauce.

A range of refreshing, international salads are also offered, from an Italian caprese with fresh mozzarella, skinned tomatoes, fresh basil and a choice of balsamic or pesto vinaigrette; and the Thai salad with lettuce served on a bed of rice noodles with a choice of julienned chicken, beef or lobster that is tossed in a balsamic soya and crushed red pepper vinaigrette. Soups at 12 Tribes are most impressive, with fully eight recipes offered from various countries, including Italy, India, France, Syria, Poland, Mexico and France.

Dinner is a bounty for both the seafood or meat eater, with as many as seven different cuts of steak offered as an alternative to the many fish and shellfish selections available, including tuna, salmon, red snapper, U10 shrimp, lobster, and lion claw scallops. Side orders such as baked or mashed potatoes, grilled vegetables and other options are available to round out each meal. Alternatively, 12 Tribes offers a broad range of ethnic entrees, such as the dish I ordered and thoroughly enjoyed - salmon marinated in vodka and fresh herbs and then grilled, garnished with fried capers and served over a grilled vegetables timbale accompanied with white rice and a soft mint coulis. My alternate choice would have been the Ethiopian veal stew and spicy chicken, served over injera with the eggplant, garlic and tahini purée known as baba ganoush.

Another oceanfront restaurant at Casa Dorada is Mayd?n, a bright and relaxing eatery located adjacent to the private Medano Beach Club, which serves an expansive international breakfast buffet with a made-to-order egg station, breads, Mexican specialties, fresh fruit and juices and more. Lunch is also available at Mayd?n, with live music often on tap to liven up a seaside meal.

At Casa Dorado, 24-hour private in-room dining is yet another option. Guests may opt for standard room service, or may create an out of the ordinary gourmet in-room dining experience combined with fine wine and champagne, hand rolled cigars, massages, flower arrangements, and scented candles. The in-room dining menu offers something for everyone, including vegetarian dishes, a selection of childhood favorites, and gourmet pasta, risotto, seafood, and pizza dishes. Extraordinary Events
Offering some of the most breathtaking backdrops imaginable, Casa Dorada is an ideal locale for an unforgettable event or wedding. The attentive and knowledgeable staff will attend to every detail and provide unsurpassed event services -- from gourmet catering, decorations and flowers to professional photography and live entertainment. Whether it is a cocktail party or reception that takes place in B Lounge, on the pool deck or 12 Tribes restaurant terrace, or a full scale wedding held in one of the stylish event function rooms or at the resort's private beach club, a personal or business event at Casa Dorada will undoubtedly exceed expectations.

Package Privileges
As most resorts do, Casa Dorada offers various vacation packages. Recent promotions include a "golf package" and an uber-luxurious "land and sea" package. The golf package starts at $1,782 for three nights and is inclusive of taxes and gratuity. The package includes an ocean view Junior Suite accommodation for three nights, daily buffet breakfast at Mayd?n Restaurant for two, one round of Golf at Cabo Real Golf Course, two special golf massages, 3-day car rental (insurance and gasoline not included), free access to the fully equipped fitness center and complimentary use of the sauna, steam room and Jacuzzi at the Saltwater Spa, and late check-out. Other packages currently available include the "girl's getaway," "honeymoon," "romance" and "Wild Canyon adventure."

Casa Dorada's most extravagant "land and sea" package offers the ultimate luxury experience for six people. Depending on travel dates, the package starts at $18,102 inclusive of taxes and gratuity. Guests will enjoy a world-class crewed yacht where each guest's every need and want is impeccably attended to down to the smallest detail. Cruise at your own pace, enjoy the fishing, diving or snorkeling, or simply relax in pampered comfort on the yacht of your dreams. The package also includes four nights in a spacious Casa Dorada luxury two bedroom suite, daily buffet breakfast, live bait and fishing license, and snorkel equipment. Available activities at an extra charge include all-inclusive meals and beverages for up to six people at $1,750, motorized water activities, and diving at $80 per person.

Whether you visit Casa Dorada for a full-scale family vacation as I did, a business function, special event, girl's getaway or a romantic weekend for two, this resplendent resort is sure to foster "suite dreams" and an abundance of fond memories that will last a lifetime.

For more information about Casa Dorada, please visit www.casadorada.com.

===============Hat's Off to Mexicana Airlines===============

For this trip to and from Cabo San Lucas my family flew Mexicana Airlines, and the experience was so pleasant I wanted to share it with my Luxe List readers. Offering a wide range of flight options to Los Cabos among other destinations, Mexicana Airlines is considered to be the leading transportation company between Mexico and the United States. And with good reason, as on my recent trip it was particularly noteworthy how efficiently the airline was run and how pleasant, personable and professional the staff are -- from the ticket agents at the check-in desk to the pilot and flight attendants. Our arrival and departing flights left on time, and both of the aircrafts that we flew on were very clean and well maintained. The seats were also decidedly comfortable for our two-plus hour flights, during which beverages and a boxed lunch was served on the way up, hot penne pasta or chicken and rice options on the return.

With a modern fleet of Airbus planes, Mexicana is said to have the best maintenance base in Latin America. The airline has been recognized multiple times by the World Travel Awards as having the Best Business Class in Mexico and Latin America, in addition to being awarded as the leading airline for ten consecutive years. Mexicana has also been recognized as having the best airline Web site in the region. Through its Elite, Business, and Tourist classes, Mexicana prides itself on the high standard of its passenger services, exceptional in-flight fare, and high levels of customer satisfaction -- all of which was apparent on my recent trip to Los Cabos.

The Elite class in particular offers innovative gourmet meals while Mexicana's sommelier, Sandra Fernández from Tierra de Vinos, has developed an exclusive wine list for the benefit of the airline's more discerning passengers. The Elite class also provides exceptional entertainment selections, a bar, and luxurious seating. The airline offers a number of all-inclusive packages with resort partners like Casa Dorada to make vacation planning even more convenient. Mexicana also has numerous code share agreements with leading international airlines, giving passengers the benefit of accumulating and redeeming air miles, a wider range of connection possibilities and flight schedules, and access to numerous executive lounges.

Visit www.mexicana.com for more information or to book a flight of your own.

========================================================

- Merilee Kern
JustLuxé.com's "The Luxe List" Executive Review Editor

The Luxe List product, service and travel review editor Merilee Kern scours the luxury marketplace for new and captivating "musts." Submissions are accepted via e-mail at Merilee@JustLuxe.com. View all of Merilee's Luxe List articles from here (scroll to page bottom).