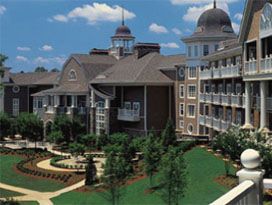 Perfection, as a general rule, is often more a state of mind than a state of being. The lavish Ritz-Carlton Lodge
Reynolds Plantation Resort, about 75 miles from Atlanta, is the exception to the rule. Here, perfection is a tangible concept that abounds around every corner.
Nestled on the shore of Lake Oconee, 75 miles from Atlanta, the 251-room resort is not your everyday luxurious Ritz. Draped in ivy and edged by pines, the resort exudes a tranquility that stems from its placid setting at one of the most picturesque lakes in the south. A golfer's paradise, the Plantation is home to 99 holes that comprise five separate courses. Its renowned TaylorMade Performance Lab is one of only eight in the world and offers two-hour custom fitting experiences for guests.
However, the Plantation is far more than manicured greens and rolling fairways. Pampered guests are treated to gracious southern hospitality from the moment they enter the resplendent lobby, whose interior mimics the land with wood furnishings ranging from the deep, candied colors of mahogany and cherry to the softer shades of pine and oak. Encouraged to unwind -- whether it's lounging by the Infinity Pool or hiking through primitive trails -- guests enjoy elegant accommodations and the legendary Ritz personalized service.
Being short on time and long on expectations, we immediately made reservations as the resort's Georgia Bistro in order to sample regional southern cuisine. Our culinary experience began with "A Taste of the South," the Bistro's signature charcuterie plate featuring Chef de Cuisine Jaco Smith's hand-made mozzarella cheese paired with a selection of salami. Served with an assortment of preserves and Cheddar Onion Bread prepared in-house, the appetizer is the perfect way to begin your delectable tour of some of the region's freshest foods.
To Smith, freshness is not an option but an obsession. "If it's not fresh, it's not on our menu," says Smith, who partners with a local farmer to serve vegetables and produce that were in the field only days -- or hours -- before appearing on the menu, and also has his own herb garden on the grounds. Regional food artisans provide the meats.

Cream of Vidalia Onion Soup bursts with fresh flavors, while Georgia's Shrimp and Grits, lightly accented by creole spiced peppers and parmesan cheese, serves as the perfect second course.
Lightly seared sea scallops fell apart with the touch of a fork, accented by buttered autumn squash and a corn lobster sauce that would be delicious over cardboard. Romantics are well advised to participate in a Chiminea bonfire dinner consisting of a specially prepared gourmet meal and served lakefront by a couple's personal waiter.
Our choice of wine included the resort's own custom blend of Cabernet and Chardonnay. According to the resort's wine sommelier Stephen Clark, many restaurants that serve a house blend allow the winery to design the wine without the input of those who actually serve it. "We know what our guests like and dislike and therefore have an advantage to blend around their preferences instead of a winery guessing what that should be," Clark says.
Families can spend quality time together in the infinity pool or kayaking on the calm waters of Lake Oconee. Teenagers can be seen jumping on trampoline devices on the lake not far from the sandy beach. The Ritz Kids Program offers supervised activities for youngsters, including a day with camp counselors based on various outdoor activities, while Kids Night Out gives younger visitors something to look forward to on Friday and Saturday evenings. A family favorite is roasting S'mores by a crackling campfire, an event held each night of the week. Those family members who enjoy fishing appreciate the fact that Lake Oconee, Georgia's second largest lake, has more fish per square acre than any lake in the state, including large mouth bass, catfish, and crappie.

The Plantation also rolls out the red carpet for adults seeking a respite from the hustle and bustle of the nine-to-five routine. Relaxation can be found with a Couple's Massage at the luxurious 26,000 square-foot spa. With southern-inspired hospitality and treatments based on nature and the seasons, the spa offers couples discreet suites with drawn wooden shutters opening to a lakeside portrait. Couples can breathe in the deep aroma of arnica and sandalwood oils and soak in an aqua latte milk bath for two in a regally adorned marble claw-foot tub. Other treatments include Vichy Rain Therapy, Body Therapy, Touch Therapy, Facial Therapy, and a special "Mama Mio" treatment for pregnant women.
Although summer and spring are action packed, the Lighting of the Lights at Thanksgiving in celebration of the holidays is one of the busiest times of the year. The annual event attracts thousands of visitors who witness 1.5 million lights being lit throughout the trees. And being the nearest upscale resort to Augusta (80 miles) the Plantation always hosts a hotel full of golf fanatics every April for the Masters, arguably the most prestigious of the Grand Slam events.

By JP Lewis
JustLuxe Contributor