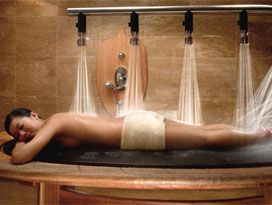 Resorts & Spas:
Amid a jungle of overgrown skyscrapers and a sea of serious money moguls, a bounty of luxurious hotels, restaurants and spas have cropped up in cosmopolitan Hong Kong. Here are my latest finds on a recent adventure to China's gem city.
The Mandarin Oriental Spa
Count me as another fan of this iconic Hong Kong property. The Mandarin Oriental still holds court as the city's to-be-seen hot spot for afternoon tea and executive lunches.
I was treated to an elaborate 2-hour spa treatment in the Mandarin spa's intimate sanctuary stories above the bustling streets below. I had no idea what my treatment entailed and neither did anyone else: I was booked for the spa's "Time Ritual," which reserves time for a guest so that a service is custom built. The Time Ritual is one of the Mandarin's unique treatments, all of which are designed around Traditional Chinese Medicine and Ayurvedic philosophies.
I entered an enormous treatment room, more like a good-sized apartment, complete with showers, a hot tub, flowers, waiting room, and lounges. My therapist, a proper and sweet professional with exceptional English, guided me through a soothing foot ritual and assessed my Yin and Yang levels, selecting an essential oil that would sooth my "fire" soul. She used intense, downward massage strokes (so energy would leave my kindling heart), although I still drifted away in a blissful Zen state. Afterwards, I was shown a few exercises that would "stretch" my heart as well as foods ideal for balancing my Yang levels. (No red meats, but raisins are great.)
Of all the dozens of spa treatments I've had, none have been as comprehensive, custom and authentic as the Mandarin's. I can't wait for my next trip to a fantastic Mandarin. Book Your Stay >>


The Island Shangri-La
The Island Shangri-La is indeed a little island of respite in Hong Kong's metropolitan mayhem. A master of Hong Kong hospitality and size with grace, the Island boasts 531 spacious guest rooms and 34 suites. Our guest room offered a well-appointed office desk, a bathroom one could very well live in, and best of all, postcard perfect views of Victoria Harbor. I appreciated our room's free Wi-Fi, complimentary minibar, and daily fresh fruits, but found Island's amenities more impressive. The fitness room makes working out an art and the pool, partnered with two Jacuzzis, overlooks the serene Hong Kong Park and neighboring high rises.

Dining at the Island Shangri-La is a treat in itself. Petrus, the Michelin rated French restaurant at the top of the hotel, delights with the fresh creations by Chef de cuisine Frederic Chabbert. Although I could love a three-hour lunch attended by a fleet of elegant servers, I sampled the Island's modern, worldly Café TOO. With seven "cooking theatres," an array of international cuisine is performed, one could say, constantly by chefs in this top-notch buffet style café.

Just one more reason to return soon to Island Shangri-La: The Horizon Club is debuting at the end of the year to become Hong Kong's highest floor executive lounge. Book Your Stay >>

Hotel LKF
Sometimes shopping at a boutique rather than a big box store is just more special. The saying often goes for staying at a boutique hotel rather than a chain resort. Hong Kong's Hotel LKF, located in the hip hood of Lan Kwai Fong, is just that kind of boutique find: seriously special. It's decisively modern, jittering with energy and jolting with boldness to match the city, all within its 95 rooms. A trip down the hotel's elevator delivers one to the street level of Soho's hot spot dining destinations. A ride to the top of Hotel LKF lands you inside its glittery Azure restaurant and bar with 270 degree spans of the city. Whether at Azure or any of the neighboring pubs, restaurants, and bars, the territory is dominated by "ex pats," or basically, a cheery potpourri of young business executives and travelers from the world over.

Our room was spacious and offered contemporary photography and minimalist appliances. My favorite feature was the shower and bath "room," as well as the foot and calf massage chair. Of course, the multi flat panel TVs, illy espresso coffee machine, surround sound, and panoramic views of city life didn't go unnoticed.


The Grand Hyatt
Grand Hyatts are never, not grand. The Grand Hyatt in Hong Kong is no exception and boasts an enormous lobby fit for stunning entrances, an executive lounge that spans two stories, and five fitness studios. It's a clear favorite for business travelers, as it's connected to the impressive Hong Kong Convention & Exhibition Centre. Stunning harbor views and intriguing restaurants, like the Italian Grissini and the Japanese Kaetsu, keep leisure travelers coming. I loved our room's walk-in closet and the expansive floor to ceiling windows that provided 180 degree views of Victoria Harbor. Book Your Stay >>

Langham Place Hotel

A true urban retreat, The Langham Place Hotel escorts one to the front door of authentic Hong Kong in Mongkok, the heart of Kowloon. The Langham Place Hotel hovers above the superb Langham Place mall and the street bustle of the famed Lady's market and hole-in-the-wall food finds. The hotel takes a modern approach to luxury just plain fun. I noticed details with a smile-the words "Marco Polo" under our door's peep hole, the pink panther clips playing in the elevators, and the main restaurant's morning printout of the top news on its place mats. Delight is what Langham Place Hotel delivers. The premium "Club L" will tickle you pink with round the clock tasty treats and hip rooftop pool. I spent a few hours, in a massage chair, just watching the city scene from Club L, which offers the best urban panoramic view of Hong Kong without doubt. Extra delight: try the tastes, or touches, of the hotel's Michelin Star Ming Court or the internationally acclaimed Chuan Spa. Book Your Stay >>

Katherine Sutton
Freelance Writer
JustLuxe Contributor