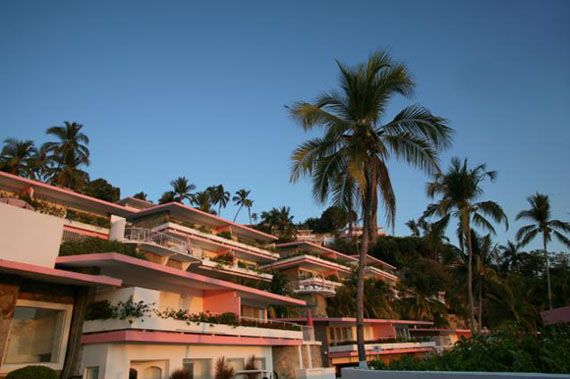 Luxury Resorts:
Situated on a hillside overlooking Acapulco Bay, Las Brisas Acapulco is truly one of Mexico's finest hidden gems. After undergoing a $20 million renovation in 2007, the exclusive resort, which is nestled among 40 acres of lush hibiscus gardens, provides a tropical escape unlike any other.
Las Brisas Acapulco
was originally founded in 1954 as a small cottage colony, and just three years later became an exclusive hotel that would soon attract the likes of high-profile celebrities such as Elizabeth Taylor, Ringo Star, Frank Sinatra, Richard Burton, and Barbara Taylor Bradford.
Capturing the essence of the area's natural beauty, each of the 231 individual bungalow-style casitas, present a soft color palette of pinks and whites and feature modern minimalist décor throughout. Upon entering the casitas, guests are immediately welcomed by carefully arranged palm fronds and flower blossoms, which are placed on either a nightstand or table and spell out the word "bienvenido." The casitas are also furnished with unique comfort beds, minibars, spacious marbled bathrooms with rock-tiled rain showers, outdoor private patios complete with large chaise lounges, and either a private or semi-private pool.
Located on the fourth floor, each of the 32 luxuriously-appointed Junior and Master Suites offer panoramic ocean views, a private pool and terrace, and many are also equipped with an indoor Jacuzzi. On the resort's fifth floor, the "La Roqueta" Presidential Suite offers the utmost in luxury accommodations with two renovated bedrooms, two full bathrooms, a living and dining area, an extensive terrace, and a private pool, which connects to an indoor Jacuzzi. In addition to all the lavish amenities, guests who book one of the suites will receive a complimentary bottle of Champagne, as well as transfers to and from the Acapulco International Airport.


If you can pull yourself away from your private pool or Jacuzzi, you will find that the resort hosts a wide array of recreational activities. Guests can catch a ride on one of the resort's signature pink and white jeeps and head to the private La Concha Beach Club, watch the world-famous cliff divers at La Quebrada, or spend a day at the links on the resort's legendary Tres Vidas Golf Course.

Additional on-site amenities include a charming spa and fitness center, a beauty salon, meeting and event space, shopping boutiques, as well as three delectable restaurants: La Concha, Tulipan and Bellavista.

The resort has earned more than its fair share of awards and accolades from some of the world's most notable travel authorities. Las Brisas Acapulco has been named One of the World's Best Hotels by Travel + Leisure for three consecutive years, has been recognized by Condé Nast's Gold List as one of the Top 100 Hotels in the World, and was included in the best-selling book, 1,000 Places to Visit Before You Die. In 2009, the Pink and White Paradise added a coveted AAA Four Diamond Award to the laundry list of achievements it has earned over the years.



Whether it's a romantic tryst, a wedding, a honeymoon, or just a luxury getaway to a secluded paradise, the Las Brisas Acapulco is unarguably one of the best resorts throughout Mexico. See all Luxury Hotels in North America