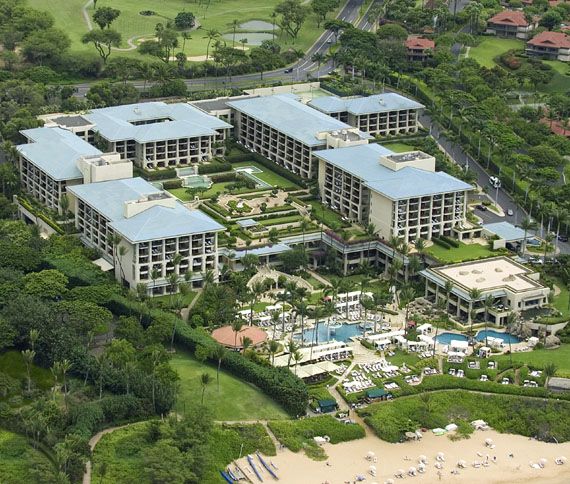 Hotel Review:
It doesn't take James Michener to proclaim The Four Seasons Resort Maui at Wailea "Some Enchanted Enclave." If you're going to take a trip to the Pacific, there's no place like this — Hawaii's first and only Mobil five-star property, and a recipient of the AAA Five-Diamond Award each year since opening. And from there, the list of awards and accolades goes on and on.
The Number One reason why the Four Seasons Resort Maui is so spectacular is this: This property has service down to a science.
The pampering is plush and you feel it the minute you enter the lovely porte cochere, where bellmen greet you with a warm hello and do their utmost to make you feel at home. We'll tell you just one example of what happened to us. We had one suitcase between us, and, at the end of our trip, wanted to make sure it was less than 50 pounds to avoid overweight baggage charges at the airport. Several of the bellmen made it their mission to pick up our bag, bring it downstairs and weigh it. When it came in over the allotted weight, they did all they could to assist. What could they help us eliminate from the bag? Could they throw out some stuff for us, or help us to re-pack it? Would we like some Four Seasons bags in which to put the excess as Carry-On? Could they weigh it for us again? Would we like some bottled water for the ride to the airport? All of this – and much more — was overwhelmingly helpful, and the kind of special service we know you do not receive anywhere else. And that's the very definition of a superior resort, and one that deserves every one of its five diamonds and stars.


And then — get a load of what happens at Ferraro's, which we believe is the most romantic restaurant on Maui. At this Italian eatery, you sit outside, under the stars, while you hear the sounds of the waves, as well as a violinist (playing the classics, or samba music), while you wait in eager anticipation for an incredible meal. And ladies, if you're wearing a little black dress, please note: the waiter will replace your white napkin with a black one, so you're not victim to white lint on your LBD. Isn't that amazing service? But it's not surprising. This resort caters to its celebrity and high-profile clients, who demand (and can afford) the best that the world offers. In fact, before we settled into our chairs, our waiter, Kawika, asked if Deb would like a lemonade – just as she had enjoyed at the pool earlier in the afternoon. Kawika hadn't been our waiter at the pool – but he made it his business to know our preferences. We were impressed! (More on Ferraro's in a minute.)

And here's another thing. The resort has its very own fragrance: Palena'ole, which means "no boundaries." The main scent of Palena'ole is the maile, the fragrant Hawaiian vine (usually worn by men in leis) which is said to become more fragrant as it dries and ages. The other aromas in the unisex fragrance consist of sweet orange blossom, green leaves, and bitter fruit. It was created exclusively for the resort by Ajne Rare and Previous Parfumerie and Apothecary, "the perfumer to the stars." At the spa, you can even have an Ajne consultation and have them create a 100 percent natural, custom scent just for you. But the fact that the Four Seasons Resort Maui at Wailea has its own signature scent — well, it just shows you the extent to which this property distinguishes itself from the competition. You can smell it for yourself — the aroma is spritzed in the spa therapy rooms and on the oshibori towels used at Ferraro's.

The Lei of the Land
Nestled on 15 oceanfront acres in Wailea, the Four Seasons Resort Maui at Wailea is a stunner. There are 380 guestrooms including 75 suites. The grandest is the 5,000-square-foot Maile Suite that costs $14,000 per night, and is the preferred room of all kinds of VIPS and CEOs. And let's not forget the services that come standard with every room: In-room coffee and tea service; 24-hour room service; twice-daily maid service including turndown; irons and ironing boards; plush terry robes, slippers and hair dryers; built-in refrigerators; overnight shoe service; alarm clocks with iPod docking stations to include mp3 players — and more. About 85 percent of the rooms offer ocean views, and the bathrooms are enormous. Ours featured double sinks; a tub and a shower; a separate toilet room; and a vanity counter along an entire wall where you could put out all of your things. Ah, space! And more space! Not to mention the beds — they're so overwhelmingly comfortable, celebrities frequently buy the entire bed, with it luxurious high-thread-count bedding, so they can enjoy the same hotel comforts at home.



We love hanging out at the patrician pool, because that's where you can frequently glimpse well-known Hollywood A-listers.(Ladies, this is the first-class resort where your designer bathing suit and saucy little cover-up are de rigueur.) The resort, of course, won't name names, but it's a fact that celebs love coming here. So does Bill Gates, who's an investor in the property, and Michael Dell, who owns it. Oh yes, and here's another little gem — on the sandy walkway leading from the pool to the beach, there's always a little garden hose there, to cool down the hot sands for your tootsies. We just love that kind of consideration, designed to simply make your stay all the more comfortable.

Then, oh boy – there's a world-class spa measuring 21,000 square feet. It features 13 indoor treatment rooms and suites, three outdoor rooms, an oceanfront massage hale, 1,000 square foot fitness center (with free classes such as yoga, Pilates and tai chi), relaxation area, separate men's and women's locker areas, steam rooms with eucalyptus inhalation, and more. Deb got the Big Kahuna — a fabulous customized Kate Somerville 50-minute Signature Facial ($205). This first-class cleansing including use of a Clarisonic brush, application of Exfoli-kate, extractions, massage with Quench serum, and a calming protein mask.

The Four Seasons Maui is the first resort to partner with the wildly successful Kate Somerville Los Angeles Clinic, where celebrities such as Felicity Huffman, Jessica Alba, and Paris Hilton are regulars. Ms. Somerville's multi-dimensional strategy for achieving healthy skin has made her one of the most trusted names in skincare today. It certainly happened with Debbi, whose skin glowed afterwards. It's true — Kate Somerville makes radiant skin a reality. At the spa, there's also an excellent retail area selling, of course, Kate Somerville, as well as Ola, Alii Kula Lavender (made locally), and Epicuren, another cult favorite brand of Hollywood A-listers.


And here's some info about those three outdoor treatment rooms, called hales (traditional open-air thatched-roof houses). They're nestled near the hedges, allowing for the soothing sounds of ocean waves, the fragrance of tropical foliage, and spectacular views of Wailea Beach. Here, singles — and especially couples — can unwind with superb treatments. Try one of the new Gemstone Dhara Treatments, which use healing gemstones placed strategically on the body. Here's also where you should try a signature lomi lomi (frequently called "a hula dance on the body") or a stone massage. Trust us — there's nothing more romantic – or downright sexy -- than being outside, having a massage together, while you feel the ocean breezes and hear the Pacific waves. Well, come to think of it — actually there might be something sexier: A dip together in the resort's brand new $9 million Serenity Pool. This exclusive saltwater pool is tucked along the southernmost oceanfront edge of the resort. This adults-only pool (no kids playing "Marco Polo" here) has an infinity edge; underwater music system; and six 160-square foot luxury cabanas that are actually mini hotels rooms complete with flat-screen HDTVs, mini refrigerators and oversized chaise lounges. Park your posteriors in the pool, and take in the panoramic views — then tell yourself, yes, you have arrived in more ways than one.

Food, Glorious Food
The property boasts several dining establishments, including Wolfgang Puck's Spago, and DUO Steak and Seafood, the hottest new restaurant in Maui. But for our tastes, we simply adore any opportunity to dine outdoors, near the pool, at Ferraro's.

We started with a delicious bruschetta, followed by spinach salads with balsamic vinegar (not the vinaigrette — we wanted to save as many calories as possible for dessert). We also couldn't resist sampling Ferraro's pumpkin gnocchi served with brown butter, shaved Grana Pandana and black truffles. They were sweet and savory all at the same time; in fact, they were creamy and dreamy. Next we just had to try the risotto of the day, containing mushrooms and truffles — yes, there was more fungus among us, and it was a truffle-iscious treat that was earthy and buttery and salty. By this time we had more than our fill of food, but we pressed on. Deb had the pan-seared prawns ($46) loaded with herbs and drizzled with a creamy tomato sauce — they were loaded with flavor. Bill had a tremendous roasted sea bass ($45) — in our opinion, everything is better when it's roasted – and it really brought out the flavor of this "filetto" served with oven-roasted potatoes and toasted pine nuts.



The highlight, of course, was the molten chocolate cake served with a hazelnut crust ($14), which reminded us of Nutella but was even better. The pastry chef apparently makes her own chocolate, and includes it in this little gem. There's also, for example, a white chocolate rice pudding that sounds divine, and warm panettone baked with caramelized apples. If you prefer a prix fixe menu, there a $95pp option that offers gazpacho; Caprese salad; the luscious pumpkin gnocchi; fennel-dusted onaga and braised veal shanks; and a trio of desserts (accompanied with wine for $125pp). All we can do is throw our heads back and say "Ay-ay-ay," what a wonderful way to spend an evening.

Of course, if you opt to stay on the Club Floor, you can actually eat like this throughout your stay. We looo-ve Club Floors, because these "homes within a hotel" are warm and sunny and cozy, and a great place to rendezvous for diet drinks, cocktails, snacks, and goodies. This one is a doozy – there's continental breakfast; afternoon tea; evening cocktails and hors d'oeuvres; and late-night desserts and after-drinks. There's also a dedicated Club Concierge who can arrange your vacation activities, golf, tennis, dining, spa treatments, salon appointments, you name it.


Staying at the Four Seasons Maui also allows use of Wailea Golf Club's three 18-hole championship golf courses; complimentary use of two on-site tennis courts; complimentary use of the 24-hour (we repeat, 24-hour) fitness center (which is a splendid service, especially after a very heavy dinner); and the complimentary "Kids For All Seasons" activities. It includes year-round supervised activity programs for children ages five-12 including use of the climbing wall; children's menus or selections at all restaurants and room service; special welcome amenity; children's DVD library and more.

At most resorts, you pay dearly for the kids programs, making this feature at the Four Seasons Maui quite extraordinary.

Some Enchanted Enclave, indeed.

Rates for 2010 start at $425 for a mountain-side room.

For more information contact: (808) 874-8000, (800) 332-3442, www.fourseasons.com/maui.

And if you want more, more, more of the Maui Four Seasons — or any Four Seasons for that matter, read Four Seasons: The Story of a Business Philosophy (Portfolio Books), written by founder, chairman and CEO Isadore Sharp. This is the story of how a child of immigrants starting with no background in the hotel business, and created the world's most admired and successful hotel brand. In 1961 Sharp opened the first Four Seasons in Toronto, and today it operates 82 luxury hotels and resorts around the world. Well done!

See all Luxury Hotels in Hawaii