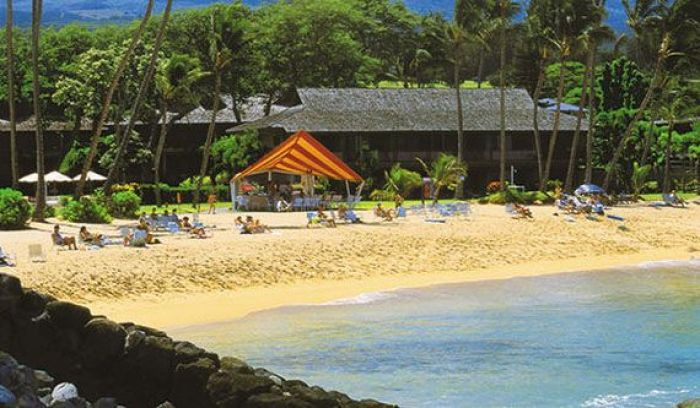 Hotel Review:
Been to a great resort lately? Chances are, you've been required to pay the $25-per-day "resort fee," which typically includes free wireless Internet, use of the fitness center, parking and snorkel gear. That's why it was a refreshing change to stay at the Napili Kai Beach Resort on Maui, where management's motto, for the past 25 years, is that "we don't nickel-and-dime you," says Candy Aluli, spokesperson for the property. Here, there are no hidden charges, and many services and activities are complimentary. Get ready — they include free parking, use of the 18-hole putting greens, fitness room, beach towels, beach chairs and mats, swim masks and snorkels. If that's not luxury, what is? Free weekly activities include a seasonal putting party, poolside Mai Tai party, lei making, hula lessons, cultural seminar and guided horticultural tour.
For families, it gets even better — the resort has extended its children's program to make it free year-round, where kids learn to fish and hunt (look only) for geckos, among other things. Kids also always eat for free at the beachfront Sea House Restaurant (a little jewel — more on that in a minute). Add it all up, and we can honestly say that the Napili Kai is a hidden gem on Maui, and one of the island's best-kept secrets.

It's also currently undergoing a major renovation, which means that it will soon be more up-to-date and beautiful than ever. For couples and families seeking a great vacation spot — with a superb slice of sandy beach — this is the place. And you're going to get it all at a value-packed price.



Oceans of Options
Napili Kai Beach Resort is a deluxe resort situated on 10 beachfront — we repeat — beachfront acres on beautiful Napili Bay in West Maui. Unlike many high-rise resorts where you might as well take a cab to the Pacific waters – here, you're just steps away from the warm blue waters (with free snorkel gear, to boot). We loved the easy, instant access to the beach, which was just a 30-second walk from our room. Who wouldn't love that?

The resort offers 163 hotel rooms, studios and one- and two-bedroom suites (most with kitchen facilities) in 11 low-rise plantation style buildings. Nearly all (96 percent) offer ocean views. Amenities include daily maid service, complimentary parking, hair dryer, iron and ironing board, complimentary safe, color cable TV, telephone with Internet data port, voicemail, and many bathroom amenities. The kitchens include refrigerator, ice maker, two or four-burner stove (some with ovens), microwave oven or microwave/convection oven, toaster and coffee maker. Some units even have dishwashers. So it goes like this — just visit Safeway, get your Safeway card, and you can purchase everything to make your stay just like home (unless of course, you want to eat every meal out). We love the convenience of having a kitchen where you can, at the very least, have milk, cereal, and coffee in the morning — and the Napili Kai delivers this beautifully.


Of course, if you prefer to dine out, we heartily recommend the on-site restaurant, the Sea House, another little gem that most visitors to Maui don't know about. We were instantly impressed by our lunch there, right by the water's edge, of fresh, excellent cuisine that is beautifully presented. There are Kalua pork tacos; a club sandwich of tiger prawns; award-winning coconut shrimp; chicken satay; island payaya salad, and much more. A blackened mahimahi wrap costs just $12, which is a great value in Maui (bear in mind that a loaf of bread in the store costs about $6). It's a little corner of paradise that we were glad to find. The Sea House Bar and Terrace is also a great place to watch the sunset and kick back with a pina colada. And if you're into big breakfasts, there's no better place to enjoy chocolate macadamia-nut pancakes for just $8, or the $11 Haleakala pancake — an oven-baked pancake in an airy custard batter with caramelized, cinnamon-sugar pineapple, and bananas, which takes at least 15 minutes to prepare. Be prepared to unbuckle those belts!

If you really want a treat however, try the Na Hoku ("Under the stars") dinner that we experienced one night. We were escorted, at sunset, to a stunning spot adjacent to the beach, which was strewn with plumeria flowers, to make the ambience all the more romantic. We had a private server, in a special roped-off area, and each of us was presented with a lei — a maile lei for Bill, and an orchid one for Debbi. Chef Craig Erickson treated us to a feast; we had selected our favorite menu items a month earlier. It started with a Molokai potato cup with Kauai prawn salad; followed by a local oyster-mushroom and leek fricassee, finished with a cabernet reduction. Next came pohole ferns with gold and ruby Kamuela tomatoes, tossed with extra-virgin olive oil, and bamboo-steamed moi filled with aromatic herbs. (The whole fish!) We could barely finish all that, but pressed on to dine on the yummy Kilauea lava cake oozing with chocolate, and it was a temptation we couldn't resist. This special dinner costs $225 per person and includes a private location, personal waitperson, four-course dinner, wine matched with each course, tip and tax. Hail to the chef!

The resort also features four swimming pools, a boutique spa, fitness room, large oceanview whirlpool spa, and an 18-hole putting green for adults. World-class golf and tennis are available in the adjacent Kapalua Resort community. (Why pay the upscale prices for Kapalua accommodations when Napili Kai is literally, right next door?) As we said earlier, there is also a wonderful Keiki Club experience for children; fully supervised and approximately two hours long, it's offered daily most of the year, and includes Hawaiian games, hula lessons, lei making, nature walks, crafts, movies, family putting contests and more. Professional massage services, body treatments, facials, and spa merchandise are available at Makai Massage and Bodywork, located on property. Here, you can take advantage of any number of pampering pleasures including hot stone massages; a green-tea-and-ginger body facial; Hana Rainforest Wrap; Epicuren facials (the favorite cult brand of Hollywood A-listers); and much more.


All in the Family
For that reason, the Napili Kai is a big hit with families — and has a 55 percent return-guest ratio with families who come back, again and again. It's the ideal spot for a family reunion, and offers special services and amenities to make the occasion even more memorable. Families who book four to nine rooms at rack rate for a minimum of five nights receive specific units guaranteed (if available upon booking); a complimentary photo session; welcome flowers in each unit; and special Napili Kai T-shirts. The unique "Family Studio" units provide additional space that's great for families with children 12 or younger. Or, if you're just starting out in life with a new spouse — and have just gotten married — the Napili Kai is a great resort to consider for your honeymoon. You can start your morning relaxing with coffee on your private oceanview lanai. Spend your day at one of four pools, or snorkeling. End your day hand-in-hand on the beach, watching a spectacular sunset, and dining at the Sea House. Throughout the day, there's everything including oceanside yoga, aqua cardio fusion, a tennis clinic, scuba demo, and even an outrigger canoe program to show you how to learn to paddle. At the Napili Kai, it's all about romance, and the fun things you can do together.

The Start of Something Big
The Napili Kai first opened in 1962 as a 12-room resort, employing two housekeepers and one gardener. Occasionally, these three staff members gathered with guests in a beachfront cabana, and would entertain them with their ukeleles, singing and dancing. Often, their young children and grandchildren would delight guests by joining in their spontaneous hulas. As the resort grew, so did the staff, and the number of children performing at these impromptu gatherings increased as well. Eventually, the staff decided to organize a weekly show for guests. Today the tradition continues as guests at Napili Kai enjoy a weekly program staged by the children of the Napili Kai Foundation. Every Tuesday evening at 5:30PM, the kids, ranging in age from six to 18, perform in a delightful presentation. The cost for the 45-minute program is $10 for adults and $5 for children.

The Napili Kai Foundation's goal is to perpetuate Hawaiiana, by instructing children in Hawaiian and Polynesian dances, culture, arts, language and history, and to instill in them a pride for their ancestry. This foundation was born from aloha, and today, it has grown in scope and purpose, reaching youngsters from all of west Maui.

The fun doesn't end there. On Wednesday nights at 7:30 p.m., the resort offers an ongoing Hawaiian slack-key guitar concert, priced at $39.99pp. In fact, Treasures of Hawaiian Slack Key Guitar — Live In Concert From Maui was awarded the 2008 Grammy Award for Best Hawaiian Album, The CD contains music recorded from the Masters of Hawaiian Slack Key Guitar Concert Series that takes place weekly at the Napili Kai.

Sounds like the kind of place you'd like to stay, right? Who wouldn't love the Napili Kai?

Rates vary throughout the year, but oceanview one-bedroom suites start at $445 while beachfront one-bedroom suites start at $490 per night.

For more information, contact the resort: (808) 669-6271; (800) 367-5030; www.Napilikai.com (featuring a 24-hour live webcam of Napili Bay). See all Luxury Hotels in Hawaii See all Luxury Hotels in Hawaii