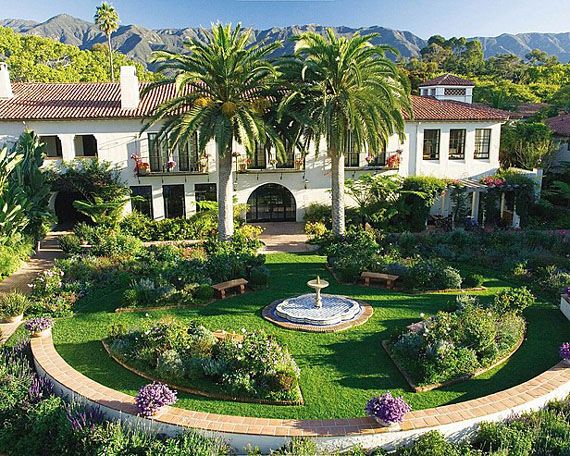 Resort Review:
How I love Santa Barbara, the natural hybrid of Northern and Southern California with the sturdy oak trees of the North, the balmy palms of the South, and a stunning navy colored ocean backed by green mountains. I could just as easily say how I love the Four Seasons of Santa Barbara, which encapsulates all of this natural stature on its grounds alone. Overlooking ocean cliffs, the Four Seasons Resort, The Biltmore Santa Barbara houses 207 Spanish colonial inspired guestrooms and a number of cottages on several lush acres.
Fire lit lanterns welcomed us our first night and we enjoyed a generous cheese plate and wine in the handsome Ty Lounge where a talented jazz trio lightly played. Our room featured a private patio that bordered a tranquil moat, which enclosed the resort's spacious pool area. I favored the deep, Spanish tile bathtub in our room. The next day, we giggled while playing croquet and riding beach cruisers throughout the town, both complimentary amenities.
My biggest delight, besides the gardens and surreal seclusion the The Four Seasons Resort, The Biltmore Santa Barbara provides, was the Coral Casino Beach and Cabana Club's restaurant, Tydes. This country club and restaurant, adjacent to the Biltmore Four Seasons and accessible only to members and resort guests, was quite the social scene's hotspot in the 50s. Today, the club maintains a cheery but chic coral coloring, Art Deco accents, and sweeping modern lines. Tydes, the club's main restaurant, is perched atop Butterfly beach, offering a panorama of gliding pelicans and boats sailing up and down the coastline. Although the restaurant bills itself as "resort casual," there's nothing casual about the precise service and exquisite dishes. Every dish, from the 12 Hour Spanish Style Suckling Pig appetizer to the La Perla chocolate orb dessert, were artistic marvels, and just as pleasing works of art to the palate.



BOTTOM LINE: Four Seasons Resort, The Biltmore Santa Barbara can be a self-contained, exquisite Santa Barbara experience itself. Don't miss it, or the resort's delightful country club. See all Luxury Hotels in Hawaii