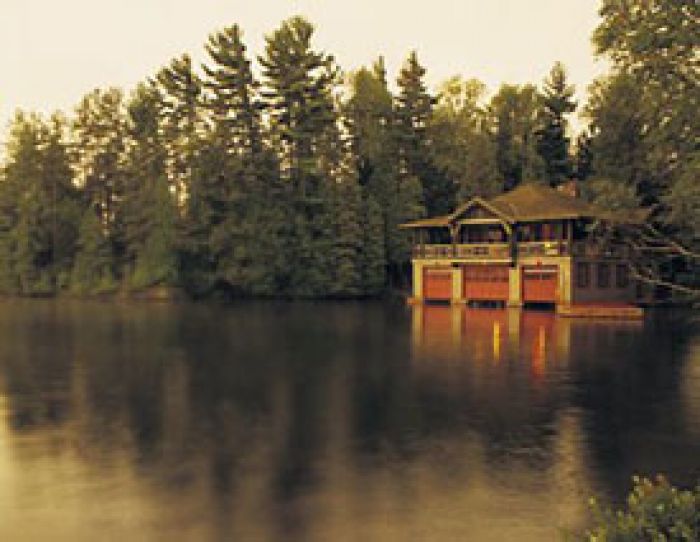 Resort Review:
We have now visited
The Point
, the highest rated property in the United States twice. Once in summer and once in winter, the problem lies in deciding which season was the best.
This luxurious former Great Camp of William Avery Rockefeller, located deep in the pine woods along the shores of Upper Saranac Lake in New York state, welcomes guests during all four seasons to what feels like a private house party, pampering you unashamedly until you say to yourself at the end of your stay, "So THAT'S what it's like to be one of the 19th Century magnates!"
Sure, in summer you can swim, fish, canoe, water ski, explore the lake in one of the inn's teak electric inboard boats; stay in the Boathouse, the most popular of the exclusive cabins set around the 75-acre property. Best of all, enjoy champagne cocktails on the antique Elco electric launch at sunset.

But in winter, all of the huge stone fireplaces of the 11 guest rooms in this Relais & Chateaux property are blazing, and you can peek out from under your down comforter to see what has been brought, to your specific order, for your breakfast in bed. You can also snowshoe, cross-country ski, skate on the lake, cover up in blankets and sip a hot toddy around a campfire barbeque, curl up with a book by your bedroom fireplace and so much more. We came up to the Adirondacks druing the first week in January and enjoyed a Winter White Weekend filled with the exotic white truffles. Almost everything on the gourmet dinner menu matched the weekend's theme: truffled duck egg custard, truffle broth, truffle sausage, truffle gnocchi and roasted pear sorbet with truffle honey.

It was six degrees when we set out on a cross-country ski trail, and just as we thought our fingers might get frostbite in this cold, a staff member showed up on a snowmobile with hot cider, hot buttered rum, hot chocolate and hand warmers. This is a staff that studies your likes and dislikes before you arrive at the inn and seems to know what you'd like throughout your stay. It's a staff that says they're sorry when you announce it's time to leave, and hands you a jam-packed picnic basket to take on your way home, the better to let you down more easily from the most delicious, elegant food and libations you've ever consumed in one period. Dinners in the Great Hall feel like New Year's Eve parties year-round, especially on Wednesday and Saturday nights, when everyone "dresses" for dinner (that includes dinner jackets and if you like, long gowns.)

Even though the log buildings are historic and rustic, the huge bathrooms are gloriously, decadently up-to-date, with enormous tubs, state-of-the-art showers, gleaming fixtures and heated towel racks. This is Old World luxury with 21st Century pampering, in a pristine setting that is quiet and private and protected.

We can't wait to try Spring and Fall there.
See All Luxury Hotels in New York