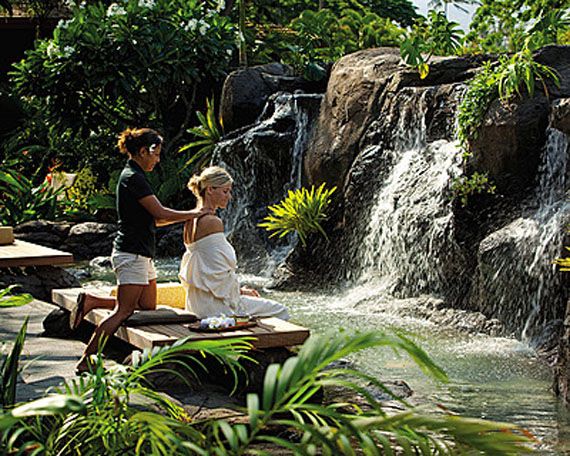 Spa Review:
Everything about
Four Seasons Hualalai
on The Big Island of Hawaii takes spa treatment to a whole new level. While most spas offer you the standard menu of services, the Four Seasons Hualalai Spa offers is a distinctive and exclusive spa Apothecary of creams, oils, lotions and potions, many of them indigenous to Hawaii, so that you can have your product custommade – that's right – custommade – with a teaspoon and spatula, right before your very eyes.
I met with Lisa Chasey, who showed me the Apothecary that was inspired from the kupuna (Hawaiian elders), who shared their knowledge of the islands and its local ingredients, which are an essential part of the spa's focus. The resulting Apothecary features a variety of ingredients that you can select for your very own treatment. Things like Grapeseed oil. Coconut. Black lava salt. Spirulina. Pikake flowers in an almond-oil base. Green tea. Chickpea flour. And turmeric. To name just a few.


I wanted to be uplifted, and in my book, nothing beats the scent of oranges – mix it with chocolate and I'm over the moon. So I chose moisturizing ground cocoa butter, red sea salt, lavender oil, macadamia nuts, and powdered milk (whose lactic acid is exfoliating). To these, Lisa mixed in orange essential oil. The result? A Creamsicle concoction that smelled divine.

Lisa escorted me to the wet-treatment room, where she buffed and sloughed my skin with my very own Creamsicle creation. It felt divine – a vigorous rubdown with an exfoliating glove that opened my pores and woke up my skin. After exfoliating me on both sides, she took the Vichy shower and hosed me off while I was still lying down. A shower while you're in repose? That in itself was relaxing. After that, she tore off the top layer of towels, and the plastic beneath it, to reveal another layer of towels on my treatment bed, where I could continue to stay still.

The spa, and the resort, surely offer a lot to love. The 28,000-sq-foot spa was transformed after a 15-month, $40 million enhancement; today the spa integrates tropical gardens with cool interior spaces. There's even an open air "Waiea" or "water of life" garden where you can enjoy complimentary pre-treatment rituals by a quiet stream. Guests can also choose one of four new outdoor hales in which to enjoy their spa experience. The sybaritic services include 11 massages such as island stone and lomi lomi, plus massages ensuite and in a poolside cabana; 11 types of facials including renewing facials for men and Vitamin C facials; and numerous body treatments such as a coconut scrub and wrap. After your service, you can sit in the Waiea garden and enjoy complimentary refreshments. No matter your service, you'll be good to glow. See all Luxury Hotels in Hawaii