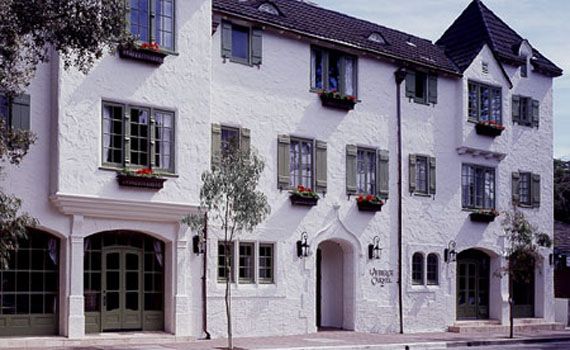 Hotel Review:
Enchanting: that's the best one word description for Carmel, if not the town's
picturesque
L'Auberge Carmel, a 20 guest room inn that has made the guest service experience a shining masterpiece. The village of Carmel, founded is 1906, holds a number of artistic masterpieces within quaint galleries and showrooms, but a true work of lies in the
L'Auberge
experience.


A brick laid courtyard with cheery umbrellas and an intimate one-desk lobby caught my eye when we first arrived. The staff seemed so pleased to welcome us that I nearly forgot I was checking in to a property, thinking that I was instead pulling up to stay with an old friend. My guest and I sipped on a pineapple soda drink and passed happy guests in the courtyard while we made our way to our well appointed suite. I loved our room's vaulted ceiling, the massive claw foot bathtub, and smell of the ocean just a few blocks away.



After a soothing bath with the hotel's exceptional lavender bath salts, we strolled down to Aubergine, the hotel's 12-table restaurant. Aubergine is a must for guests of the hotel or visitors alone to the Northern California region. The restaurant boasts so many national awards that my expectations were quite high, but met, course by course. Executive Chef Christopher Grosjean stays true to seasonal ingredients, making Aubergine's menu a new culinary journey daily. Equally impressive to the cuisine is Aubergine's wine cellar, home to 4,500 wines from around the world. The staff at Aubergine could not have been more pleasing, not a surprise considering the hotels gift for superb guest attention.

The next morning, I found the bed to be so perfect that I couldn't summon myself to leave it early. We savored a hearty breakfast, a complimentary amenity for guests, in bed, which the staff probably anticipates often. Driving away from the property, I noticed the valet left a little "Thank you for staying with us" note, tied to a bag of the lavender salts! All I could think was "No, thank you, L'Auberge!".