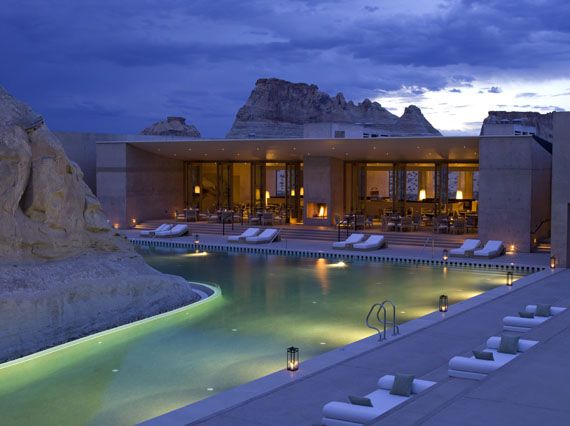 Luxury Resorts:
Adrian Zecha has done it again. The prolific 77-year old founder of Amanresorts, perhaps the world's most serene collection of luxury naturalistic
resorts
, opened Amangiri last year in America's southwest. Already garnering national magazine covers and international design nods, Amangiri is true to Aman style: nestled within nature, intimate, and spectacular to the senses.
Amangiri is tucked within 600 acres of deep canyons and soaring white rock formations once home to the Navajo and Hopi tribes. The resort expands horizontally across the landscape with 34 suites, a 20,000-square-foot spa, and several viewing areas. The main pool hugs a majestic rock wall (the resort was built with the pool's location first in mind.) Like all Amanresorts, Amangiri integrates, rather than interrupts, the natural surroundings. Concrete, beige stonework, and natural textures seamlessly make up the entire property in an extreme minimalist, modern form. Although such a design may not appeal to all discerning travelers, Aman does minimalism with such detail and luxury, it's hard to envision a more perfectly executed luxurious look in surreal desert surroundings. Our suite's patio opened with Concertina glass doors to allow an uninterrupted view of the distant mountains from our elevated plush bed. I loved our stunning shower area, fitted with two waterfall showers and a deep, deep tub, all enclosed in gleaming gray tile. Even a plump tumbleweed parked beside the dining room's open wood fire kitchen area was a design element that just worked.
Once we pulled up to Amangiri, the resort's international staff enveloped us with a sense of being home. We were greeted with sage infused lemonade, cool towels, and a guide who showed us the property, as well as our suite. The staff greeted us by name during our visit, knew I liked black tea with milk, and only smiled when my guest and I sauntered in with robes on to read by one of the massive fireplaces in the library area. Aman excels in creating intimacy, the feeling of home. Having the resort's two guest BMWs to borrow and a complimentary mini bar, refreshed constantly with healthy snacks, furthered the feeling that we were true guests staying with good friends who loved to share and spoil us. (In perhaps the ultimate showcase of guest service, my travel companion's and another couple's flights were delayed six hours to Phoenix, and so the Amangiri staff took it upon themselves to drive the three stranded guests four hours away to their destination. I'd be hard pressed to find a good friend who'd do that.)


We could have easily spent days right at Amangiri, savoring the daily yoga classes, or exploring the dozen trails from the resorts, which we did. The resort houses an exceptional culinary team, so there was also no need to venture beyond the property, unless delicately prepared duck or Wagua beef burgers were not satisfying. (They surely were.) However, Amangiri offers guests a laundry list of adventures to try by nearby Lake Powell and an assortment of national parks. We ventured off on the Lower Antelope slot canyon tour, led by a Navajo Indian, who took us nearly 100 feet down into the crevasses and cracks of vividly carved canyons. Other guests opted for visits to the Grand Canyon and Zion National Park while some enjoyed archaeological tours led by Amangiri's expert guides.

Departing Amangiri was difficult, akin to leaving great friends and their absurdly picturesque home. Perhaps Zecha anticipated such a feeling, because construction has begun on 28 private villas, which will be available for purchase beginning 2011. I know I'll return to Amangiri, either as a guest of the resort or perhaps a lucky guest of a villa owner. In the meantime, I'll be wondering, "how will Zecha top this?"