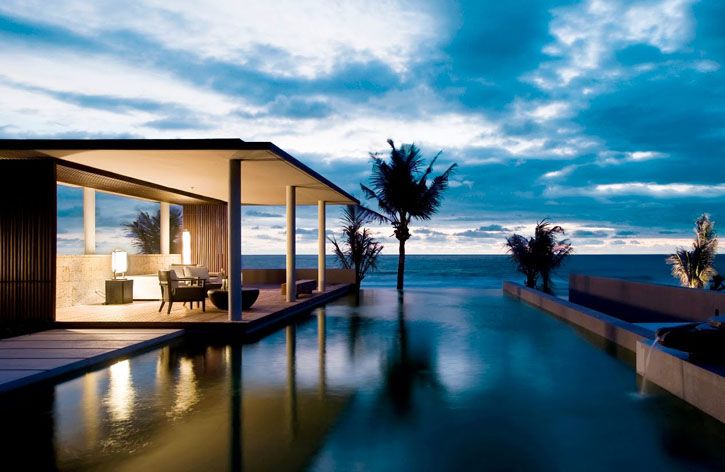 Photo Courtesy of Alila Soori
Our executive car winds its way along a narrow lane, which zig-zags through a tiny town centre into lush paddy fields. In the distance, my husband and I can see a towering volcano, which we are following in order to get to our corner of paradise. We're heading to Alila Soori, a
Bali luxury hotel
, for our honeymoon. Two weeks of sun, sand and relaxation will ensue now that the year of wedding planning is over. Alila Soori is only about an hour from Ngurah Rai International Airport, but after almost 24 hours of travel from the UK, we are more than pleased to reach our stunning one-bedroom pool villa. Although we are both shattered from the journey, we're still excited enough to want to explore. Our home for the next four nights is stunning; something the company is renowned for. Singaporean architect Soo Chan has seamlessly merged authentic Asian designs with contemporary western quirks, which blend effortlessly with their natural surroundings.
Everything about award-winning Ailia Soori oozes luxury. It's situated on the west coast of Bali. The area is undeveloped and not many tourists visit the nearby towns, so guests can shut themselves away from the hustle and bustle of everyday life. The resort boasts 49
luxury villas
, including a 10-bedroom residence that is intimate enough to offer us the seclusion we desire. Our spacious villa overlooks the azure Indian Ocean, and there's a sense of tranquility and calm which is carried throughout the resort. The inside décor is sleek with dark mahoganies, grays, and creams mixed with marble flooring. The luxury villas also offer high-tech luxury with an apple docking station playing us sounds to suit our moods.
The back of the villa opens out on to our own sizeable pool, and a chic decking area overlooks the glittering black sands of the volcanic beach, to which our villa has private access. It's the type of stylish accommodation guests will never want to leave. If that is the case, Alila will oblige, delivering your meals and drinks to your room. However, for the more adventurous, there is a lot to explore. The concierge team is on hand to create 'Journeys By Alila,' bespoke, once-in-a-lifetime excursions and activities in the surrounding area. Guests can choose to meet the local community with a visit to the nearby village of Kelating in Kerambitan and enjoy its beautiful architecture, visit the famed Tanah Lot Temple, trek to the Alas Kedaton monkey forest, go horse-riding along the beach, or learn how to surf as well as explore the rice terraces. The list is pretty much endless.
But before we decide on activities, Rich and I are treated to a delicious breakfast at the stylish restaurant which overlooks the beach and the infinity pool. My husband is in heaven with a tasting menu that encourages him to order six or seven dishes "to try." The dishes change daily but include everything from divine mixes of eggs, meats, cheeses as well as breads, pastries, juices and cereals. Everything is presented as though it's a work of art and tastes just as delightful. The Balinese staff are incredibly friendly and smiley and they take pride in their jobs, as well as the food they prepare and serve.

Our perfect after-breakfast start to the day involves nothing more strenuous than a walk along the magnificent beach, up to the rocky coast and ambling our way to the top, but not before we've poked our heads into the spooky bat cave .Just as we reach the top, the sky turns a metallic grey, so we race back before the rain starts to fall. But rather unlike bad weather in the UK, it doesn't stop us from enjoying our honeymoon, and we head to Spa Alila. With a mission statement that reads "We are committed to providing unique treatments from the heart, blending ancient Asian healing techniques with age-old beautify recipes featuring the curative benefits of fresh, natural, quality ingredients," I'm confident this is one spa experience that won't be forgotten. And as I relax into my massage, I have no doubt this is the perfect place to start our honeymoon. Beach pool villas from $730 per night.
For more information, see
AlilaHotels.com
Courtesy of Alila
Courtesy of Alila
Courtesy of Alila
Courtesy of Alila
Courtesy of Alila