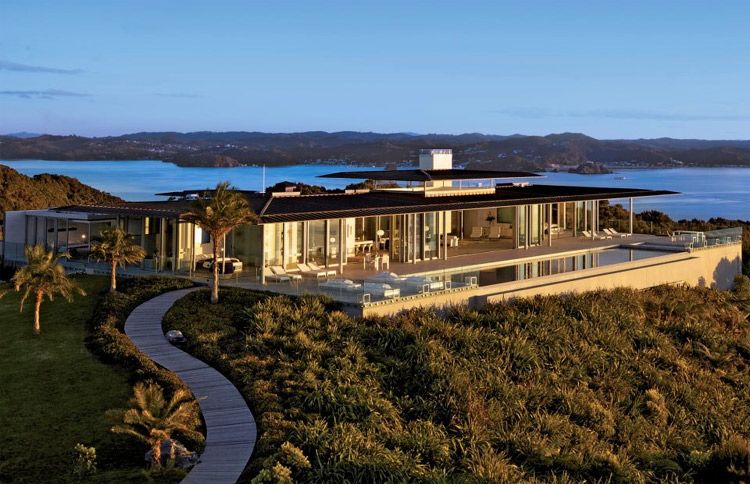 Photo Courtesy of Eagle's Nest
If you're looking for a private, romantic, exotic setting for your next getaway, the Eagle's Nest in the Bay of Islands of New Zealand can accommodate all of the above. The tropical peninsula features five
luxury villas
all tucked into a lush valley showcasing world class architecture, interior design and a slew of amenities to make your stay feel like home.
Features will differ according to which villa is booked, whether it's the Rahimoana, Sacred Space, First Light, The Eyrie, or Eagle Spirit; but regardless, the list of services and amenities will sound like that of a five-star hotel but in a more intimate setting. The properties all look out onto breathtaking views of the Bay of Islands and can contain up to four bedrooms and be outfitted with an infinity pool, Jacuzzi, gym, sauna, home theater, high-speed Internet access, bar, and wine cellar.
To get out and enjoy the gorgeous scenery around the Bay of Island, the villas offer bicycles as transportation. If you're staying in the Rahimoana villa, the keys to a Porsche Cayenne will be provided for use in the local area. Laundry and dry cleaning service can be completed every day and gourmet breakfast is replenished daily as well. Also available to enhance the experience are personal chefs, caterers, personal trainers, salon professionals and massage therapists.
Each villa has been designed to optimize the spectacular surroundings, bringing in the glorious sunsets and sunrises, crystal, blue water, soaring bird life, passing boats, and warm breezes. The simple, modern architecture with floor to ceiling windows and open, informal living spaces give the feeling of being on your own private island.
Activities are endless at the Eagle's Nest with everything from golf to fishing to boating, horseback riding and tours of the area. For thrill seekers, try sky diving, parasailing or a helicopter adventure like heliops—a rock fishing excursion to locations only accessible via helicopter. Epicurean experiences can be had in your own villa with a personal chef whipping up a menu that highlights New Zealand's freshest produce and wine. The villas can also be pre-stocked to accommodate any dining plans of your own.
Rates vary according to the season and villa booked. Visit
EaglesNest.co.nz
to find out more.