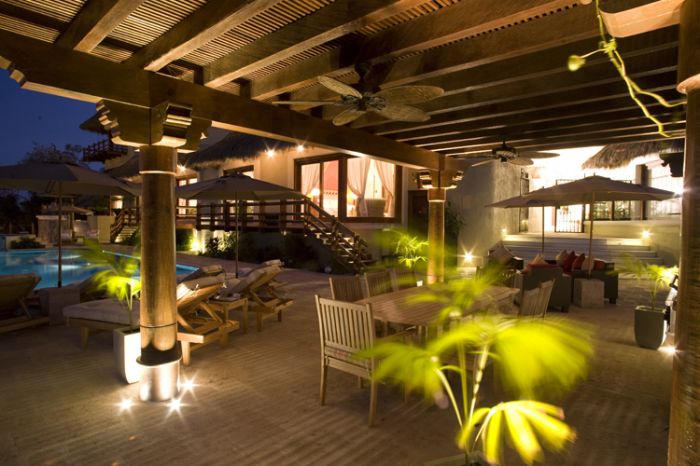 Photo Courtesy of Casa Colina
Casa Colina is a private
luxury villa
set in Isla Navida, located along Mexico's Pacific Coast, right between Puerto Vallarta and Acapulco. Since it's at a latitutde similar to that of Hawaii and Jamaica, guests at Casa Colina will be able to enjoy warm weather at nearly any time of the year. July and August tend to be the hottest months, with the rainy season typically from June to October. With the rain typically falling later in the day, sometimes a week can pass between bouts, leaving the weather warm and sunny in between. Even with a little rain, guests are sure to enjoy their time at Casa Colina.
With only six guestrooms, Casa Colina is incredibly small and private, making it perfect for large groups and family vacations. The rooms, each individually decorated, have either ocean or mountain views, and various features like private gardens and outdoor showers. The Sueno Suite includes a Jacuzzi tub and a private garden with a day bed. The Oceano Suite is situated in a corner and includes a teak balcony, along with a California King bed. The Laguna Suite has features like a Jacuzzi tub and outdoor shower as well, but also has a breakfast table and loungers.
Casa Colina has many amenities designed to ensure guests have a relaxing
luxury vacation
. The infinity pool gives a great view of the sea and surrounding land, and the villa spa and fitness center are great places to visit after a long day in the sun. One of the neatest areas of the villa is bound to be the Top of the World Palapa. With a 250-degree view of the mountains, sea, and sky, the indoor/outdoor room is a great place to eat breakfast or host an event.
When guests wish to explore the area there are so many different things to do. Tours of the surrounding areas are available, including the beaches of Barra de Navidad and the Playa La Audiencia on Santiago Peninsula, which is the very same beach the famous Bo Derek movie "10" was filmed. Guests can also enjoy various activities, like kayaking, scuba diving, snorkeling, deep-sea fishing, water skiing, yacht cruises, golf, tennis, and horseback riding.

One of the area's neatest features is the five million-year-old Colima volcano, which is one of Mexico's most active volcanoes. Having erupted many times in the past 450 years, the volcano is currently calm and only gives off a puff of smoke every once in a while. There are various tours available, including one that brings you as close as four miles from the crater and another that you experience via horseback.
Rates vary depending on season, but generally range from $3,800 a night to $4,900 a night. The rates include airport pickup and drop off, private chef and staff, and laundry service.
For more information visit
CasaColinaMexico.com