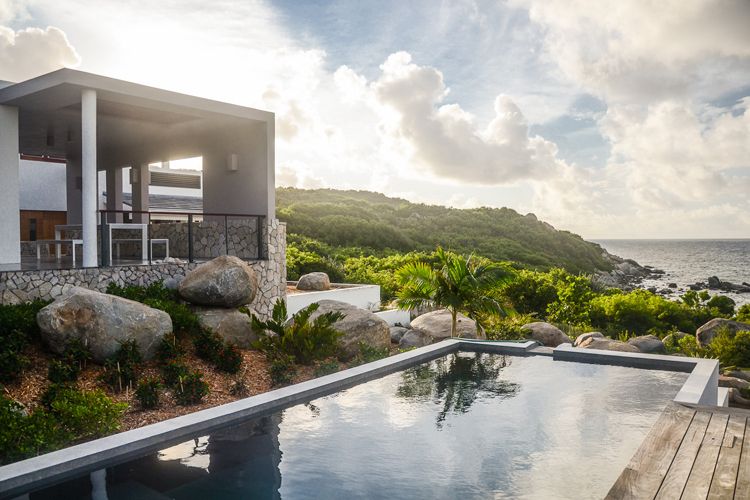 Photo Courtesy of Bayhouse
Most people have a dream location for their perfect getaway and we'd be willing to bet that the Caribbean is on the top of everyone's list. It's one of those rare places where the dream of clear skies, warm waters, and white sandy beaches is actually a reality. With incessant sunshine and beautiful beaches, guests are going to want a
luxury villa
to stay in and resting 42 feet above a private beach is the well-designed Bayhouse.
Of all the Caribbean vacation options, Virgin Gorda in the British Virgin Islands is one of our favorites. A haven for water sports enthusiasts, Virgin Gorda never really leaves the 80 degree bracket, regardless of season. The summer and early fall can see some rainfall but the episodes are typically pretty short, with the sun always quick to return.
Finished in 2011, Bayhouse has 180-degree views of the Caribbean Sea and nearby islands. With three bedrooms, each with ensuite baths, the villa offers guests 6,000 square feet of indoor/outdoor space on nearly two acres of property. The interior was designed to reflect a relaxed Caribbean lifestyle with contemporary accents. Knowing how important the view is for a
luxury vacation
, the villa features fifteen-foot foldaway doors that allow in the cool trade winds. In the name of energy efficiency, Bayhouse also has louvered windows all throughout, dispelling any need for air conditioner.
Below the terrace is a pool, deck, reflecting pool, and outdoor shower. While the pool seems pretty nice, we doubt guests will spend much time there when they can stroll down a sloping path and step right onto the private beach. If guests also want to visit any of Virgin Gorda's famous beaches (Devils Bay, Spring Bay, Savanah Bay, and Trunk Bay), Bayhouse is only five minutes away. Also nearby is The Baths, which you won't want to miss. Huge granite boulders create grottos, saltwater pools, and a neat connecting trail that invites guests to spend their day relaxing and exploring all that's offered.

With the clear waters and tropical fish, Virgin Gorda is great for divers and snorkelers. Swim between sea turtles while spotting snappers, barracudas, squid, and other neat sea creatures. Day trips to nearby islands are also available to guests, like Anegada island, which boasts a small population while being the second largest island in the territory. There you will find miles of coral beaches and a lake populated by flamingos, which may not seem exciting at your local Zoo but we imagine they'd be pretty cool to see in the wild.
Bayhouse rental rates range from $4,900 to $14,700 a week, depending on how many people are in your party and your season of choice. The price includes 24/7 island concierge service and many amenities, like an espresso machine and daily housekeeping.
For more information visit
BayhouseVilla.com