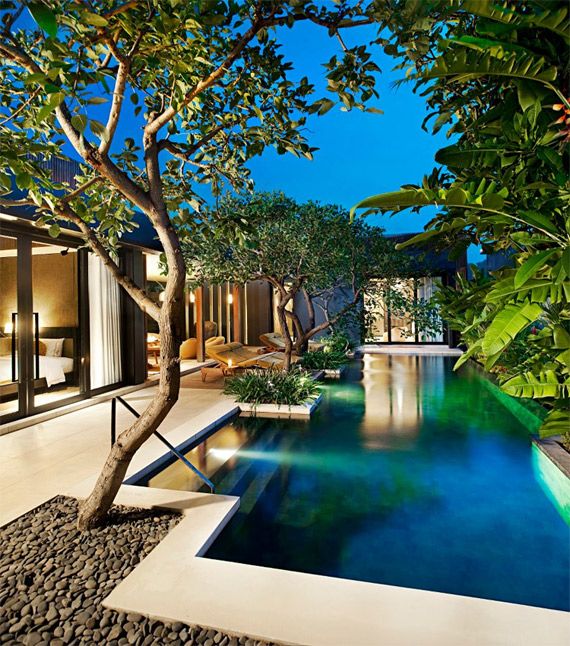 Photo Courtesy of Starwood Hotels
W Retreat & Spa Bali Seminyak
is a luxury resort that channels the mysticism of the East as well as Indonesia's rich cultural heritage. Although visitors to the W Treat Bali Seminyak resort have a range of suites to choose from, the E-Wow Suite by AB Concept, featuring three bedrooms, dining room, living room, and private pool in a villa retreat is one of the resort's top choices. Guests can enjoy the beauty of Bali from outside as well as in, with the exterior dining area and 324-square-meter sundeck.
The master bedroom offers the Signature, W king-sized bed with 350 thread-count sheets, pillow top mattress and a 55-inch LED flat screen TV. The master bathroom deep soak, garden terrazzo tub lets visitors wash away a busy day with a wide offering of Bliss Spa essentials. East Asian traditions and Balinese mythology blends with a contemporary style that saturates the décor of the E-Wow three bedroom pool villa, with modern, stream-lined furniture and bright accents.
The private villa pool is 92-square-meters, surrounded by thick, tropical greenery and a sun deck outfitted with lounge chairs and umbrellas. Numerous windows and expansive skylights bring plenty of natural lighting into the villa, ensuring a sense of connectivity with the beauty of the Indonesian environment. Guests can request anything their heart desires from the 24-hour Whatever/Whenever valet service including custom menus and personal chefs to prepare meals in the comfort of your own retreat.
The W Retreat & Spa Bali—Seminayak also offers the Wow Two Bedroom Pool Villa, offering a burst of sunny color and a 55- square-meter pool, as well as the Marvelous One Bedroom Pool Villa featuring a palette of soothing earth tones as well as an outdoor Bale Begong day bed that overlooks a private plunge pool. All villas and suites offer the W Signature Bed, flat screen TVs, and Rainforest Showers.
To learn more about the W Retreat & Spa Bali Seminyak visit
StarwoodHotels.com