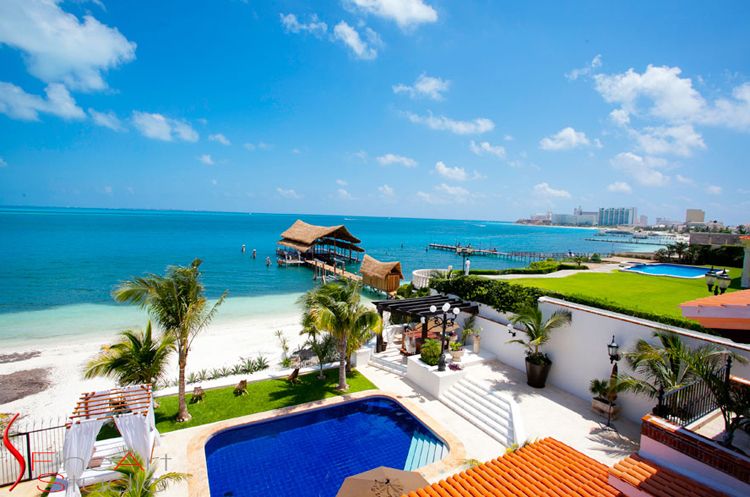 Photo Courtesy of Villa Albatros
Cancun, Mexico is definitely a favorite spot to have a
luxury vacation
, and with the warm tropical weather, we're really not surprised. While it can get a little warm during the summer, it usually rains a bit in June in the afternoons, which helps to beat any humidity in the air. With maximum highs of 80 degrees in January, and around 91 in July and August, the temperature never experiences any real drastic changes, making it fairly dependable for visitors to plan their vacation accordingly. With such beautiful weather, staying in the typical hotels during your stay just doesn't seem as appealing as your very own private ocean-front villa, and if that's your pick, we recommend Villa Albatros.
Right in the heart of Cancun's Hotel Zone, Villa Albatros looks over white sandy beaches and clear warm waters, making it great for anyone in need of relaxation. Striving to instill some colonial charm, the architectural design is built on varying levels and offers 11,500-square-feet of interior space. Handcrafted woods, glass works, and chandeliers fill Albatros to create an atmosphere intended to provide the ultimate Cancun vacation.
Albatros has a minimum three night stay requirement and can accommodate up to 12 people. The villa has five rooms and a garden apartment, with a total of four king size beds and four queen size. The rooms are spread out over various floors, each with an ocean view, and many have balconies or patios with direct beach access. The garden apartment is fully equipped with a complete kitchen, dining room, private entrance, and garden views.
The
luxury villa
will stock the kitchen for you, with all of your favorite foods and drinks, upon your arrival (including sodas, wine, beer, champagne, liquor, and juice). It also offers guests breakfast, lunch, dinner, and snacks; you just have to choose from the various day menus. Breakfast and lunch will be served buffet style and don't worry, the leftover food is packed away and left in the refrigerator so you can snack on it whenever you want.
If needing some extra relaxation, guests can check out the spa services. Albatros ensures that they only work with the most professional and reputable Cancun Spa companies so that your in-Villa massage, facial, or manicure will be the best Cancun has to offer.
Being in Cancun, we assume most people are going to want to spend a lot of time enjoying mother nature and thankfully Albatros is able to help you out by setting up various tours and recreation activities, like golfing and swimming with dolphins. Trips can be arranged to Playa Del Carmen, Cozumel, Isla Mujeres, Chicen Itza, and various parks like Ixcaret and Xel ha. If you happen to be visiting near the end of April, we suggest taking a trip to Cozumel and checking out the Festival of El Cedral. The historical annual festival is said to have started over 150 years ago by Casimiro C√°rdenas, who was in a group that found the island as refuge after Saban (a mainland village) was attacked during the War of the Castes. The five-day-long festival now includes fairs, traditional feasts, rodeos, music, bullfights, and competitions.

With 24-hour security and a multilingual staff, Albatros wants guests to feel safe and taken care of during their stay. At additional cost, guests can have access to various perks, including a concierge, housekeeping, a jet, limo transportation, access to a luxury yacht, and even body guards.
Prices range from $1,650 to $3,500 per night.
For more information visit
VillaAlbatros.com.mx
.