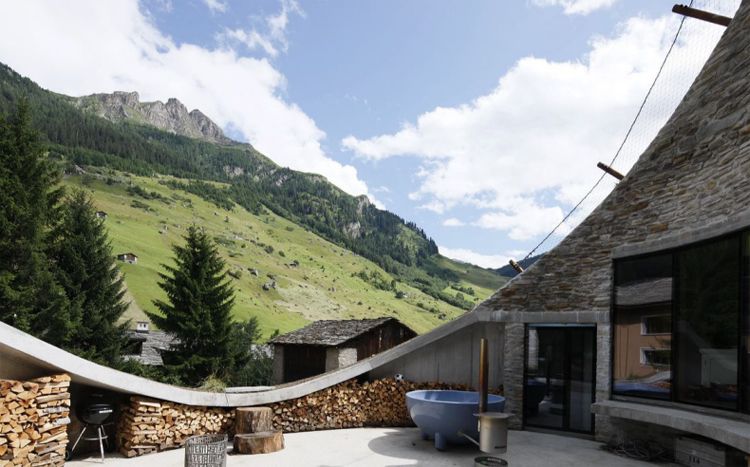 Photo Courtesy of Villa Vals
Usually when people think of
luxury villas
they think of pampering, relaxation, and maybe a flashy architectural appearance. Maybe they're in the heart of a famous city or off on a tropical island with sandy beaches, but the idea is usually the same. Sometimes you may want to deviate from the expected and stay somewhere that is a unique surprise. Set in Vals, Switzerland, Villa Vals is a house completely immersed in the mountainside, with only the central patio able to be seen above ground. Located incredibly close to Vals' world famous thermal baths, the dwelling is the height of privacy and gorgeous views. Surrounded by green meadows (or snowy hilltops depending on the season), this 1,700-square-foot villa will probably come as a surprise to some but we'll be shocked if you don't immediately want to move in.
With room for around ten people (maximum is 12 if there are kids present), Villa Vals was designed by Bjarne Mastenbroek and Christian Müller, from architecture companies SeARCH and CMA, and was intended to integrate completely with nature with as little disturbance as possible. Nearly everything is nestled underground, even the front door. The only access point is through a nearby barn, which leads to a 72-foot-long underground tunnel, lit by skylights, that runs through the mountainside, giving the villa a very secret agent feel. The barn also has room for bikes, a ping-pong table, skis, gardening tools, and terrace furniture.
The bunker-like dwelling has a very spacious interior furnished by Dutch designers, each item working together to create a unique blend of modern Dutch design and Swiss quality. The villa has six rooms and features oak paneling and doors, which work to break up the use of concrete while adding warmth. Each bedroom has a king-size bed and a private bathroom with a bath and/or shower. The ground floor features a living room, fully equipped kitchen, library, and bedroom, all overlooking the terrace to bring in light. One of the rooms doubles as a TV room, with a box bed and two extra beds, which would be great for kids. The subterranean bedrooms are accessed at different levels off of a long corridor and the entrance room has heated ski boot holders (with a ten pair allowance) for drying and storage.
If you're worried about keeping warm in the winter, don't be. The villa has triple isolation glass and floor heating in all rooms, as well as a heating recovery/ventilation system and open/closed fireplaces. The designers wanted to keep the home energy efficient and therefore it doesn't use any fossil fuel. Instead, it uses hydroelectric power that's generated at the nearby Zerveila Reservoir.
Finished in 2009, the house is right at the end of Valsertal Valley in Vals, nearly untouched and 4,101 feet up in the Swiss Alps. While the village is private and relatively untouched by mass tourism, the area isn't completely devoid of activities. The villa is within walking distance of a bakery, supermarket, post office, many restaurants, and the village square. With a thriving agricultural industry, guests will be among the quaint sounds of bells as sheep and cows roam the village during the winter. During ski season there is even a free shuttle, Therme-Dorf-Bahn, that makes a stop at a lower road nearby. It will take you to a ski area with a cable-car, three ski-tows, and heights of 9,842 feet. Because of the remote location, it's rare to be met with long waits for the lifts and slopes. The snow is also great for activities other than the standard skiing, like cross-country ski, snowboarding, sleighs, and long snowy hikes.
During the summer months the cable-car stays in business, offering amazing views of the area all year round. Hiking is always an option with so many hills and mountains surrounding, making it a great place for adventure-seekers. There's a mountain-hiking shuttle (the Vals Berg-Wanderbus) that will take you to many starting points to the hiking tours in nearby valleys, like Val Lumnezia, Safien Valley, Val di Blenio, and the Rheinwald. Valser valley, with the 50 mountain tops of Adula mountain range, will be a favorite amongst mountain climbers. The area is also known to house rare semi-precious stones and minerals, making it a popular area to hunt for crystals. As if there wasn't enough to do already, the "Swiss Grand Canyon" is a great place to partake in some water sports, like canoeing, kayaking, and rafting.
Nearby is the Therme Vals by architect Pater Zumthor, a hotel and
spa
that is considered to be one of the world's most beautiful sights. The hot water spring features calcium, sulfate, hydrogen, carbon, and iron, as well as many indoor pools, a fire pool, ice pool, sound pool, and resonance room. There's also a large outdoor pool that gives unobstructed views of the lovely mountains. The intent behind the structure was to mimic that of a quarry or cave, working with the natural surroundings to give guests a sense of calm and balance while they experience the ancient acts of bathing.

Rates depend on season and length of visit but generally range from $1,168 for a two night stay during the low season (March 10 to April 28, May 26 to June 30, September 1 to October 13, October 27 to December 15) and $473,473 for a seven night stay during the high season (December 17 to January 7, January 28 to March 10, July 21 to August 25).
For more information visit
VillaVals.ch
.