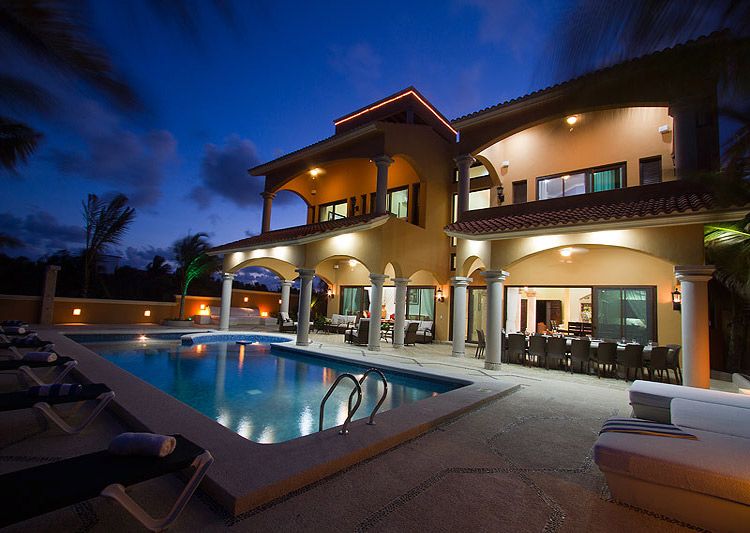 Photo Courtesy of Villa Hacienda Caracol
So youíre heading down to Mexico for a well deserved family vacation. You have the kids and their friends, the in-laws and the nanny all in tow. Finding a hotel that can accommodate the extensive needs of every traveler while all staying together and organized can be difficult. But whatís the alternative?
Renting a luxury villa
, of course. You get all the amenities and services of a five-star hotel but in a more intimate, private setting. Itís a win-win.
Hacienda Caracol is a great option if youíre headed to the Riviera Maya. The 10-bedroom villa is located on the beautiful beaches of Soliman Bay, about 70 miles south of Cancun on the Caribbean coast. The over 9,000-square-foot home has a wide open, airy feel with high ceilings, spacious rooms, a private pool, and a rooftop terrace offering 360 degree views of the bayís turquoise water.
The main house has eight bedrooms all with their own bathrooms, custom built furniture, high-end linens, flat screen TVs and views of either the bay, garden, or Yucatan jungle. Two well appointed guest houses are perfect for staff or friends traveling with your party who want their own space. They contain the same luxurious amenities as the main house including kitchenettes and ocean views.
The great thing about renting a luxury villa is the personalized service that comes along with it. A dedicated staff is available to ensure all guests are happy and the grounds are maintained during every stay. The villa manager greets guests upon arrival and checks in to provide any additional service such as grocery shopping; the chef is trained in preparing local and international dishes and is on hand to make any and all meals according to any possible dietary restrictions; the night time security guard is on duty to watch over the grounds so guests are always safe; two maids are in charge of all the housekeeping needs around the villa; and the gardener works to maintain the landscaping and pool. All guests have to do is relax and enjoy the company of their loved ones while everything else is attended to.

The beachfront location is ideal for all kinds of water sports and activities. Soliman Bay is the second largest reef in the world and its shallow, calm waters gives people of all ages the opportunity to explore. Go snorkeling to see some of the bayís colorful underwater sea life, comb the beach for seashells, or for some exercise, kayak, swim or jog along the white sand shoreline. Each member of your party will find something to exhilarate or relax them during their stay at Hacienda Caracol.
Rates vary according to the season, but can range from about $10,500 to $26,000 a week. Maximum occupancy is 24 guests, with a $500 additional charge per person over the base number of 10 guests. Contact guest service at Hacienda Caracol by emailing info@villahaciendacaracol.com, or visit
VillaHaciendaCaracol.com
to learn more.