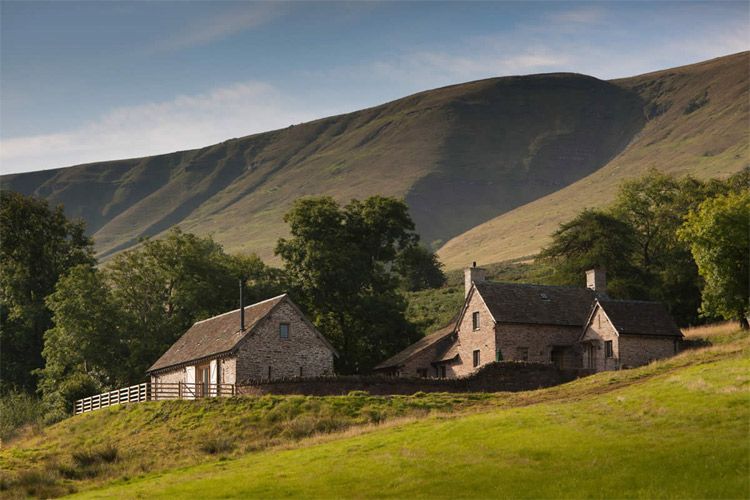 Photo Courtesy of Sheepskin
Meaning 'field of the horse rider' in the original Welsh Caemarchog, Knightsfield has been in owner Steve Greenow's family for over 170 years and dates back further still to the late eighteenth century. Curling up on the distressed leather sofa beside the sitting room fire, with nothing but crackling logs and the sound of the wind against the drystone walls for company, it feels as though this quintessentially Welsh farmhouse has always stood here. But the photographs in the spacious family kitchen tell of a past beyond the smart slate, robust flagstones, and handcrafted solid oak you see today.
Not so long ago the house and barn had fallen into such disrepair, approval from the Welsh Assembly (no less) was needed to restore them, a labor of love which took over a decade to complete and rigorous compliance with building restrictions to ensure that the restoration remained true to the original farmhouse and in keeping with its surroundings in this most protected area of outstanding natural beauty. Lime mortar had to be used in the pointing, green oak in the roof. The windows and doors are true to the originals, while fixtures and fittings conform to eighteenth-century design.
As with the restoration, thought and attention to detail characterize every aspect of our stay, even before we've set foot inside the door—from Sheepskin's faultlessly comprehensive guide to the house and area (tailor-made to suit our interests) via post and email, to the local weather forecast emailed the day before our arrival. Even the security code to the key safe is texted to us, so after a long drive we don't waste a minute, just letting ourselves in and getting the kettle on.
So often with self-catering, no matter how your heart jumps at the loveliness of your new home, Old-Mother-Hubbard-bare cupboards soon bring you down to earth. Not so at Knightsfield. It's as if a thoughtful neighbor has popped in and left some well-chosen goodies to welcome you back. In our jute bag there's everything for a perfect snack—ground Colombian coffee and Williamson tea, Manzanilla olives, breadsticks and Tortas de Aceite (traditional handmade Spanish biscuits)—as well as extra virgin olive oil and mills of organic peppercorns and natural rock salt with seaweed to rustle up something more substantial. Fresh milk sits expectantly in the fridge, alongside local apple juice, while in the pantry there are assorted kitchen staples left behind by previous guests—part gift, part perhaps in expectation of their return.
Sheepskin
And no wonder. With its comforting Aga (there's an electric oven too), twinkly granite worktops and stunning island-come-breakfast-bar, the kitchen not only has wow factor, it's equipped with everything you could possibly need whether planning a full-on domestic goddess dinner party, or like me to plunder the local farmer's market and shops in Brecon and Hay-on-Wye for fabulous local produce, artisan breads and cheeses. So inviting is it, I'm soon regretting our restaurant reservation, lured by the promise of cozying up with a Sheepskin delicatessen box, a tapas-style selection of cold meat and marinated vegetable appetizers that can be booked up to a week ahead of your stay.
Beyond the fire-lit living room and open-plan dining room with their impressive beams and warm red walls, there's a spacious downstairs bathroom. The star of the show is the claw-foot bath with taps in the middle for that perfect soak ? deux (soap is provided but don't forget to pack bath oil). There's also a huge walk-in shower.
Sheepskin
Upstairs, we choose the master bedroom with exquisite pegged beams rising up to the roof, manorial ironwork chandeliers and a homey king-size bed with crisp white cotton sheets and a gorgeous locally woven Melin Tregwynt throw. Clever use of frosted glass ensures there's plenty of light while preserving privacy from the upstairs landing with its small seating area (with TV and games console), and beyond, two further spacious double bedrooms, one with a gleaming brass bedstead.
Nestling peacefully in a green fold of Hay Bluff, it's hard to imagine a more tranquil and truly unspoilt spot. Glorious views over the Brecon Beacons, with its gentle valleys, open moorland and dramatic sandstone peaks, make you want to slip on your Hunters and head for the hills. Guided walks are available, and horse riders needn't feel left out as the National Park boasts no fewer than eleven trekking and riding centers catering for all levels. Or if you prefer pedal power, 15 graded mountain bike routes await, from beginners' routes to an expert's 'killer' route in Talgarth.
For the less energetic, book capital Hay-on-Wye (5 miles away) with its many bookshops, as well as antique shops, gift shops and cafés, is a great place to lose yourself. Richard Booth's Bookshop, the town's largest, is a particular favorite. Its distinctive animalier tiled facade leads to a three-story emporium crammed with new as well as second-hand and antiquarian books and plenty of comfy seating areas for perusing, as well as its own downstairs café.
Sheepskin
Alternatively, if you're just in need of some proper R&R, you don't have to step outside the door. With impressive eco credentials, Knightsfield boasts many of the creature comforts of a boutique hotel, including geothermally powered underfloor heating and an outside hot tub that's perfect for postprandial star-gazing, as well as treated spring water, a flat screen HD TV and iPod docking station. And if you can't quite wean yourself off your Blackberry, and all that peace and quiet just gets too much, there's Wi-Fi too.
Sheepskin
The downside? Pets aren't allowed at Knightsfield so the pooch will have to holiday chez kennel. You may also find yourself so at home, you won't want to hand the keys back. A week's stay at Sheepskin's Knightsfield (which sleeps up to ten people) costs ?2,800 ($4,400), a three-night break costs ?1,350 ($2,100). Prices are the same year round and at off-peak times or for last-minute bookings it's possible to book for six. Contact Sheepskin for rates at +44 (0) 1865 764087, or visit
SheepskinLife.com
.