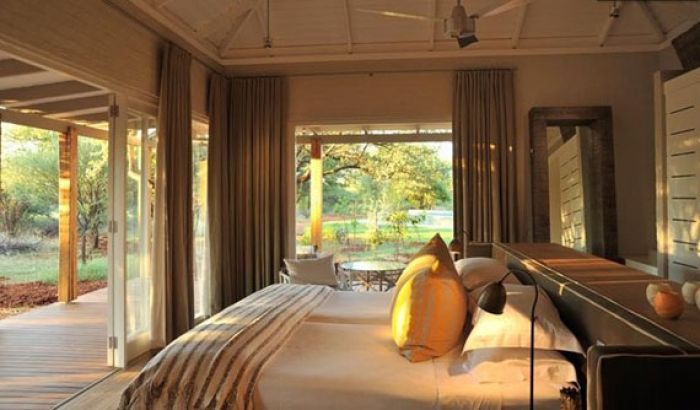 Photo Courtesy of airbnb
Gorillas. That is the word used to entice escape-seeking tourists to this Kabale villa near Mt. Rwenzori in Western Uganda. And really, what else does an adventure-loving group need on an African
luxury vacation
? The six-bedroom, seven-bathroom facility potentially houses 14 and is available for the oh-so reasonable price of $19,250 a week.
That price tag, of course, gets you much more than just a roof over your head and multiple rooms that open up to a pleasant view of rolling Ugandan hills. Daily wake-up services are provided by the mooing inhabitants of the private cattle farm the property is located on. If you prefer a phone call however, the full-service concierge will indubitably be happy to oblige.
After the daily breakfast is served, feel free to head over to Rwenzori National Park for a visit with the Chimpanzees, or trek to the local hot springs just steps away in a nearby village. Upon return, use the more modern facilities at the villa spa, complete with sauna, hot tub and steam room, to unwind from the day's excursions.
The owners also provide chef services for one night of your stay, with a minimum seven-day rental. And for those group members who you may occasionally want to avoid, (
cough, cough the in-laws
) there is a partially detached studio with a fully equipped kitchen, pull-out couch and dramatic high ceilings. After being roused from your slumber by hungry ungulates, you may feel the need to get away from your humble abode. In that case, there is a nearby lagoon housing a number of tropical fish for you to quietly admire.
Still not convinced this place is for you? You are obviously forgetting the gorillas. According to
National Geographic
, there are only 700 Mountain Gorillas left in the wild, and Mt. Rwenzori is a favorite hang out of theirs.

So, whether you choose to venture into the African rainforest rogue, or pay a safari guide, your home base should probably be somewhere nearby and peaceful. After a long day of gorilla sightings, the villa's chirping birds, private pool, and babbling brook make it a great place to rest your head and dream of those evasive apes.
For more information on this property, visit
airbnb.com
.