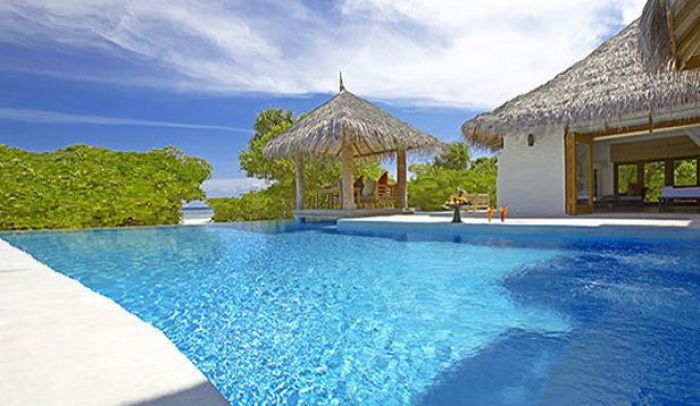 Photo Courtesy of Island Hideaways
Located Southwest of Sri Lanka, the private island of Dhonakulhi is the site of some majorly
luxurious villas
. Dhonakulhi boasts the first marina in the chain of islands it is a part of. But of course, whoever is wealthy enough to afford their own island should by all means be able to purchase their own marina. In addition to the marina, the resort treats its guests like royalty, down to the smallest detail.
Guests are provided with something called a pillow menu. Your first instinct was probably to think ďOh, that must be a list of breakfast-in-bed options. How quaint!Ē You would be mistaken however. The resort offers a menu, literally listing the plethora of pillow types they offer. From duck down, firm and soft, to latex and active air circulation, not even the finickiest of sleepers can righteously complain (although they probably will, because thatís just how they are).
There is also a Soap Menu, which, like the pillow menu may sound a lot cooler than it is. Really itís just a list of the complimentary handmade scented soaps the resort offers, which is just as well, because with prices starting at $583 and ending in over $2,000 a night, you wonít be able to afford to buy your own soap after staying here.
The resort offers a variety of unique villas for different experiences to meet their clients' needs. The Jasmine Family Villa easily provides a family or group with a relaxing, intimate experience, with two bedrooms, a private infinity pool, and an outdoor lounge. The Water Suites are for the thrill-seeking spirits who donít mind being suspended on wooden stilts above the Indian Ocean. The low elevation of the islands makes them susceptible to Tsunamis, so that's no joke.
It seems worth it though, with an outdoor bathtub overlooking a tranquil Lagoon, as well as a team of Mandara Spa specialists who will come in handy, what with all the stress of wondering when the stilts are going to break, and if you will plummet to your untimely demise. Thatís a joke; the villas all look very stable. But then so do most placesóuntil a Tsunami hits. Of course, there are some things that are worth that risk, and beachside butler services and customized pillows and soap are definitely in that category.