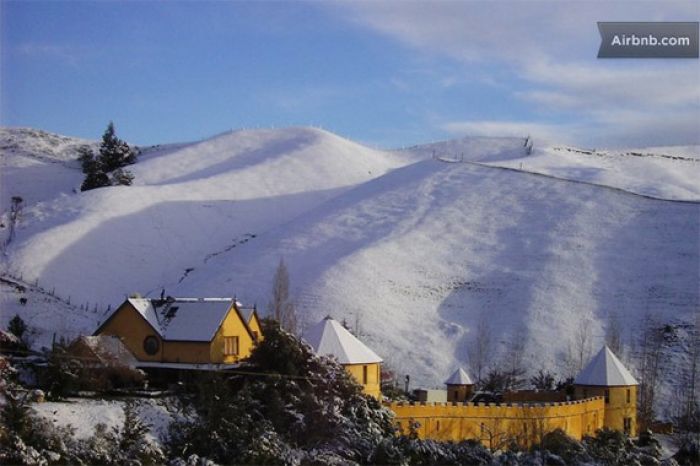 Photo Courtesy of airbnb
A whole castle built with mud—it doesn't exactly sound like something out of a fairy tale, but it's certainly attracting travelers looking for their happily ever after. This uniquely designed pile of organized dirt and water is New Zealand's very own luxurious Mudcastle. It can house up to 15 people, whether it be a group of friends on vacation, a family reunion, or intimate nuptials.
The story behind this fantasy castle begins as most fairy tales do, with a meeting of fate between Kevin and Glenys who met each other in February of 1990. Six weeks after their first encounter, they both decided to build a castle...using mud. Because that's what most couples do.
Rumor has it there was a wood deficit in the area and dirt, bountiful as it is, was the next best option. A second rumor began to spread about the local pigs being livid about the lack of mud and how they tried rolling around in brick much to their chagrin.
Inside of its dirt walls of the Mudcastle, there are three suites to choose from featuring deep soaking tubs and separate showers. The castle also contains five rooms that share four additional bathrooms. When you open your eyes the morning after staying in the Mudcastle, you'll be offered a plate of sand and another plate of water to make your own mud egg. As tasty as that sounds, you'll actually be treated to handmade Treacle Bread, which is probably easier on the teeth and taste buds.
Where did these mud lovers come from you might ask? Both have origins in the region. Kevin is of New Zealand's Motueka and Glenys from the city of Nelson. On top of that, both have a breadth of knowledge about nearby places that they can recommend during your stay. And how much does it cost to live out this mud-filled dream? $8,846 a week; or if you find you are having so much fun that you want to stay by the month, it will cost you $28,632.
The Big Bad Wolf will see his own lungs explode before blowing this monstrosity of mud down, so relax and enjoy the one-of-a-kind experience, whether you're on a quick getaway or tying the knot.