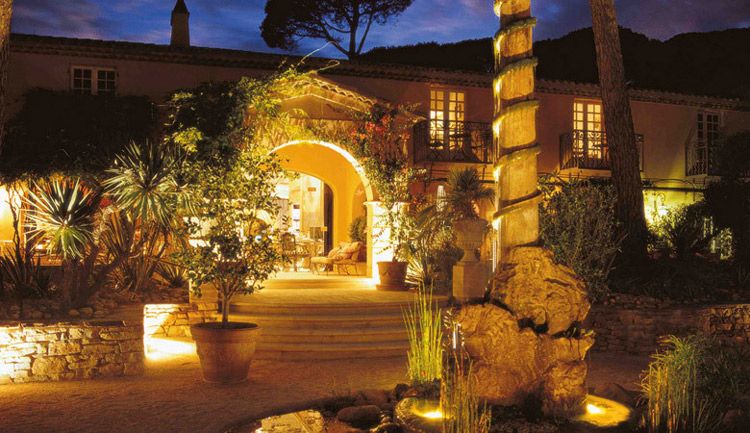 Photo Courtesy of Villa Marie/L. Di Orio, C.
"Villa Marie" is rather a modest name. There's something played down about it. Even its website stays the right side of ostentatious—unusual for a five-star hotel on the outskirts of arguably the glitziest place on the planet: St Tropez.
But as we slither up a gently inclining private road, through imposing electric gates, we discover the unmistakable hallmarks of luxury: car park groaning with Astons and Ferraris; perfectly landscaped garden bursting with verdant foliage; and a smiling staff member standing at attention on the driveway, ready to haul our bags from an overstuffed car. The reason for the faux modesty becomes apparent: this is not a hotel that needs to gloat. It's Just. That. Good.
The design is a delicate foray into the different. A toe-dip into eccentricity, if you will. Spanish hacienda meets Satis House if Miss Haversham had spent a little more time tending it and a little less time wandering around it all angst-ridden and morose. For want of a more eloquent expression let's call it "cluttered-chic."
Oversized shells, candlesticks and mismatched pots line the surfaces of side-tables and coffee tables alike; marble busts lean casually against sturdy pillars; and giant painted urns dominate the walkways. Wandering through the corridors, it's as if we're exploring a museum of nostalgic trophies from the life of an unabashed hoarder. But it's not tacky, oh no. There's a line, and it's firmly in sight ahead. The Feng Shui survives amongst the carefully scattered trinkets.
The guest rooms are utterly, wonderfully,
unnecessarily
decadent. One large space is divided as if by extravagant stage props—translucent aubergine drape here; artfully positioned painted screen embracing roll-top bath there. French windows give way to the quaint patio overlooking the tree-lined gardens and the azure slick of Mediterranean sea on the horizon beyond (it may be a seaview room in the loosest sense of the term, but who cares, this is paradise).
Villa Marie / L. Di Orio, C.
It's the kind of room that looks you square in the face and says, "
Yes, I'm spoiling you and you probably don't deserve it, but you're here now so you'd better come in and marvel at me
." And so we do.
Peace is practiced as an art form here. Away from the hubbub of St. Tropez in low-key Ramatuelle, it's a sleepy alternative to the Riviera madness. A pin could drop within a mile radius and you'd hear it. There's lots of book-reading (apparently there are still people who read books with pages, not just digitized slabs of grey plastic), gentle perambulating in the designer rock-pool, and general sophisti-slobbing.
The day is a serene glide from terrace breakfast through to afternoon gin and tonic and a soft splash into a quiet evening meal. And, call me crazy, but the light is different here. It's something about the way that the foliage scatters the sun through the Villa Marie grounds, diluting the harsh to a wistful mélange of amber light and honey shade.
Villa Marie / L. Di Orio, C.
The restaurant is housed in an orangerie lined with flourishing plants tumbling from oversized stone pitchers and creeping up the walls with robust wooden pillars sprouting skywards from the grey slate floor. I half expect exotic birds to swoop from the rafters to pilfer the delicious bread served warm from the kitchen which introduces our meal.
Gutsy, accomplished Southern French plates from land, sea and air announce themselves with confidence and do not disappoint, from the rockfish soup (locally sourced from the Gulf of St Tropez) to the succulent roasted beef fillet and its delicate armor of pine nut and basil crust. Simple touches like "all you can eat" refills of that sumptuous soup are unmistakable signposts to nothing being too much.

As is always the way with these things, it's the charming waiter who really makes my evening with a simple remark about my rusty French. "It's extremely good
madam
," he gushes, managing to look impressively sincere, "hardly an accent at all." The price of a well-placed compliment? A well-earned tip.
A reason to visit the Villa Marie? You don't need one. It's Just. That. Good.