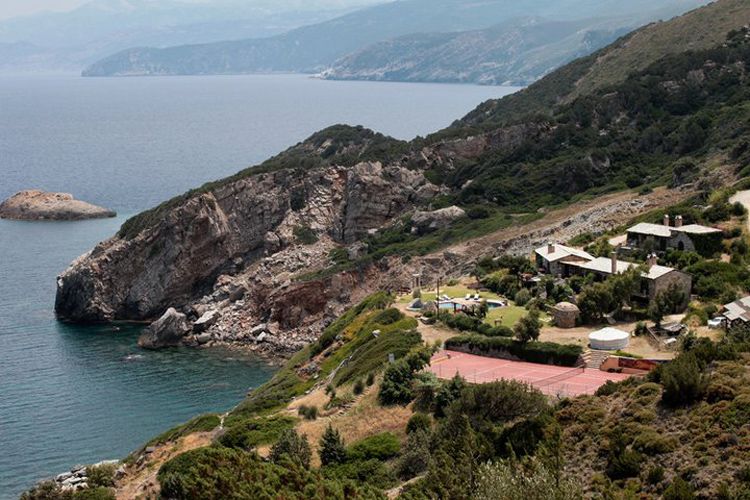 Photo Courtesy of Airbnb
Most people when they read Homerís
The Odyssey
, think that the hero of the story perseveres in his journey to return to his faithful wife. Once you consider, however that he was a king and probably lived in a place similar to the Delenia Villa in Ewia, you will probably see things differently. Forget Penelope, the reason Odysseus didnít dawdle with a goddess divine or throw hours away in friendly conversation with a Cyclops was because his home probably looked a lot like this
luxury villa
.
Though the villa is located on a private ďsecluded corner of the Aegean,Ē it is still accessible from the Athens International Airport. The Villaís live-in staff will provide transportation to and from the airport. The vehicle only has room for four though, and as the estate has the potential to sleep more than 16, things could get a bit awkward. After you and the three strongest of your crowd of family or friends clamber on up the 4X4 Subaru Forrester, get comfortable because your private oasis is still two hours away (they weren't kidding about the secluded part).
The staff, proficient linguists, speak English, Greek, Georgian and Russian, and are available 24/7 to chat in any of those languages over the intercom system. They will provide you with typical concierge services, like fixing your WiFi or directing you to the best historical sites to visit. The estate matron Lile will cook one meal a day for the household, with ingredients the guests have provided. Her husband Nikos is available to do the shopping however, if you would rather not banish your pleasant delusions about all of Greece being as untouched and beautiful as your island paradise by entering a supermarket. If you have children in tow, Lile will be happy to provide you with babysitting services (in addition to the villa price). And Nikos is available to take (four at a time) on sightseeing expeditions, also for an additional price.
The property consists of six, self-sufficient buildings that feature heating and cooling systems to regulate your delicate sense of climate. Two of the buildings donít concern you, as one is Nikos and Lile's cottage, and the other is a Woodworking shop, where all the villa furniture is produced. There are really only three buildings that you should care about.
The Main Building
In this edifice, you will find a spacious living area, with a dining table that seats 16. Aside from a living room and kitchen, the double bed bedroom provides its occupants with exquisite views of the Aegean as well as an extra single mattress located above in a loft. All of the bedrooms throughout the villa also include their own entrance so that your teenage daughter can sneak out to meet the local fishermanís son without disrupting your slumber.
The Second Building
This building is the home of the master bedroom, which of course offers glorious ocean vistas from both the bed and the bath tub. This section of the property also features a study, living room (which can be transformed into a second bedroom) and a kitchen area.
The Third Building
This building is perhaps the most enticing. It consists of three large bedrooms with sleeping places from one to five people. The room that can potentially sleep five is the childrenís room, and includes lofts, Tarzan ropes, sliding poles, and of course, plenty of floor space.
Built around the natural beauty of the Island, the villa yard includes tennis and basketball courts, a seawater swimming pool and an outdoor Jacuzzi. The hammam, or stone Turkish steam room and sauna, is built into its surroundings. The property also features a large terrace and two al fresco dining areas, including a stone barbeque and a traditional Greek bread oven, whose use, presumably will be Lileísóand not youróresponsibility. There is also a four-poster bed near the pool for the occasional afternoon nap. After all, saunas can really take it out of a person. The villa is also pet (and smoker) friendly and only a three-minute walk from a private rocky beach, where you and Fido can frolic, or you can contemplate Greek philosophy over a cigar.

In reality, Odysseusí home was probably way less comfortable than Delenia and maybe thatís for the best. After all, if his Ithacan palace was anything like this modern day villa, he probably never would have left, and Troy most likely would have won the war.
Rates start at $4668 a week for this 5-bedroom, 5-bath, 4,300-square-foot villa.