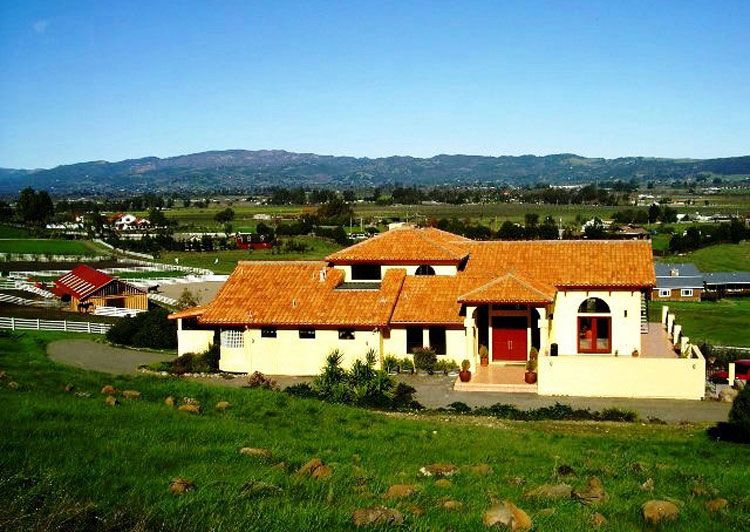 Photo Courtesy of the Black Sterling Villa
Set on six acres of a working Friesian Horse ranch, Black Sterling Villa overlooks the Sonoma Valley and its sprawling vineyard landscape. The privately gated
luxury villa
is only seven minutes from downtown Sonoma Plaza and a 30-minute drive from the Golden Gate Bridge, despite its markedly rural setting. The ivy encrusted facade gives it an antiquated and hidden feel, adding to the appeal of this family-friendly, Northern California abode.
High ceilings and multi-story windows open up the spaces and allow lots of natural light to shine into this 4,700-square-foot estate. Most of the flooring is done in a wine colored tile, which is fitting considering the surroundings. There are two kitchens on the property, equipped for entertaining friends and family. One is gourmet with granite countertops, a wine fridge, wine-themed décor, and a fireplace.
The villa has four bedrooms, but the most notable of the four is the master. It features an imposing, antique four-poster bed, dual sinks, a whirlpool Jacuzzi tub, a solarium, and a private deck. The two upper bedrooms share a full bath and an upper level deck, as well as rustic darkwood bedframes and accents. Below, there is an entertainment room with foosball, another brightly lit bedroom, and a den with another queen sleeper and full bath.
In addition to those accommodations, the villa's wine cellar also has a queen size sleeper, which the villa owners suggest as a spot that children will love it. The house is capable of sleeping twelve, but as sofa-beds are generally uncomfortable, we suggest you stick to six or eight.
Activities around the villa consist of the opportunity for individual riding lessons for $60 a person, swimming in the heated pool and taking advantage of the slide, relaxing in the Jacuzzi fit for 8-10 people, or barbequing on the deck. There is also a dining room with seating for ten, and an eclectically furnished sitting room that features both zebra and tiger print accents around a satellite television.
As the villa is located in the heart of California's wine country, many bacchanal influences can be seen throughout, as well as the running horse theme, inspired, no doubt by the property's equine cohabitants. Nearby activities such as a tasting at one of the wineries or touring the vineyards is easily accessible, along with other regional entertainment, like rock-climbing, rafting, shopping, antiquing, and fishing.

The villa can be rented at a weekly or monthly rate, and can be used in combination with its sister property, Black Sterling Estate to host up to 35 in livable close-quarters. During the high season, only weekly rentals are available at $5,500 between April 1 and October 31. In the low season, from November 1 through March 31, rentals are $3,990 per week, $695 per night on weekdays and $995 per weekend night (Friday and Saturday).