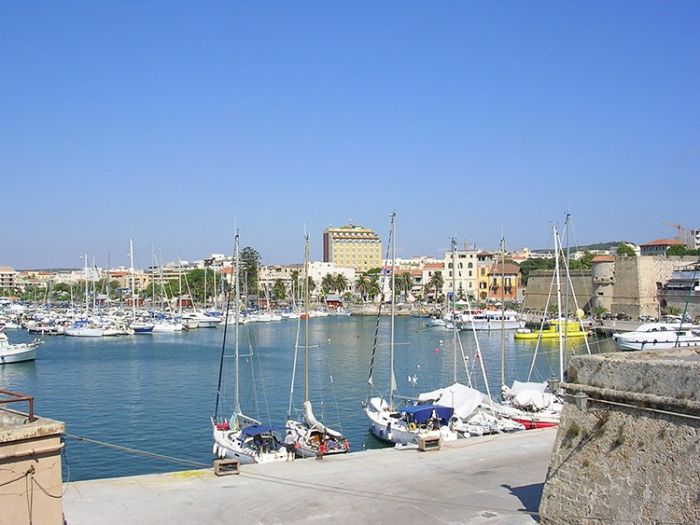 Photo Courtesy of Owners Direct
The streets of Alghero are impossibly postcard-pretty—winding alleyways with cobbled pavements, colorful buildings, and a stunning view of the azure Mediterranean Sea. My husband and I are sipping cocktails alfresco, in one of the many bars lining the old town wall. There's a reason why we picked this spot; the same reason all the seats around us are taken, and that crowds are gathering along the wall overlooking the calm water: the sunset.
Equipped with sunglasses, we peek at the too-orange ball of fire in the perfect blue sky. Rays are poking out of the wisps of clouds which are tinged with red and purple as the sun melts into the sea. We're on the coast of Sardinia, Italy and it's breathtaking. If you want an authentic Italian experience, it's here—everything from the architecture to the holidaymakers and restaurants.
Our villa, listed by Owners Direct, is just a short drive away, in Sassari, which means we're close enough to the town to enjoy it, but far enough away to feel secluded. After drinks and the sunset, we wander the center, where there are shops selling everything from designer clothes and tourist souvenirs to a vast selection of delicious Italian foods. We feast on the obligatory slices of fresh pizza before driving back to our villa, through the gated entrance.
Sleeping 10 people, with four ample-sized bedrooms, and surrounded by fruit trees and scented shrubs, this is our idyllic home for a week—seven days of relaxation, authentic cuisine and sunshine. The country-style kitchen is huge, boasting all the cooking facilities we need so that, if we choose, we wouldn't need to leave for the week. There's a large wooden dining table and tiled floor, and the room leads to a separate lounge area where there's a fireplace for when the winter nights get chilly (and they do!) and comfy sofas.
There's a bedroom and wet room downstairs, along with three more bedrooms, a bathroom and separate restroom upstairs—ideal if there's a group or a family as there's no fighting over the shower! The property is stunning, decorated in warm and neutral colors and pinks reminiscent of a countryside home.
It's the outside of the property where we spend most of our time however. Step out the back door and there's a dining or lounging area which is covered by a lean-to made of bamboo poles. It's shaded, so you can avoid the heat of the midday sun while reading a book or nibbling on goodies you've prepared in the kitchen. Venture further into the garden and you'll find the 10x5m swimming pool, great for cooling down when you're too hot tanning on the sun beds.

The rustic villa is set on five acres of land—ideal for afternoon walks—where fruit trees grow in the beautiful sunshine. We help ourselves to figs and there are also oranges and lemons. For evenings, there's a large, purpose built, brick BBQ and an undercover table. There are nearby supermarkets, where we stock up on fish, meats and fresh salads, and spend the night chilling out, drinking local wines and eating delicious, freshly BBQ'd food. The villa is too nice to leave, so we decide to spend most of our time lazing by the pool, eating home-cooked foods and simply indulging.
The villa rates range from ?900 to ?1900 (about $1425-$3010) for a minimum seven-night stay.