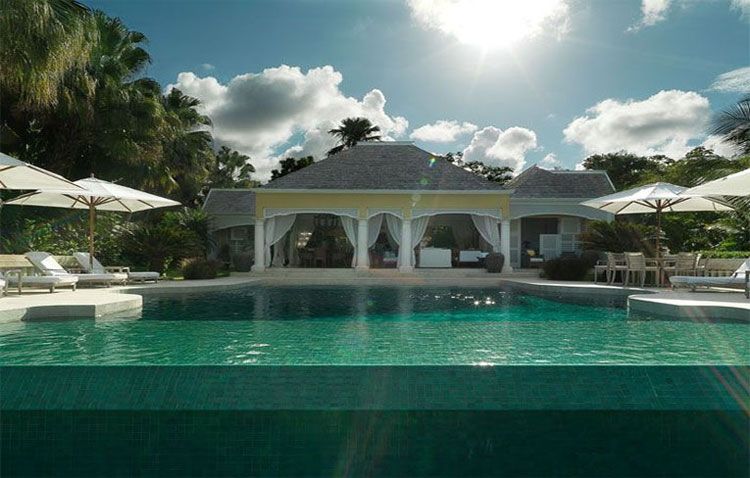 Photos Courtesy of LaCure Villas
Sitting amidst the Caribbean coastline lies a stunning property; a one-of-a-kind villa open to guests as the ultimate island hideaway. As the first villa to offer an on-site spa with full staff,
Roaring Pavilion THEE Divine Villa
by LaCure Villas allows guests to fully rejuvenate within its walls and experience a new kind of luxury.
Having recently undergone a complete transformation, THEE Divine Villa revamped its look and amenities to provide a new experience in luxury living. This villa offers 8,000 square feet of under cover living space and an equal area of outdoor heaven and can accommodate up to ten guests. Fine furnishings decorate the spaces with French terracotta and exotic hardwood floors. The marble and stone baths in the spacious en-suite bathrooms are also generously stocked with Ligne St. Barth products.
A partnership with renowned speaker manufacturer Bowers & Wilkins has led to the villa-wide installation of cutting-edge audio equipment accompanied by a modern home theater. For other entertainment options, the villa has a game room with a large library of board and video games. In addition, the entire property is equipped with high-speed wireless Internet access and 24 hour high tech security to dissuade paparazzi access.
Guests will feel like royalty in the hands of the villa's full-time staff who are ready to fulfill every need. Included in the staff is Chef Johanna Mitchell, who wows guests with culinary delights and intricate dishes made from local flavors and the freshest ingredients. Dine inside in the formal dining room or outdoor at the riverside barbecue pit (among several other options) while enjoying sweeping views of the Caribbean. Twenty-four hour room service is also available and without a set menu, guests can order up anything they are in the mood for.
Surrounded by tropical blooms and lush landscapes, the Great Gatsby-style pool is purified by dermatologically tested, skin-friendly salts, and is one of the many highlights at Roaring Pavilion. Guest won't have to miss a workout during their stay, with their very own workout and spa facility only steps away. The fitness center features weight-training machines and Cybex cardio equipment.
Click Here to Book Roaring Pavilion THEE Divine Villa
Make sure to take advantage of the customized, state-of-the-art watercraft for guided excursions along the North Shore. Activities vary from kayaking to stand-up paddle boarding and include many other water sports equipment choices to keep guests entertained at all times.
Among the beautiful view and attractions in Jamaica, Roaring Pavilion THEE Divine Villa by LaCure Villas is itself a rare gem offering a truly magical experience. Pamper yourself and choose the ultimate accommodations that even your friends will be talking about long after you've returned home.
Roaring Pavilion THEE Divine Villa
James Bond Beach St. Ann's Bay
Jamaica West Indies
1-877-510-0954
LaCureVillas.com