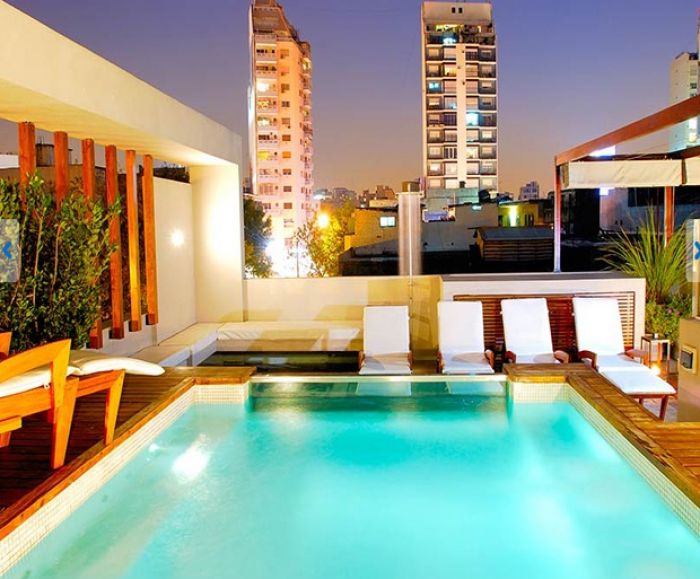 Photos Courtesy of Home Away
Situated a short 45 minute skip from the airport, what is being referred to as
"The Lux House,"
lies at the heart of Buenos Aires, set among the sizzling barrio (that's "neighborhood" to you gringos amigos) of Palermo Viejo. Located walking distance from the most renowned and important museums and art centers, the swank 3,500sq palace is just steps from some of the city's legendary spots for eating, drinking, dancing, gallery hopping and shopping, (as if there were anything else on your vacation itinerary…).
Argentina also has an emerging new tourist attraction that is becoming more and more of a reason to visit, so before beginning your whirlwind Argentine escape, why not unwind and get acquainted with another flavor of the country …the vino.
The fifth largest wine producing country in the world, it's no wonder the top Argentine architects that built the home had wine in mind when designing. Outfitting the home with plenty of options for entertaining, sip, sample and savor local delights in either of the two spacious kitchens located throughout the house. Stock the wine tasting fridge with favorites from your stay, display them in the tasting area, or shake up a cocktail at the separate full bar area. Outdoors guests will find a private rooftop terrace for a siesta by the pool, garden courtyard ideal for an alfresco apertif, and an indoor BBQ area as well.

Should all the fiesta-ing make you sleepy… (warning, the typical Buenos Aires "evening," begins around 11 PM and lasts until 8 in the morning) cozy up in one of the bedrooms all complete with king-sized beds, flat screen TV's, and in suite bathrooms. The Lux House may be booked for $600 a night throughout the year, with additional services such as daily housekeeping available for an additional fee.