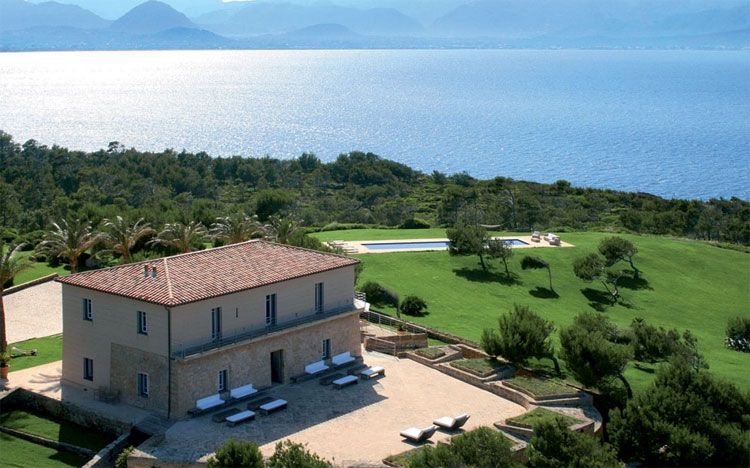 Photos Courtesy of Pure Entertainment Group
Pure Entertainment Group, a Montreal-based event management and
high-end concierge
company known for providing only the best in entertainment, travel and lifestyle services, is giving their elite members even more ways to stay and play in style: the acquisition of one hundred luxury villas around the world. These new villa rentals are located in over 30 destinations and come in all shapes and sizes—from châteaus to mansions to urban hideaways—all complete with staff services, high-end amenities, and a welcome basket of goodies, compliments of PEG.
One villa we spotted in their portfolio is an estate in the northern tip of Mallorca on the Bay of Pollensa. This 4,000-square-foot home is a little piece of private paradise surrounded by views of the glistening Mediterranean, majestic mountains and lush grounds.
There are three guest houses and a main building with a total of seven bedrooms, each with en-suite bathrooms, satellite TV, bath robes and slippers for every guest to lounge in. The guest houses, formerly a bird sanctuary and fisherman's house, have been refurbished from their former lives to meet the demands of the modern traveler.
The main house dates back to 1715, and has also been updated with high-tech amenities like a Bang & Olufsen sound system, LED light system, and gourmet kitchen with Gaggenau appliances. There is also a dining room, study and two living rooms designed by renowned Italian interior designer Danilo Silvestrin.

The expansive grounds lie on 18 miles of beach, giving direct access to the water, and also feature a tennis court and 50-foot swimming pool. A helicopter is always present as well, ready to whisk guests away to Mallorca or any other nearby location they desire. Another way to get around is with the "Boston Whaler," a boat docked in Puerto de Cocodrilo. Guests can take it out for a day of swimming, diving and sightseeing to soak up the scenery during their stay. Pure Entertainment Group offers an array of personal, corporate, travel, and lifestyle concierge services, to inquire about membership visit
PurEntOnline.com
.