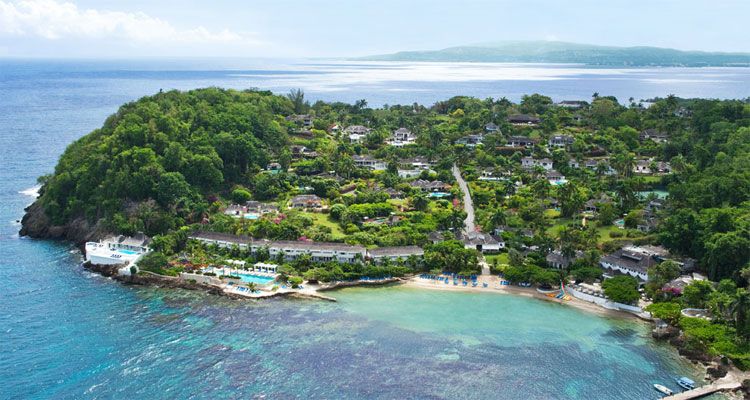 Photos Courtesy of Round Hill Hotel & Villas
If all of the Ralph Lauren-designed rooms at Round Hill Hotel & Villa's Pineapple House are booked, don't be too bummed. There's a chance his very own private villa will still be available to host your Jamaican getaway—that is, unless he's already on vacation there. In fact, when any of the resort's 27 oceanfront residences are vacant, visitors are welcome to stay, enjoy the world-class amenities, and be pampered by the dedicated staff. They might not all be personally decorated by famous designers, but by the looks of them, no expense was spared on any of these tropical abodes.
There are three different types of Complete Villas at Round Hill—Classic, Deluxe and Luxury—all featuring unique layouts set amidst lush gardens, offering seclusion to guests. The Classic Villas are up to 1,000 square feet, available with two, three or four bedrooms. They are elegantly designed with classic checkered flooring, high ceilings and a crisp, clean color palette that lets the natural beauty of the Montego Bay scenery shine.
Built into the hillside are the Deluxe Villas, with up to 1,400 square feet in these three- or four-bedroom homes. The bedrooms and en-suite bathrooms are larger than in the Classic, as well as the outdoor space; some with private pools and others shared among properties. If you're on the island for a romantic escape, try requesting the Deluxe Villa where How Stella Got Her Groove Back was shot. This one features its own pool, and three bedrooms including two main suites with ocean views right from the comfort of your bed; now we know why Stella chose this very villa.
The ultimate in opulence among this cottage community is the Luxury Villas. They range in size from one- to six-bedrooms and open up to vistas of Round Hill Bay. The six-bedroom villa is great for big families or groups of friends and features two pools (one separate guest suite has its own plunge pool), Bose stereo system, game room, flat screen HD TVs, and lots of outdoor space to lounge around under the Caribbean sun.

Pair all this with Round Hill's long list of resort amenities —water sports, tennis, five championship golf courses, spa treatments, fitness center, kid's club, gourmet dining under a James Beard award-winning chef, shopping, and VIP departure lounge —and you'll start to feel like Ralph Lauren himself.