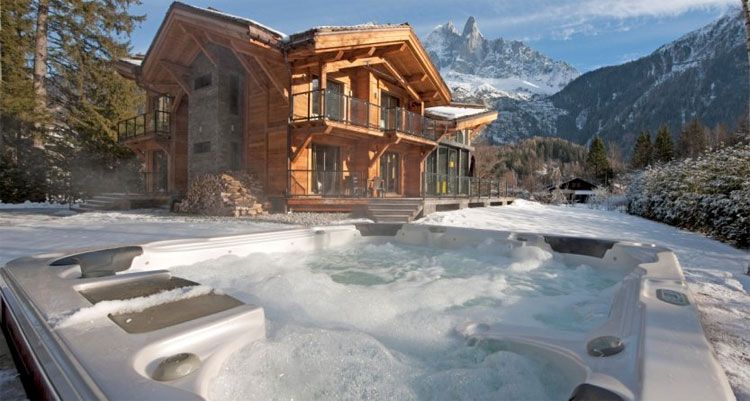 Photo Courtesy of Chalet Cragganmore
When autumn hits, homes begin to fill up with scents of pumpkin, cinnamon and evergreens. Slowly fall décor begins to take over stores and restaurants. Some go-getters even get their holiday decorations out so early that before Halloween hits, their yards pay colorful homage to the upcoming yuletide season. They are planners by nature; and if you're like them, you've probably had your holiday vacations booked since last year. But if you're more the live-in-the-moment type, your plans may not have crossed your mind yet. To get you in the holiday spirit, here's a list of the best family (and extended family) villa options to make the planning process a little bit easier.
Photo Courtesy of Karma Kandara
Bali, Indonesia: Karma Kandara
Stone bridges and pathways lead guests through this Uluwatu property perched high above the Indian Ocean. Karma Kandara is an all-villa resort with privately owned one- to five-bedroom villas that offer privacy while at the same time providing resort service and amenities. It's a great place for families with smaller family members, since the resort also offers free dining for children under 12 (we like the sound of that) and has a variety of activities available at the Karma Kids' Club. Further amenities include the Karma Spa, three dining venues, nearby golf courses and tropical beaches.
Sicily, Italy: The Poets' Corner
This villa is the perfect place for literature-loving families. Once the summer residence of the Grimaldi aristocratic family in the 19th century, the modern Poet's Corner villa sits near the Pergusa Lake and among the rolling golden Sicily hills. Sprinkled throughout the villa are reading spots and books, and even a blackboard for writing your own thoughts down. Its architecture boasts high ceilings and spacious rooms with contemporary designs. Outside, centuries-old cypresses surround the swimming pool and private garden. Stay at this location if you're looking for a secluded vacation to enjoy quality family time in nature.
Photo Courtesy of Villa Getaways
Sydney, Australia: Sydney Villa 500
The ultimate five-star villa, Sydney Villa 500 is a modern residence with beautifully designed interiors and positioned on the Balmoral slopes. Six bedrooms/bathrooms comfortably sleeps 14 in over-sized king rooms. Enjoy an open plan living area with magnificent harbor views and a spacious covered terrace and heated pool outdoors.
Photo Courtesy of Chalet Cragganmore
Chamonix, France: Chalet Cragganmore
Jet-set to France for some great skiing at one of the many ski areas located near Chalet Cragganmore in Chamonix. Sleeping 12 people in six bedrooms, the home boasts a private chef, panoramic Jacuzzi, living room with double height picture windows, and a sauna. The villa also includes activities on-site for the family to enjoy like a climbing wall; a cinema; game room with Playstation, Wii, toys, games, books; and a well-equipped gym. And if none of those interest you, you're in France, so go buy a pastry or two and call it a day.
Photo Courtesy of Bluefields Bay
Bluefields, Jamaica: Bluefields Bay Jamaican Seaside Villas
The average temperatures in Jamaica between November and January are around the lower to mid 80s (which might be reason enough to visit), so if you're looking to escape the cold winter months look into booking the San Michele villa at Bluefields Bay. The one-acre property sleep 13 with six bedrooms/baths and sits on the Caribbean with wraparound views of the sea and mountains. All-inclusive services for families are available like nannies that can plan child-friendly meals, wash clothes, put children to sleep or create fun and exciting island adventures. Offering a variety of water excursions, Jamaican dining and local experiences, the resort has plenty of activities to keep each member of your family happy.
Photo Courtesy of Villa Contenta
Palm Island, Miami: Villa Contenta
If you want to keep things stateside, head to Villa Contenta in Miami. The 11,000-square-foot Spanish-colonial style villa sits on Palm Island and offers six bedrooms including a main house and guest house. Guests have access to their own private dock and floating deck along with a 130-foot heated pool and Jacuzzi. The swim-in grotto and waterfall are favorites for younger family members while the billiard room, home theater and bar areas are great for adult guests. Located only 15 minutes from the airport, five minutes from beaches and 10 minutes from golf courses, it is a convenient destination for those looking to explore South Beach.
Photo Courtesy of NINETEEN SEVENTY
Lake Tahoe, California: NINETEEN SEVENTY
Ski bunnies in search of a snowy holiday season can find a winter wonderland at NINETEEN SEVENTY. Complete with six fireplaces and central heating to keep guests warm throughout their visit, the property will put any family in the joyful spirit. Cooking holiday dinners will be a breeze in the spacious kitchen which allows for multiple chefs to work simultaneously (as if Mom would allow other chefs). A full bar, movie theater, a billiard room and a fully-equipped fitness center are included in the lodge as well. Located only 15 minutes away from world-class ski slopes, active families can take to the fresh powder during the day. Or checkout the nearby shopping, dining and casinos situated right outside the property.
Photo Courtesy of A La Mer Villa
St. John, British Virgin Islands: A La Mer Villa
Comprised of a main house and smaller guest cottage, A La Mer sits on the coastline of St. John on over one acre of waterfront land. Its design is a mix of colonial West Indies and traditional St. John aesthetics. Inside, custom details like mahogany cabinetry hand-carved in Honduras and artisan lighting make up the fully air-conditioned villa. Boasting 9 bedrooms/baths, A La Mer can host up to 18 guests and includes maid service four times a week. For entertainment, families can swim in the pool and enjoy its swim up bar and underwater bar stools. Located close to the beach, guests can also take advantage of snorkeling among the coral at Great Cruz Bay.